Luxembourg Gardens symbolic ceremonies
Heading to Paris to celebate your love? The Luxembourg Gardens might provide you with what you are looking for and more! A romantic, whimsical spot in Paris that will transport you to the time of princesses and knights for your elopement, destination wedding or vow renewal.
Your vows ceremony
at the Luxembourg Gardens in Paris
The Luxembourg Gardens, located in the heart of Paris, are known for their peaceful atmosphere. It's the «central park» of Paris. So, quiet naturally, this is one of the places that Love Gracefully chooses to celebrate Love! Whether you want to elope or renew your vows, the tranquility of the Luxembourg Gardens will provide the intimacy you are looking for your symbolic ceremony.
On top of being an exquisite & intimate location for your marriage ceremony, the Luxembourg Gardens offer much more. For exemple, would you want a photo session after your ceremony, the park is the perfect location for that: the Luxembourg Gardens were inspired by the Boboli Gardens in Florence, Italy, so just as in their Italian counterpart, you'll find a lot of beautiful statues such as the twenty figures of French queens and illustrious women standing on pedestals all around the central green area. All of those statues were commissioned in 1848 by Louis-Philippe! If you prefer your wedding photos shot in front of men statues, do not worry; another 86 statues are spread all around the gardens.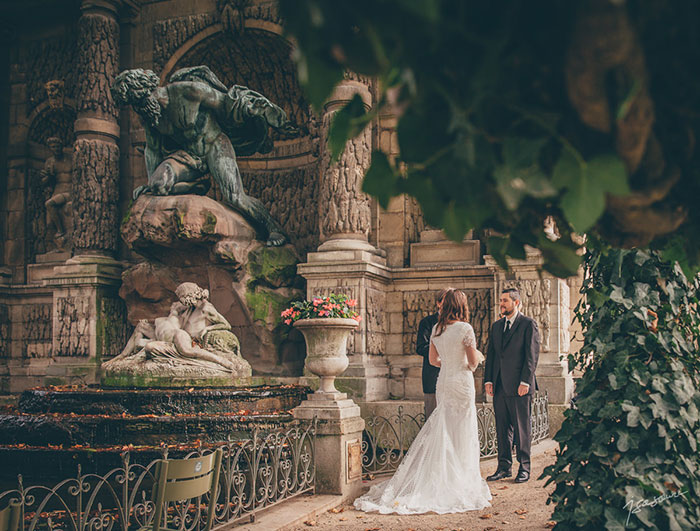 Where to have your vows ceremony
at the Luxembourg Gardens?
Whether you elope in Paris or want to renew your vows, there are many options on where to have your ceremony at the Luxembourg Gardens. We have shortlisted two of them.
The first one is the famous Medici Fountain, named after Catherine the Medicis. The Medici fountain was designed by Tommasso Francini, a fountain maker from Florence, Italy. In front of it, there is a wide basin of water surrounded by beautiful plane trees that work like an arch. Because it's a very touristy area, we usually have the ceremony right below the statue and not in front of the basin of water. Why? Because that's where all the tourists go. But do not worry, you'll be able to have pictures done in front of the basin, after the ceremony! That Medici Fountain spot is recommended if you are only 2 or 3 all together as it's a very intimate location.
The second location we propose for your vows ceremony at the Luxembourg Garden is on the terraces that oversea the Luxembourg Garden Palace. You'll have a full view over the Palace but also over the entire garden, the octagonal basin of water, the flowers and some statues. That location is recommended if you are a group from 4 to 15 but works also if it's only the 2 of you.
Would you prefer your destination wedding or elopement photos to be taken in front of the French Senate located inside the Luxembourg Gardens, you'll surely have a «Versailles Palace» feeling, as the French Senate is also a palace that was built by Marie de Medicis, wife of the King Henri IV of France.
It's Marie de Medicis herself who created these beautiful gardens, that's why you'll have a special feeling here: the feeling of being, for the time of your vows ceremony, a queen and a king! You can also take pictures in front of the large octagonal basin of water, with a central fountain and terraces that oversea the Palace. If you are more into flowers and greenery, there is an orchard of apple and pear trees surounded by beautiful flowers such as the famous Luxembourg Rose Garden.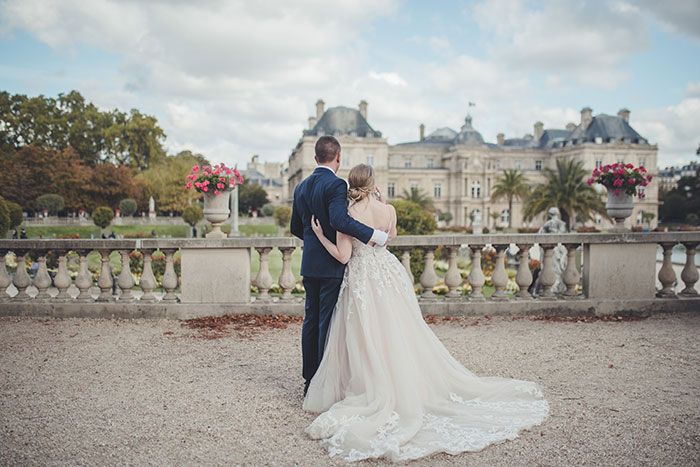 Love Gracefully Ceremonies
Our vendors for your Luxembourg Gardens vows ceremony
We started celebrating outdoors ceremonies in Paris over 10 years ago now. Over time we have worked with almost all vendors in Paris. And we have now selected the best ones. Not only that but we have also established a strong work relationship will all of them. They know what Love Gracefully means : high end service for couples who wants to celebrate their love in Paris in a personalized way. So they will convey that Love Gracefully mission with all their heart!
Wether you would like flowers or a vintage car, a hair or makeup stylist, a photographer or a video producer, we will organize your special day with the best local artists.
Your celebrant for your Luxembourg Gardens ceremony
We have been celebrating vows at the Luxembourg Gardens for over a decade now. The celebrant working for us is a true professional who has celebrated now over 500 ceremonies. His work is to create and celebrate an intimate, romantic and unforgetable ceremony. So whether you would like to elope in Paris, celebrate a destination wedding or renew your vows he will get in contact with you in order to know what your values and beliefs are, how you met and the reasons that drive you to celebrate your love. With that, he will create the only ceremony possible : the one that fits you like a glove !
We hope to welcome you at the Luxembourg Gardens soon !
Our wedding packages in Luxembourg Gardens
BASIC
€880

Tailor-made Ceremony including your own vows & texts
English-speaking officiant
Free assistance per phone or email
Free locations available
(up to 15 guests)
Symbolic Certificate
(without legal value)
VAT TAX included
No hidden fees
SILVER
€1480

Tailor-made Ceremony including your own vows & texts
English-speaking officiant
Free assistance per phone or email
Free locations available
(up to 15 guests)
Bouquet Of Flowers
Photographer 1 hour
Symbolic Certificate
(without legal value)
VAT TAX included
No hidden fees
GOLD
€2470

Tailor-made Ceremony including your own vows & texts
English-speaking officiant
Free assistance per phone or email
Free locations available
(up to 15 guests)
Bouquet Of Flowers
Photographer 3 hours
4 hours Mercedes car with chauffeur
Complimentary bottle of champagne
Symbolic Certificate
(without legal value)
VAT TAX included
No hidden fees
DIAMOND
€4230

Tailor-made Ceremony including your own vows & texts
English-speaking officiant
Free assistance per phone or email
Free locations available
(up to 15 guests)
Bouquet Of Flowers
Photographer 3 hours
4 hours Mercedes car with chauffeur
Complimentary bottle of champagne
Videographer 3 hours
Symbolic Certificate
(without legal value)
VAT TAX included
No hidden fees
INFINITY
€8246

Tailor-made Ceremony including your own vows & texts
English-speaking officiant
Free assistance per phone or email
Free locations available
(up to 15 guests)
Bouquet Of Flowers
Boutonniere
Photographer 8 hours
Vintage Car With Chauffeur
Complimentary bottle of champagne
Videographer 8 hours
Hair & Make up artist
Symbolic Certificate
(without legal value)
VAT TAX included
No hidden fees