PARIS ELOPEMENT
Chic romantic tailor-made ceremonies
ELOPE IN PARIS


The city of lights
Eloping in Paris is perfect for a day-dreaming couple, who wants to forget about the stress of planning a big expensive wedding at home, but still wants to celebrate their love uniquely. A custom elopement ceremony in Paris will allow you to enjoy the excitement of a real wedding mixed with the exclusivity of an intimate ceremony in one of the most romantic places on Earth!
If you decide to elope in Paris, it is the perfect opportunity to plan a once-in-a-lifetime trip to France or Europe as a fantastic honeymoon. You will save time and money and have more budget to splurge on you and your sweetheart. Or you may feel connected to Paris by a past vacation together or because you love its vibe and values.
Eloping in Paris is a lifetime experience; we will create it for you.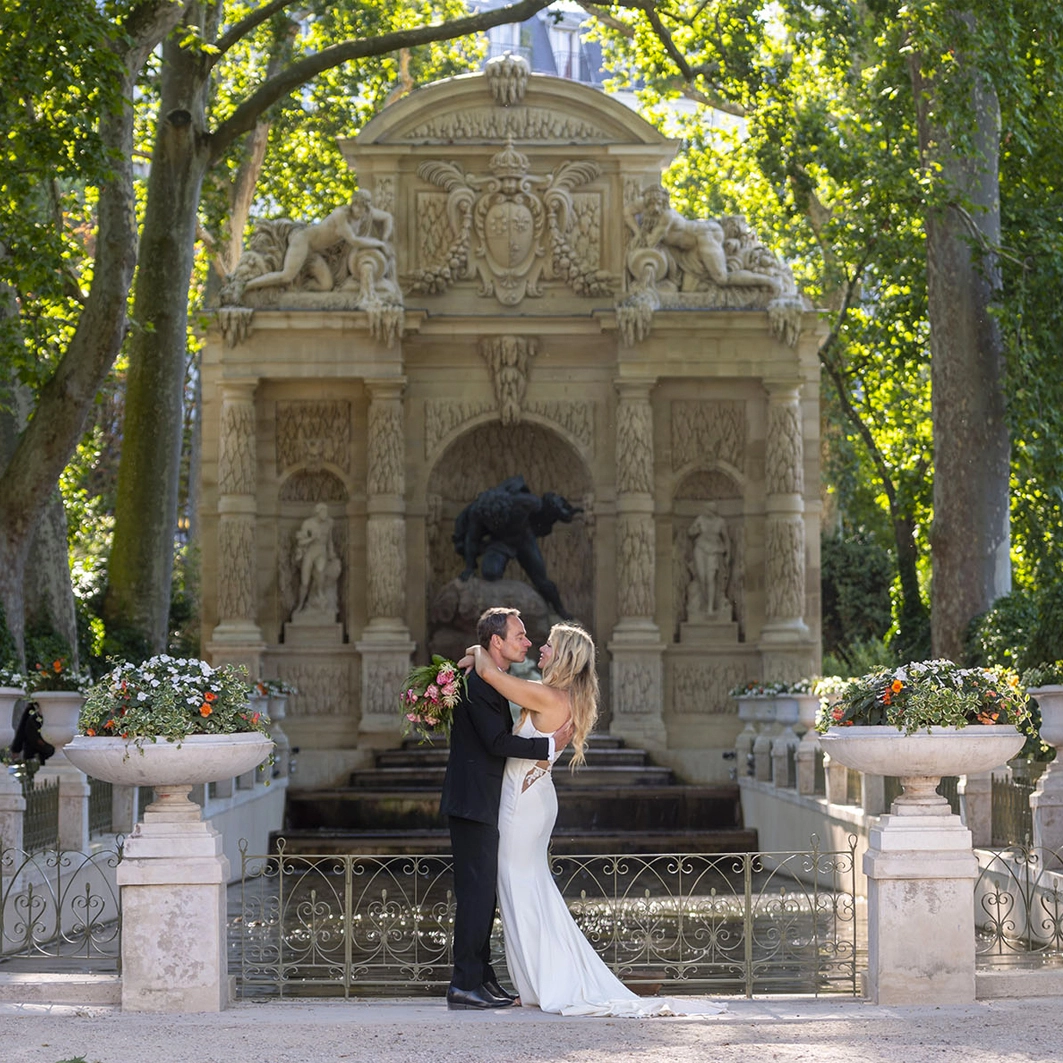 YOUR TAILOR-MADE

PARIS ELOPEMENT
Have you ever gone to a wedding and got bored because the celebrant said the same thing you heard a hundred times or they used the same decor or wedding hall? At Love Gracefully, templates are prohibited. We always start from a blank page to design your perfect Paris elopement ceremony that fits you 100%. We will take the time to learn your love story and values. We love this uniqueness, and it should be present when you elope in Paris. We create each time a brand-new celebration.
As we've been organizing Paris elopements for the last 15 years, we know the best providers in case you need them: photographers, make-up artists, florists, luxury cars… Our five Paris elopement packages will help you with the initial plan, but we will make the experience unique once you book one. This is all about you, and we will make it happen. Don't hesitate and elope in Paris with Love Gracefully.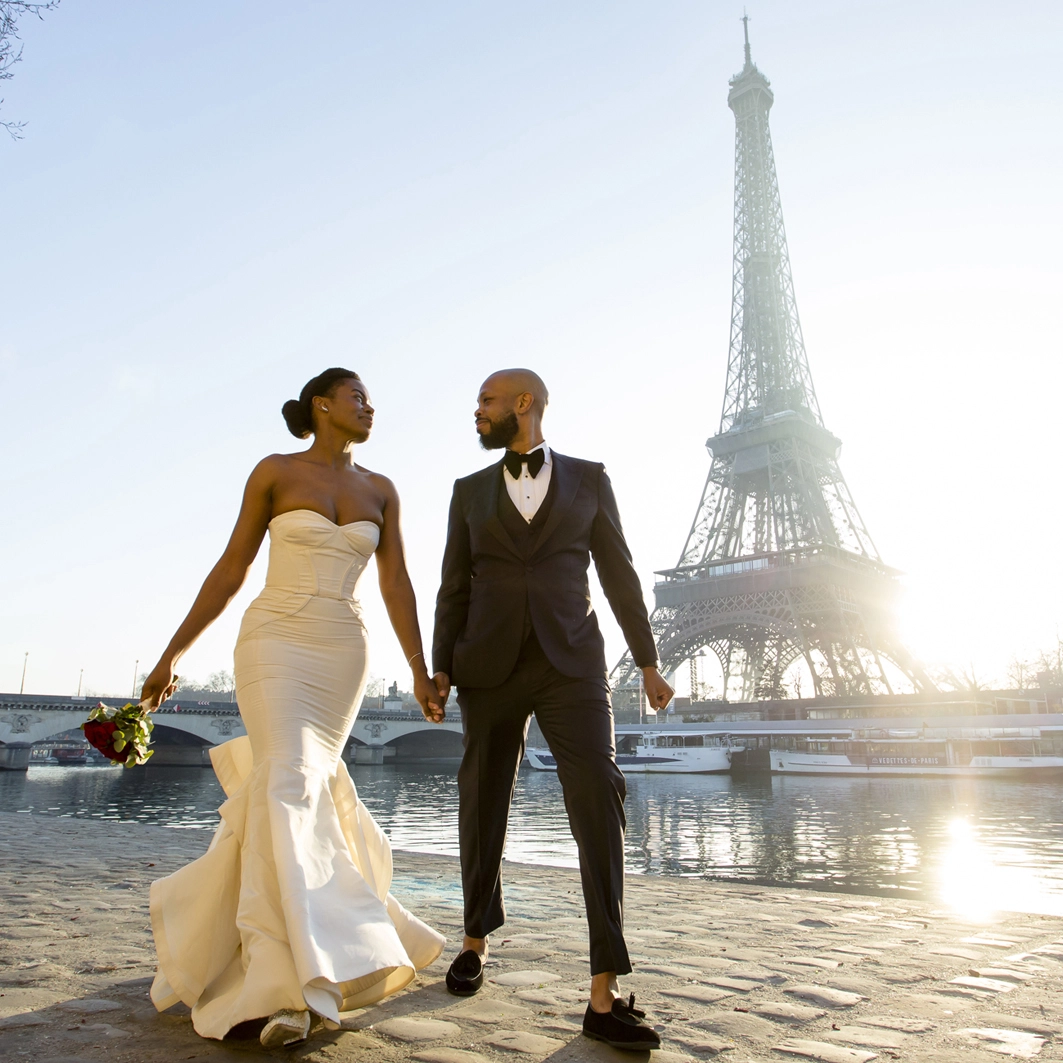 During the last 15 years, we have organized hundreds of Paris elopements. Pierre, our founder, and celebrant, is a true Parisienne and, infused by the romantic vibe of his city, decided to be the first to offer couples from all over the world the opportunity to elope in Paris.
He started this business and created our fantastic team of wedding professionals in Paris who lives in the city daily to discover the best secret spots for ideal ceremony or photo opportunities and the most excellent vendors for your elopement vision.
Of course, our team speaks excellent English. This will help you navigate the Parisian culture and make the process smooth and enjoyable.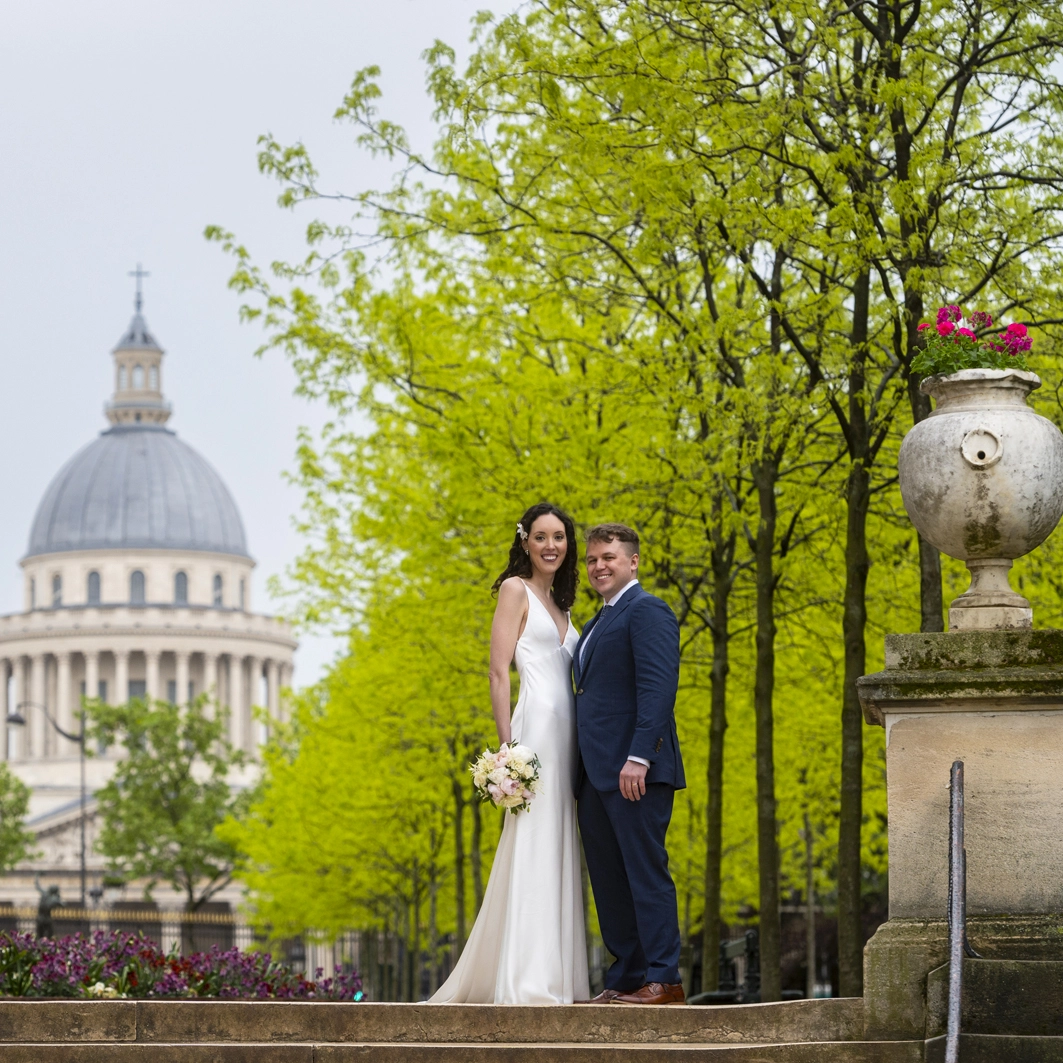 PARIS ELOPEMENT LOCATIONS
These are free spots to elope in Paris; all are included in our packages.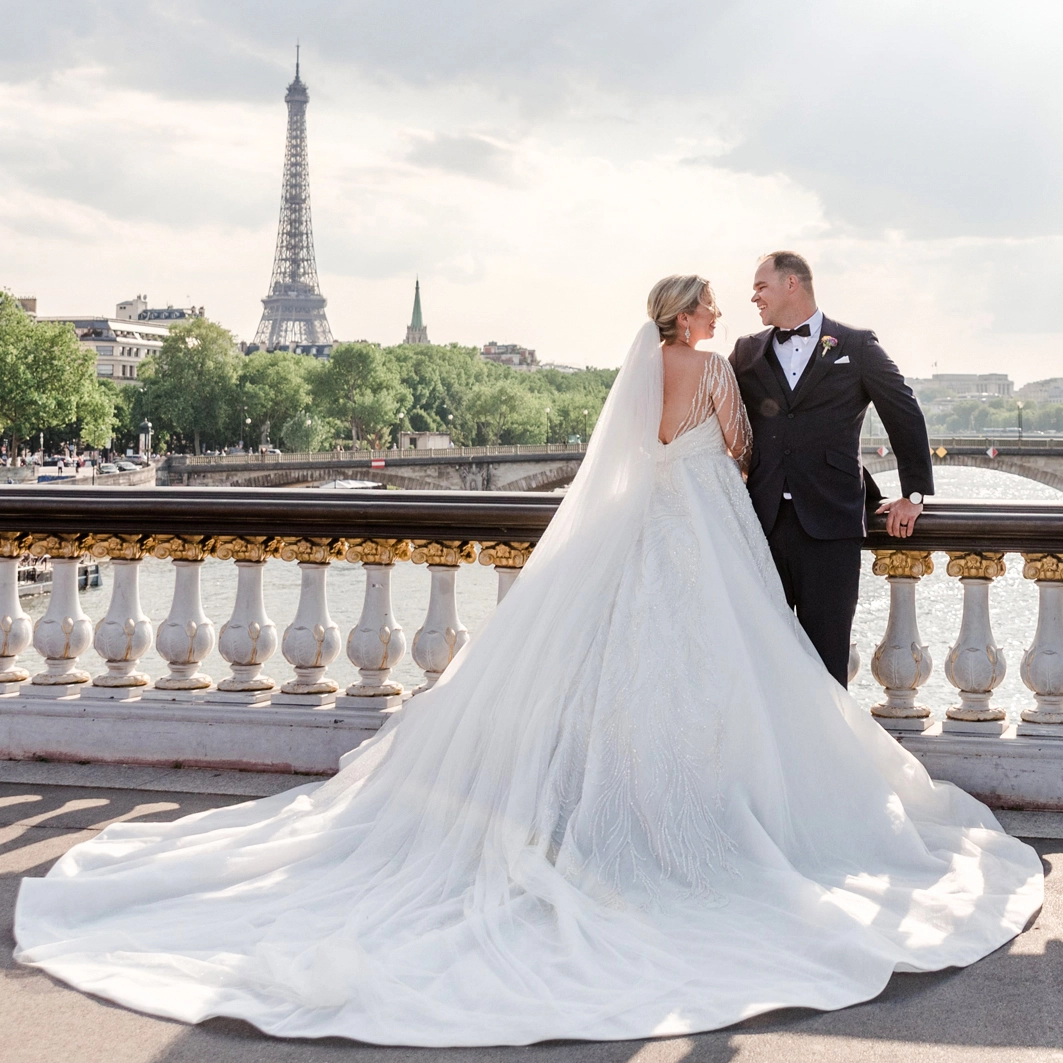 Eloping in
the Eiffel Tower
When you think of a romantic building, the first image you get in your head is the Eiffel Tower. Eloping in front of the Eiffel Tower is the epitome of romance, with the iconic landmark providing an enchanting backdrop for an intimate ceremony. The majestic iron structure, surrounded by the captivating Parisian skyline, exudes timeless elegance and captures the essence of love.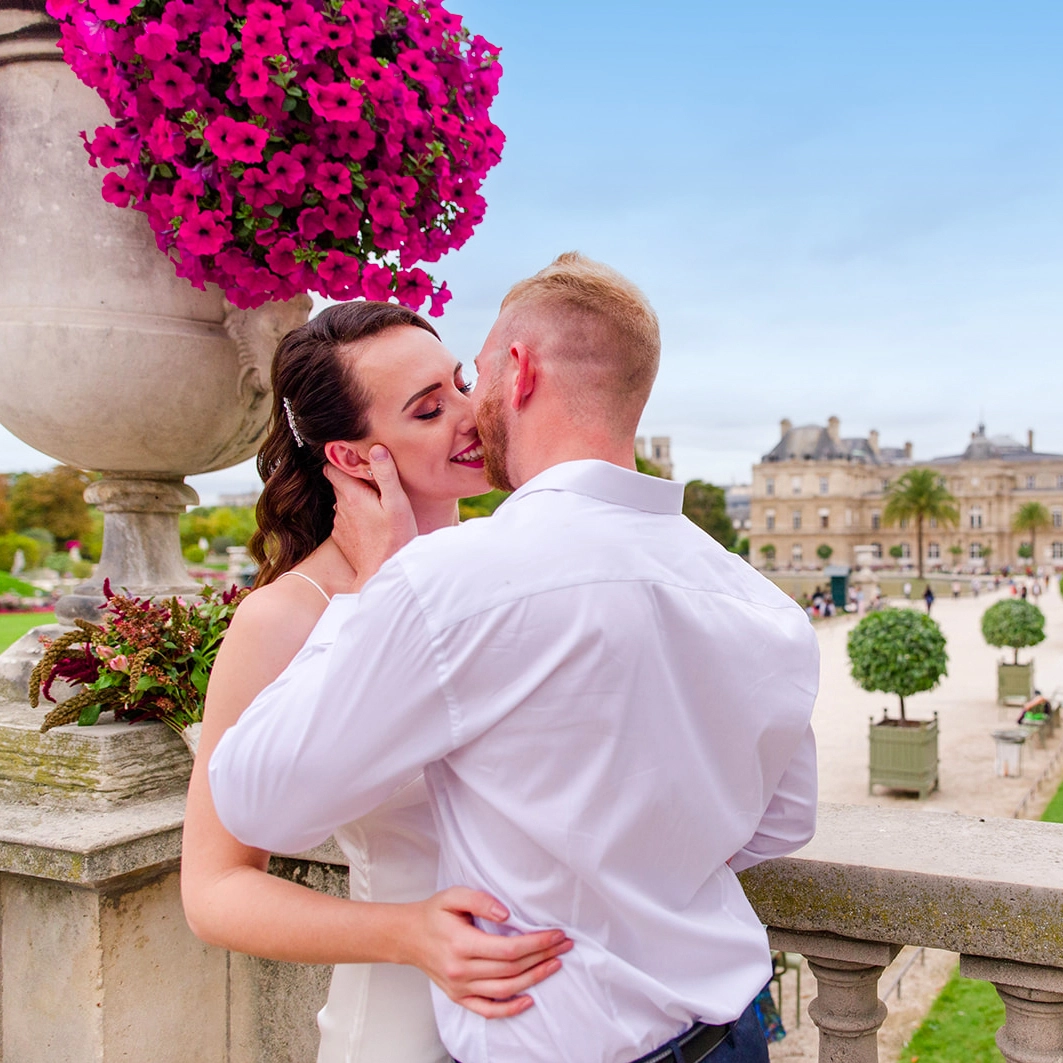 Eloping in
the Luxembourg Garden
Suppose you are looking for a more whimsical and regal elopement. In that case, eloping in the Luxembourg Garden in Paris offers a tranquil and picturesque setting, where the lush greenery, serene fountains, and charming pavilions create a dreamy atmosphere for a romantic exchange of vows. The Luxembourg Garden was initially created in the early 17th century as part of the Luxembourg Palace, built for Marie de Medici.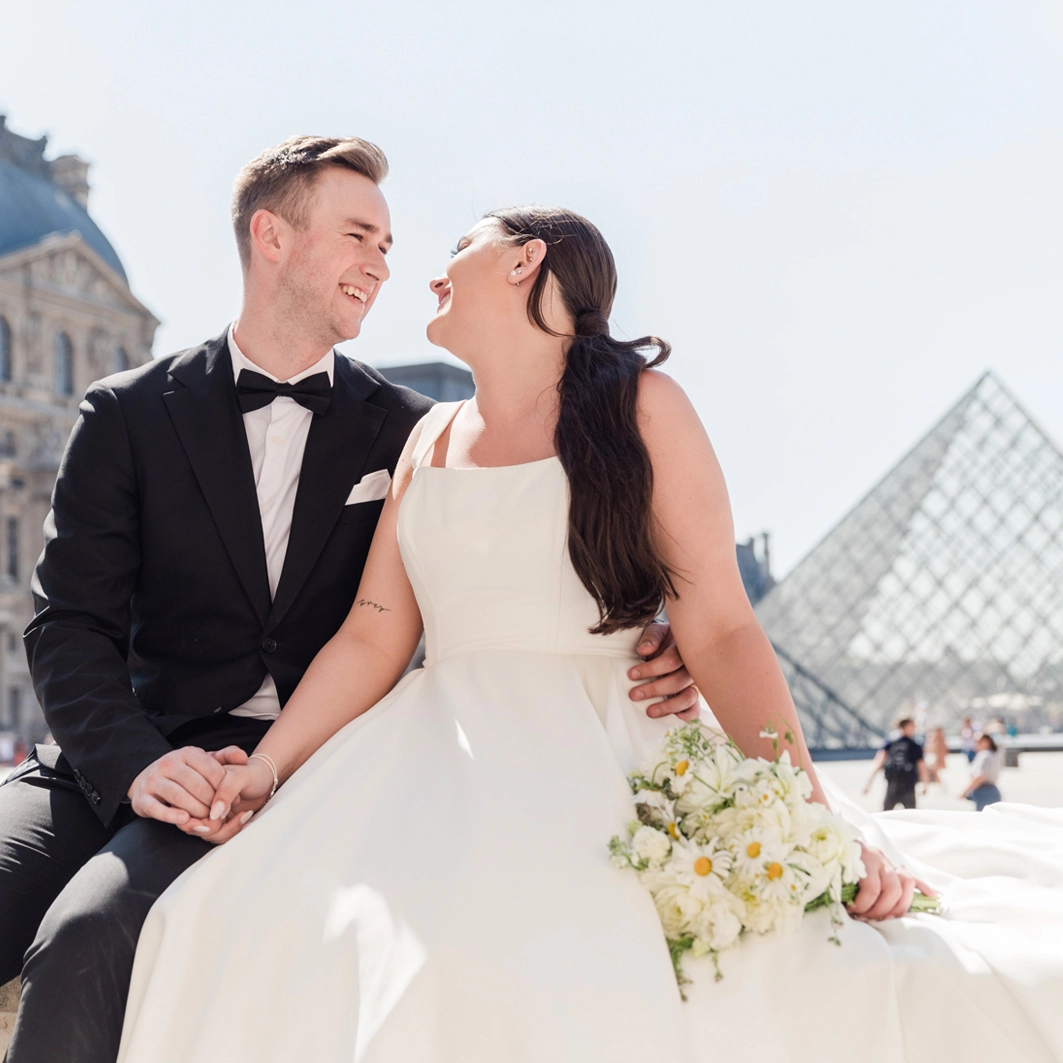 Other places to elope in Paris
Do you have other ideas for your Paris elopement? Let us know, and we will try to accommodate you. Remember that Paris is a capital and busy city – many gorgeous spots are all over, but not all are suitable for an intimate, quiet ceremony. But we can always use those spots for your after-pictures! Contact us and tell us about your idea.

Watch more testimonials on our Youtube channel
Eloping in Paris

: the choice of Celebrities
The effortless glamour and charm of this city attracted many people from all over the world to get married here, including relevant personalities and celebrities who also want to escape from the spotlight in this day that should be about you two only. Tony Gonzalez, the NFL star, and his wife, October, organized a ceremony in front of the Eiffel Tower, and that's what they have to say about their experience with Love Gracefully.
Your
Paris elopement

and your beliefs
If you have specific beliefs you want to be mentioned during the ceremony, we can include them, too. For people who would like to elope in a Paris church, we could organize a religious ceremony in the American Church in Paris for an extra fee. If you want a neutral non-sacred chapel, the Chapelle Expiatoire can also be rented for an additional cost, and it can fit many spiritual ceremonies due to its neutral appearance. These two locations also work if you plan to have some guests with you. Ask for more details.

Create your perfect Paris elopement
The best Paris elopement is the one you can imagine!
It is normal if you feel intimidated, but with our Paris elopement packages and the support of our team, your special day will be like a breeze. Discover more!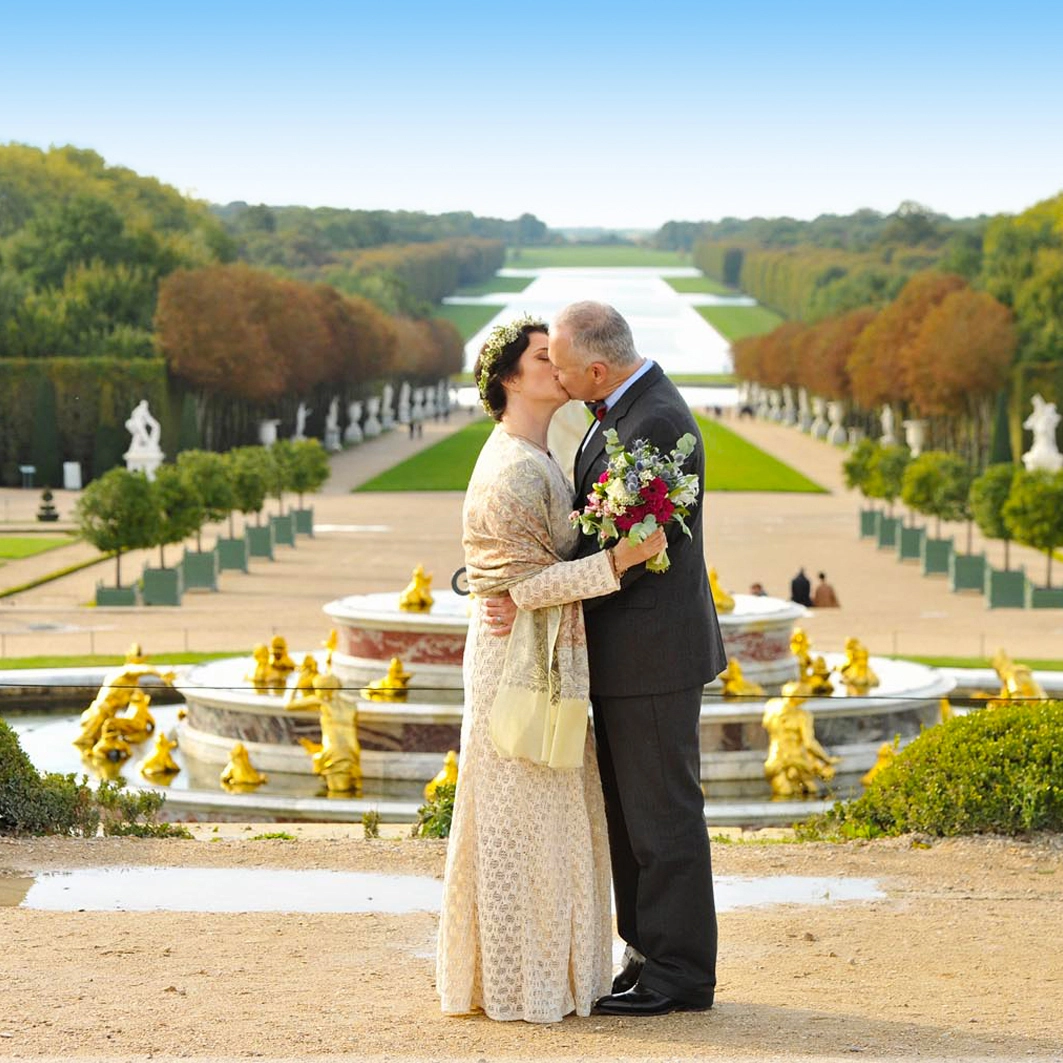 STEP

1


Book your date and elopement package
You need to decide on a date. It can be convenient for your trip, or you have a significant day in mind. No matter what you choose, book quickly! Love Gracefully's Paris elopements get booked quickly, as it is our best-selling destination.
To book, you must decide on a package and pay your deposit. Our five elopement packages in Paris are created to ensure you have all the basics for your ideal ceremony, but you can add extra details and personalize them once your date is secured.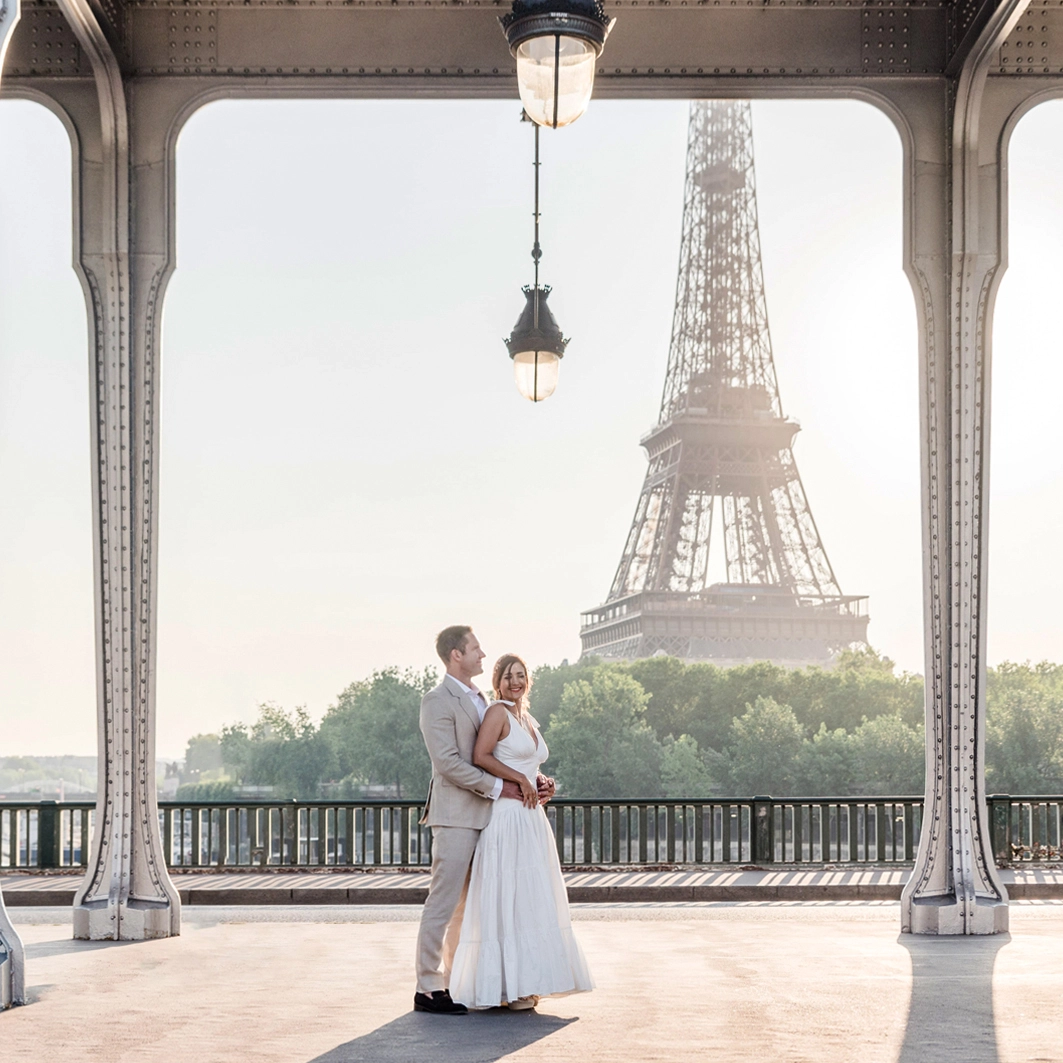 STEP

2


Personalize your wedding package.
It's the moment to have fun! Let's make your vision a reality. First of all, you will need to decide on the ceremony location in Paris. With some help, we will find the perfect place for you, considering the practicalities of the season and time you picked.
You can personalize the other details included on your package or add some new ones to make it unique: flowers, luxury car, hair & makeup… Dream big; this day is once in a lifetime!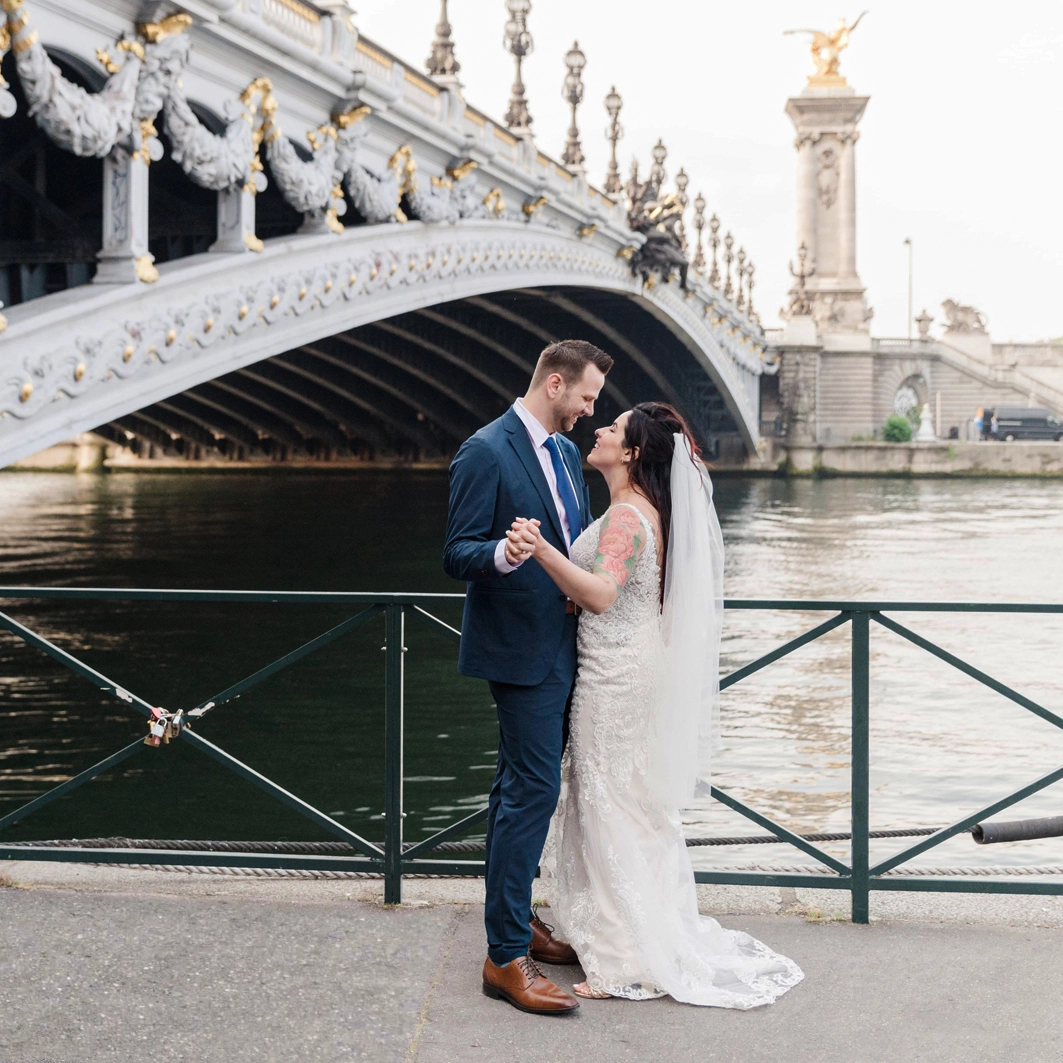 STEP

3


Create your dream ceremony with us.
Your Paris elopement ceremony must speak about who you are and your love story. That's why our celebrant will contact you in advance to get to know you better and ensure your day is only about you. This way, they can build a script that inspires you and work with the coordinator to offer you the best ideas for this unique day.
Are you ready to plan an unforgettable elopement in Paris?
FAQ about eloping in Paris
Check the most common questions our couples have before they decide to elope in Paris. Feel free to contact us for further information.

MEET OUR TEAM
Lorena,
Love Gracefully Paris coordinator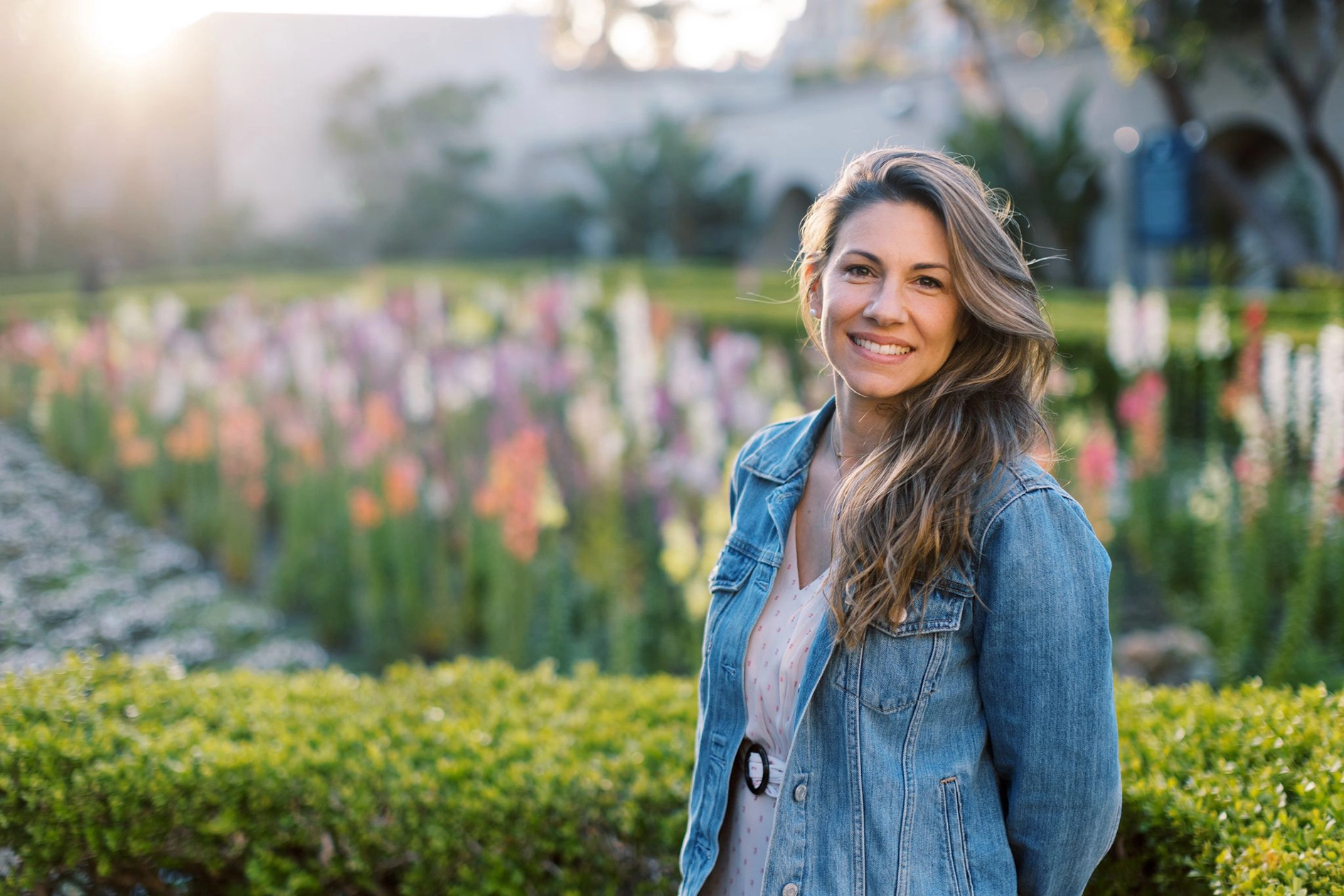 Lorena has been working in the wedding industry for the last 12 years and joined Love Gracefully in 2016. Resolutive, responsible and detail-oriented.
She's a dreamy, creative and sensitive person who lives with emotion and pasion everything that surrounds her. She Will be in charge of booking and coordinating all our vendors to suit your desires and ensure you have an excellent Paris elopement.
She Will also take care of all the little details and inspire you with her graceful ideas and expertise, so your elopement ceremony Will be tasteful, elegant and romantic.

OUR LOVE STORIES
Real elopements in Paris
We organized hundreds of elopement ceremonies in Paris. Discover more about some of them – each one was unique and special.
Do you need more information about our elopement wedding packages? Feel free to fill this form and we will contact you.
Please fill in the form below.
WATCH MORE TESTIMONIALS
IN OUR YOUTUBE CHANNEL
Would you like to hear about how the wedding, the planning, the ceremony went for other couples we have worked with? Feel free to listen to our wedding testimonials video recorded all over Europe. It's direct and personal testimonials. Couples will talk about their renewal of vows, their elopement or their destination wedding. For more, you can also check out our Love Gracefully testimonials Youtube channel.