Love Gracefully
Destination Weddings · Elopements · Vow Renewals · Proposals
Intimate personalized symbolic ceremonies in Europe
París · French Riviera · Rome · Florence · Venice · Barcelona · Madrid · Seville & more
Love Gracefully
Destination Weddings · Elopements · Vow Renewals · Proposals
Intimate personalized symbolic ceremonies in Europe
París · Barcelona · Madrid · Seville · Rome · Florence · Venice & more
YOUR PERSONAL WEDDING PLANNERS & CELEBRANTS IN EUROPE
Welcome to Love Gracefully – The expert team of wedding planners & celebrants in Europe who will organize your unique & personalized love celebration. Surprise your loved ones with a symbolic ceremony in the most beautiful & interesting cities in Europe. Either if you want an elopement ceremony just for the two of you, or a destination wedding with your close family and friends, we will make it possible. Do you want to surprise your sweetheart? We can arrange an engagement proposal or vow renewal during your vacations.
Have you ever gone to a wedding ceremony and got bored because the celebrant said the same thing you already heard a hundred times? Does all the weddings look the same to you? At Love Gracefully, templates are prohibited. We always start from a blank page; wether it's for a destination wedding, a renewal of vows, a proposal or an elopement, for every we create vows for your symbolic ceremony that fits you 100%. How do we do that? Well, we take the time to get to know you; each couple has a different story and each comes with different values. We love the this uniqueness shows in our writing. Big or small, Love Gracefully love ceremonies are unique and personalised.
Contact us and tell us your story – we will make it happen.
Last dates! – Do you want to elope, renew your vows, marry or propose this year?

Book your symbolic ceremony with Love Gracefully in the most romantic locations in Europe. Last dates available – don't miss the opportunity.
Love Gracefully Ceremonies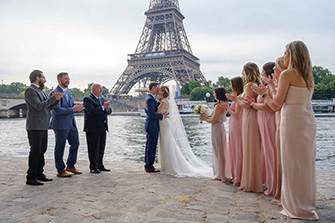 Destination weddings
The magic of a destination wedding is a mix of European romanticism with an awesome location. Wether you celebrate your vows on a beach, in a garden, on a mountain or in a castle, you'll feel like a real princess meeting her prince when he'll say yes to the famous question…
Elope in Europe
Far away from the stress of planning a wedding at home, an elopement ceremony will allow you to enjoy the excitement of a real wedding mixed with the exclusivity of an intimate ceremony that fits your need of a personalized setting as well as customized vows!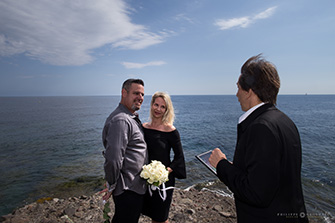 Vow renewals
Wether you want to surprise your beloved or you are both preparing your vow renewal ceremony, you will take a significant step in your relationship by declaring once more that you commit yourselves to a love for one another that involves the total giving of yourselves!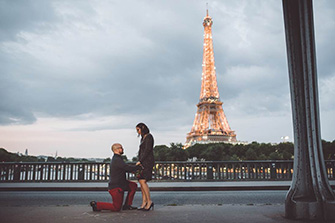 Proposals
Maybe she expects it, maybe she dreams of it, maybe she has no clue; in all cases you want her to say yes! A proposal is so unique that you want it to be totally perfect. And a trip to Europe is the best moment to ask, for sure! As we say in Europe, a true proposal is the highest form of romanticism…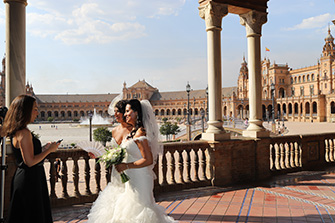 Gay & Lesbian
European cities offer plenty of gay and lesbian friendly sites to celebrate your love ! You want to sneak away with your loved one for an elopement ceremony or a surprise proposal ? Then you will love Paris or Barcelona two gay and lesbian friendly cities that conjure images of amorous moments…
CHOOSE YOUR CEREMONY DESTINATION
France is well-known for its sofistication & bohême style. Either if you want a celebration in Paris, the City of Love, or in the French Riviera, to feel like a movie star, organizing your symbolic ceremony in France would be unforgettable.
If you celebrate your love in Italy, you'll do it surrounded of history and art. Either if you want to get married in Rome, Florence or Venice, the ancient landscape of Italy is the perfect scenario to organize your symbolic ceremony.
Passion, colorful & warm is the definition of Spain. Organize your wedding celebration between Gaudí's arquitecture in Barcelona, or maybe a surprise vow renewal in Seville ancient streets? Close to the sea or surrounded by history, Spain will surprise you.
Switzerland is the right landscape for the adventurers. Is your love a celebration of amazing experiences? Elope, get married or propose with the majestic Alps and be sure your love-story is full of adventure.
MOST POPULAR DESTINATION WEDDING VOWS PACKAGES
EIFFEL TOWER

&

NOTRE-DAME CATHEDRAL

in

PARIS

Eiffel Tower, a classic setting for a perfect ceremony
Are you looking for destinations ideas to propose, elope or renew you vows ? Then you should consider coming to Paris to celebrate your love under the Eiffel Tower. This iconic building of romanticism is bound to seduce you like it did for many couples in love.
A rather recent building, the Eiffel Tower was first built as a project for the world fair in 1889. The tallest building in Paris, it soon became the most popular landmark of Paris, with its harmonious iron shapes.
A strongly feminine as well as masculine symbol, it is the perfect witness to host your wedding vows. And I'm guessing you have probably watched some day a romantic movie together with your loved one that was set just at the foot of the Iron building.
Don't be afraid about the Eiffel Tower being the most visited paid monument in the world. At Love Gracefully, we have worked over a decade in crafting love ceremonies in Paris, and we know were to go to get you the best, and only the best of the Iron Lady. It's the most special day of your love life, and it should be perfect. Wether you are looking to propose, elope, renew your vows or have an intimate destination wedding there, we have selected spots of our very own that will fulfil your expectations.
Notre-Dame cathedral, a classy wedding vows destination
Would you like to surprise your wife or husband with a vow renewal ? Then the cathedral will enchant you. Bathed by the River Seine, it will be a spectacular backdrop to say "I do" again. Some of the most touching ceremonies have set place just there, like this couple, who had been married for 35 years and had a surprise wedding anniversary renewal. Love can be as strong as an almost 700 year-old church !
With over 300 love ceremonies celebrated in many years, we have developed a unique skill for vow ceremonies. At Love Gracefully, you won't get a template ceremony that you have seen and heard everywhere. We insist on delivering a tailor-made, fit for you only, celebration. How do we do that ? Well, we take the time to getting to know you as a couple, via email, skype,…
Would you wish a special car, a bottle of Champagne, a 3-hour photo shooting in the French capital, a cruise on the River Seine ? Anything is possible. And because we have been the very firsts in Paris offering vow weddings here, we are in touch with some of the best professionals you might need : photographer, videographer, florist…
Our English speaking celebrant, Pierre Therond is committed to follow you all the way to the big day. He will be available for you.
Testimonials of our happy couples
You would like to hear about how the wedding, the planning, the ceremony went for other couples we have worked with ? Feel free to listen to our wedding testimonials video recorded in France and all over Europe. It's direct and personal testimonials. Couples will talk about their renewal of vows, their elopement, their proposal or their destination wedding. For more, you can also check out our Love Gracefully testimonials Youtube channel.
"We're from Ontario and had no idea about Paris. Pierre-Henri helped us with everything; recommendations, timing, perfect wedding vows writing… He went above and beyond. Thank you Pierre-Henri!" A couple from Ontario – Happily married in Paris by Pierre. Hear it from the real happy couples !
Because we want you to remember this ceremony forever, We will be at your sides every step pf the way to planning this ceremony. From the very first questions you might have about : where it's best to marry in Paris or where to renew you vows in Europe, or even what to wear on a winter wedding ? We will guide you through the difficulties of planning a destination wedding from far away. I will of course help you choose the best location for your special day. I will also introduce you to the people I love working with : a variety of talented artists and professionals such as photographers, videographers, musicians, hair and make-up artists. I only work with people who share the same perspective, passion and professionalism as I. Experts who have a love of beauty and the desire to create truly individual vows ceremonies for couples.
I celebrate ceremonies all year round: an eloping ceremony during a warm spring weekend in Paris or Seville, a big wedding on the sunny summer beach in Monaco or Barcelona, a proposal in the lovely Venice or a renewal of vows celebration in a sunny snow-covered mountain during Christmas period in the Alps. Europe has plenty to offer, wether in terms of geography or in terms of architecture. It is full of breathtaking top wedding locations where you can celebrate love all year round. France, Spain, and Italy are some of the best wedding destination you could wish for. Beaches, mountains, lake shores, old cities, lovely lush parks, it's all there, you just have to make your pick!
Make a wish, and we will fulfill it !