GAY & LESBIAN LGBT+ WEDDINGS IN EUROPE
Same-sex symbolic ceremonies
Do you want to celebrate your same-sex or lgbt+ elopement, destination wedding, or vow renewal extraordinarily while you feel accepted and safe? We hand-picked the most open-minded Europe destinations to organize your dream love celebration.
A wedding abroad is a unique way to let your love shine against a stunning backdrop. Europe is the continent of romance, home to the greatest love stories of all time, and for a reason! Full of history and multi-faceted, unique locations are plenty and waiting for you.
Some cities have been historically wedding and holiday destinations for LGBT+ people, such as Sitges and Mykonos, but this doesn't mean you can't experience true love in other Europe destinations as well, where gay and lesbian marriage is accepted, and there are laws against LGBT+ discrimination.
You deserve to celebrate your love story. We will make it happen.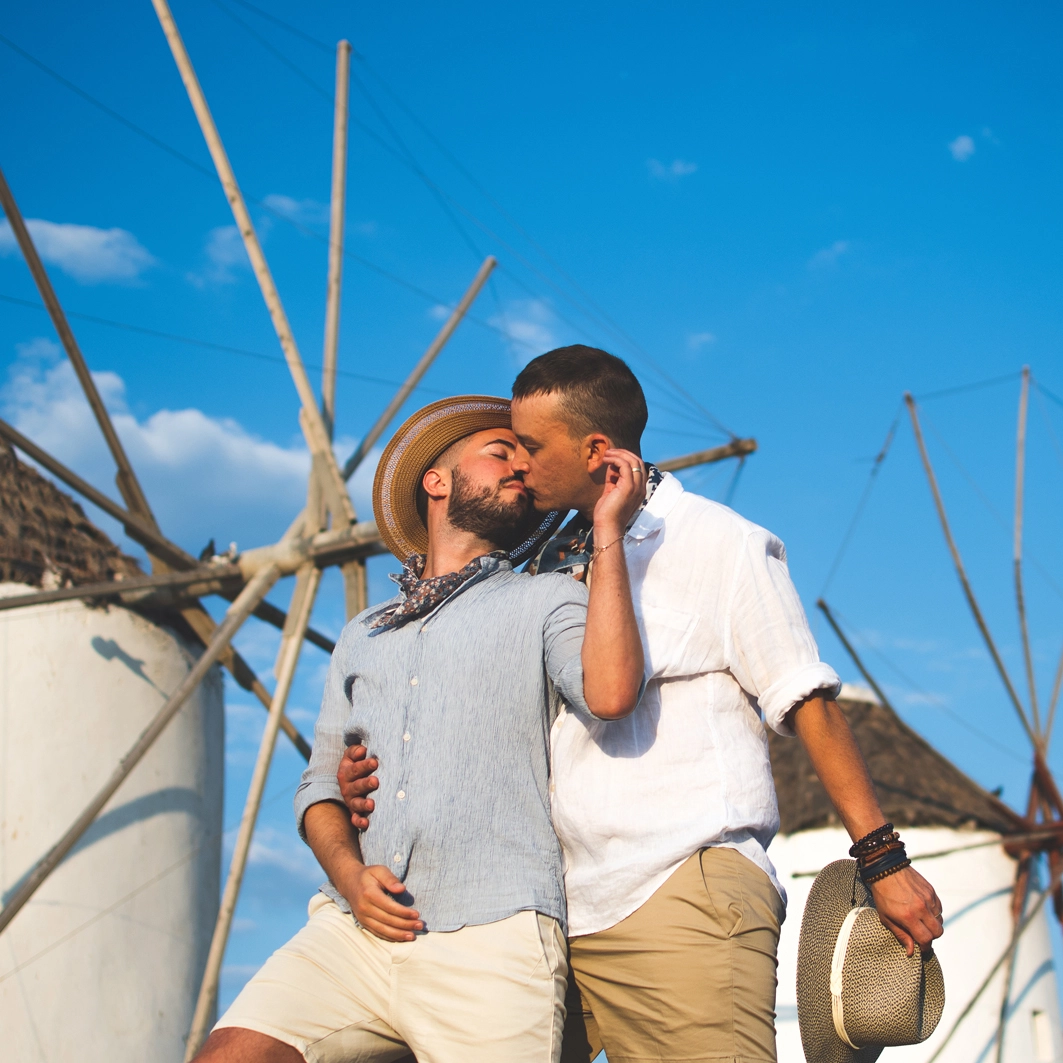 YOUR TAILOR-MADE

EUROPE ELOPEMENT
To make things easier for you, we have designed a unique user-friendly system that enables you, in a straightforward look, to choose all three elements to make your ceremony a successful one: the type of ceremony your want (elopement, destination wedding, or vow renewal), its location and the price package (including the different services you would like included). The price of those all-inclusive packages may vary depending on the destination.
We have designed these very affordable wedding packages thanks to a decade-long experience in celebrating symbolic ceremonies. On top of that, you are included in our expertise in choosing the right vendors (whether you would like a car, a wedding photographer, or a video-maker) to fulfill your unique needs. We love to think about our activity as a great way to design your dream day. To do that, we will take all the time we need to get to know you and your honey so that we can plan a one-of-a-kind ceremony.
So join us here; we will be happy to be at your side for the creation of this leisurely, flowing, and magical day you are about to celebrate!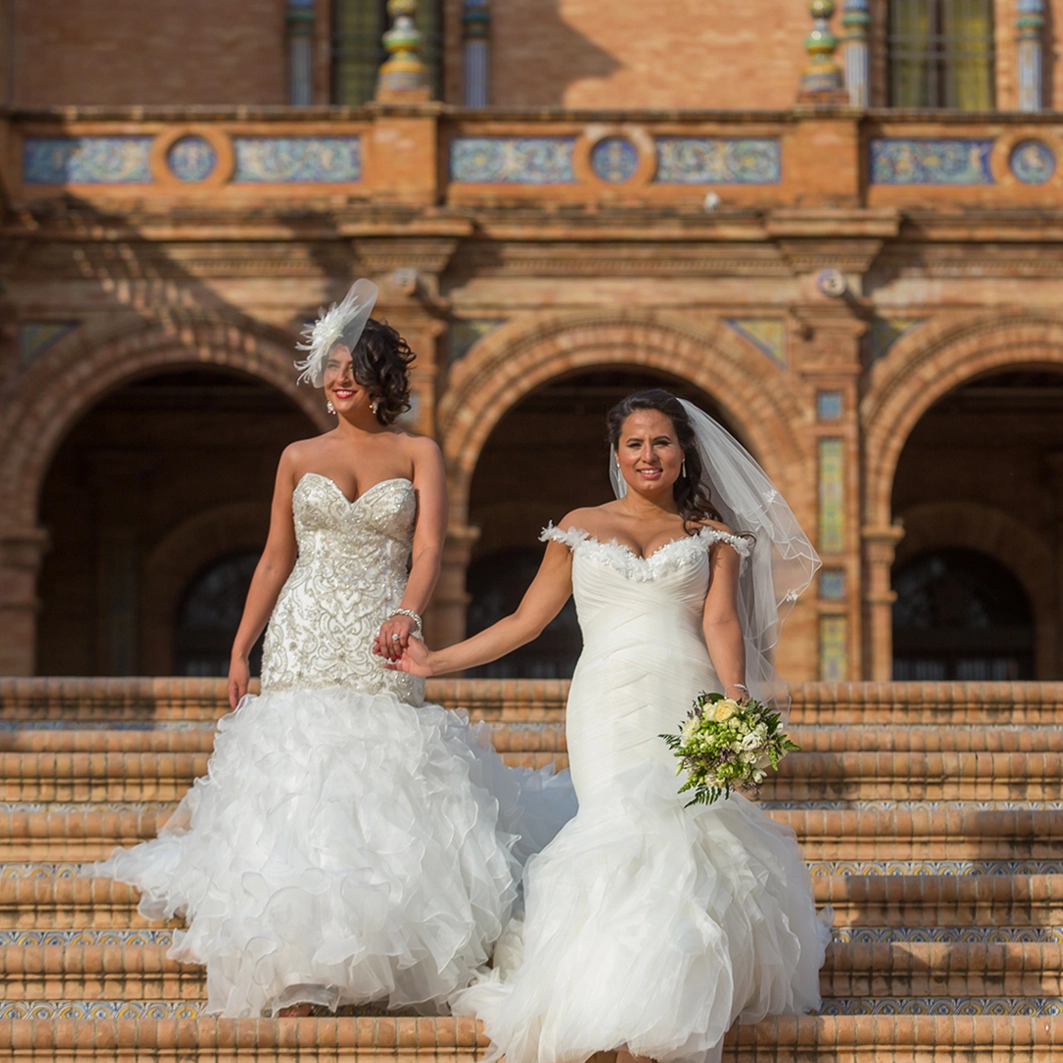 LOVE GRACEFULLY

IN EUROPE
The Love Gracefully team has organized weddings in Europe for 15 years. Pierre, the founder and one of our celebrants, started this business in Paris, France, the city of love, and he is passionate about love stories: no matter where you come from, who you are, or who you love, he believes everyone deserves to celebrate their relationship freely.
That motivated him to create a fantastic team of wedding coordinators, celebrants, and other vendors aligned with his vision for gay and lesbian weddings around the most welcoming European cities.
Our celebrants and coordinators are locals, so they know the cities where you will organize your lgbt+ wedding or ceremony. They will be there for you to support you at any step to make sure your day is only about you. Our coordinators will find the best vendors and offer our secret wedding spots to ensure you get the best backdrop without annoying crowds.
And the most important: they all speak good English in countries or cities where the natives might not understand it very well. They'll gladly help you navigate the customs and particularities of the European city of your choice.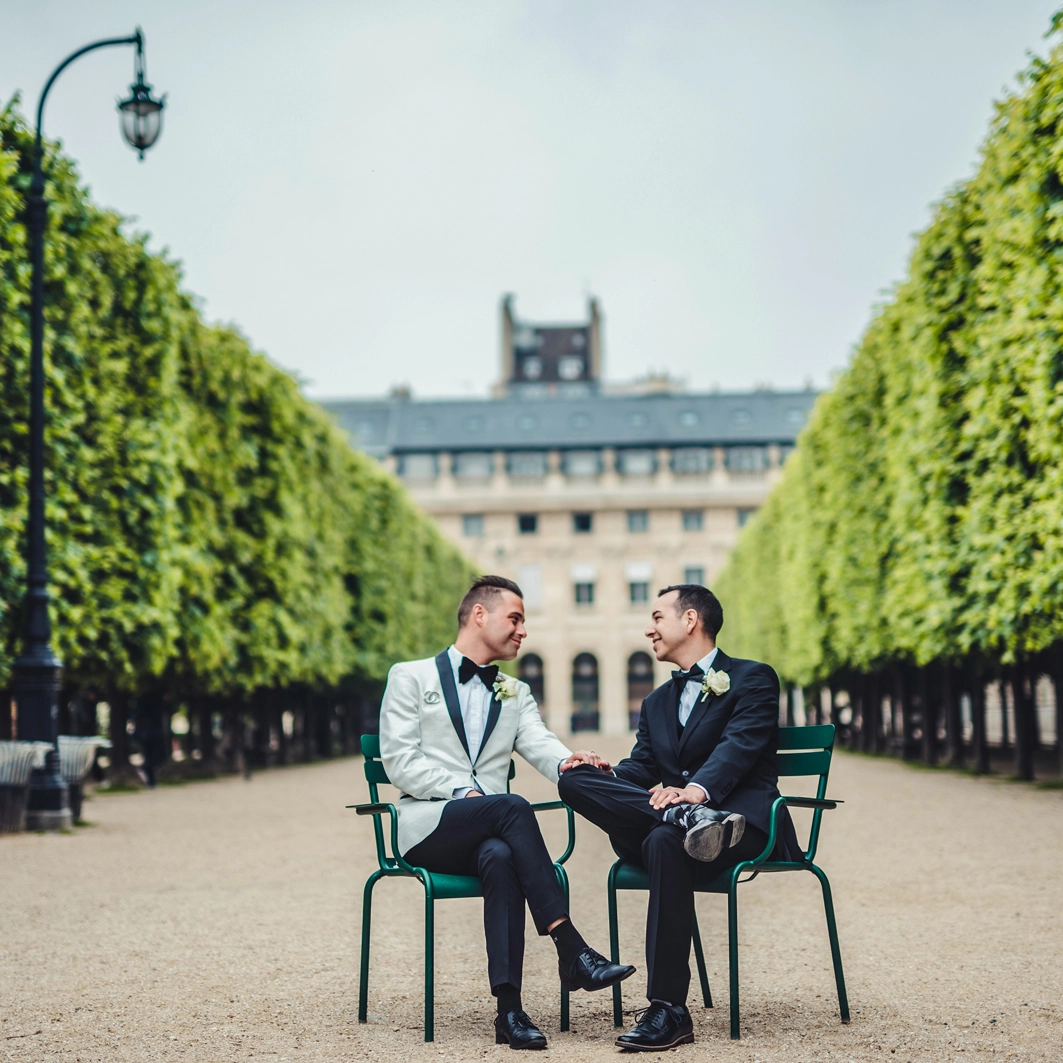 CHOOSE YOUR ELOPEMENT DESTINATION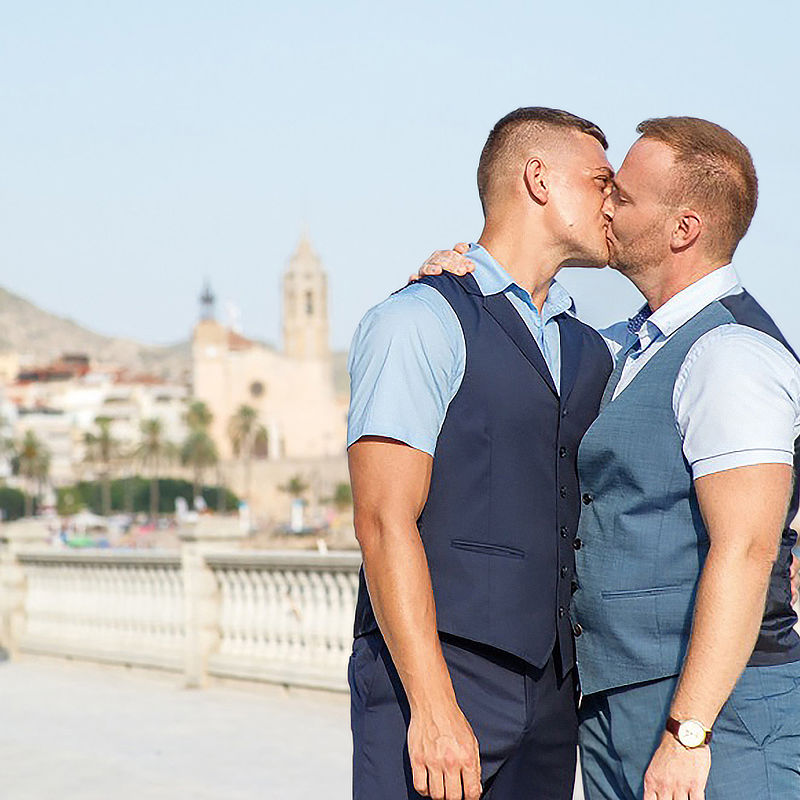 Embrace the spirit of inclusivity and celebrate love in the vibrant coastal town of Sitges, known for its welcoming atmosphere and lively LGBT+ community. It has been like this for decades, even when gay and lesbian marriage wasn't accepted anywhere in the world. With its beautiful beaches, charming streets, and stylish venues, Sitges sets the stage for an unforgettable LGBT wedding celebration that combines romance and fun in equal measure.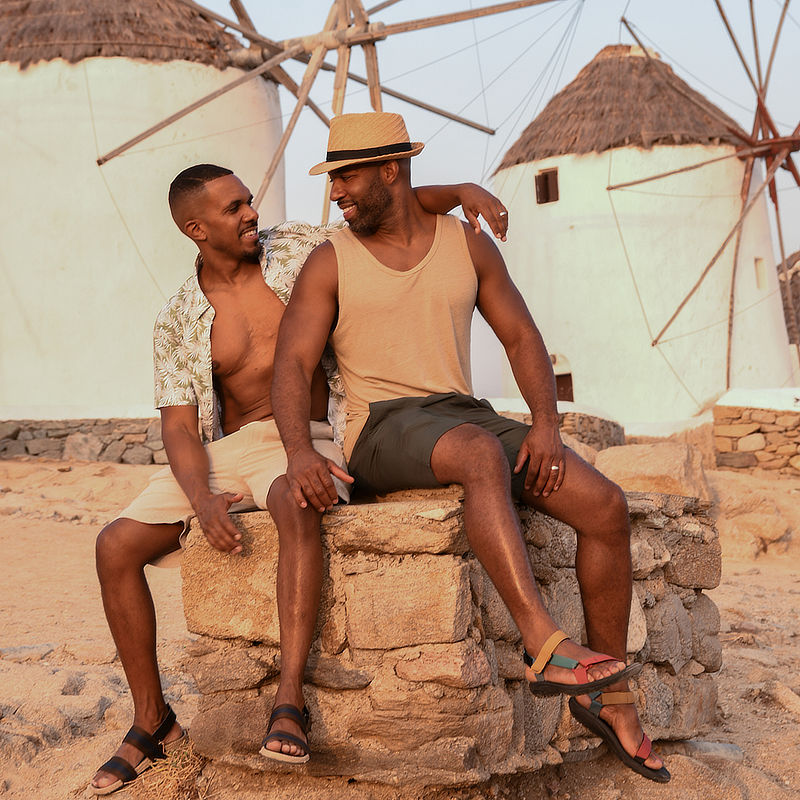 Let the enchanting island of Mykonos be the backdrop for your dream LGBT wedding. Another European location is known for its acceptance of the LGBT+ community in a very open way. With its stunning sunsets, picturesque beaches, and cosmopolitan nightlife, Mykonos offers the perfect blend of romance and excitement. Whether an intimate beach ceremony or a glamorous party, Mykonos promises an unforgettable celebration of love.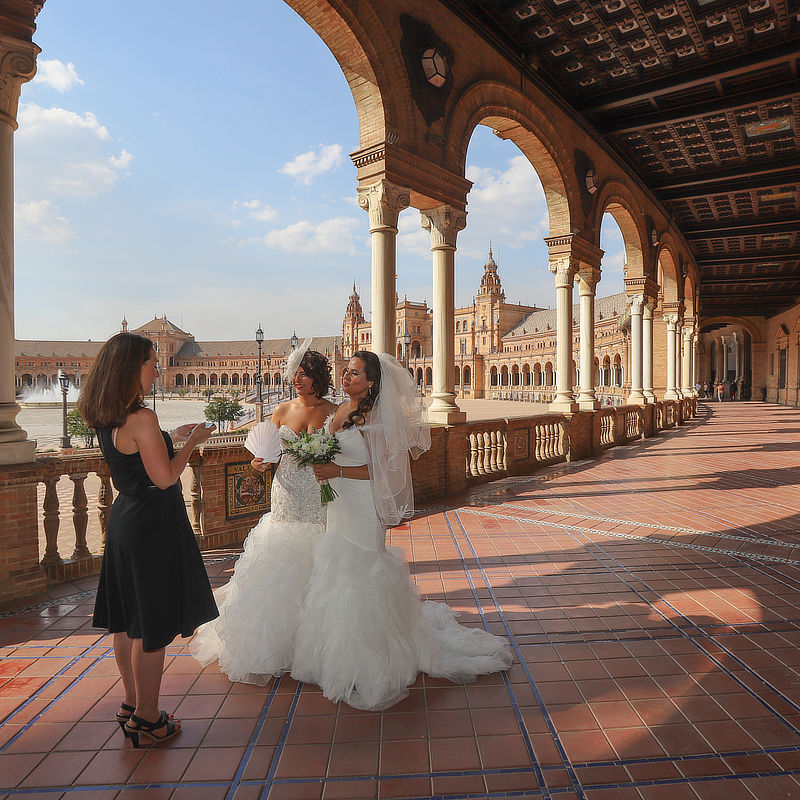 As a continent that celebrates diversity and embraces love in all its forms, Europe is an ideal destination for LGBT weddings. With many enchanting locations, you can find the perfect setting that resonates with your love story. Whether it's the historic charm of cities like Paris and Rome or the breathtaking landscapes of the Greek islands, Europe offers endless possibilities for a magical LGBT wedding experience.

Watch more testimonials on our Youtube channel
Mykonos:
Best-selling

destination for LGBT+ ceremonies
Celebrate your love on the captivating island of Mykonos, known for its enchanting landscapes and vibrant LGBT+ scene. This Greek gem offers pristine beaches, azure waters, and charming whitewashed buildings cascading down the hills, but that's not all!
Mykonos is considered LGBT-friendly due to its long-standing history of embracing diversity and inclusivity. The island has been a popular destination for the LGBT community for decades, dating back to the 1960s. The island's vibrant and lively atmosphere is enhanced by its numerous LGBT-friendly bars, clubs, and venues, where people from all walks of life can come together and celebrate freely.
The local community and businesses on the island actively support and promote LGBT+ rights, creating an environment where everyone can feel comfortable and respected. From the beautiful beaches to the charming town with its narrow streets and picturesque buildings, Mykonos offers an inviting and inclusive setting for LGBT+ travelers, making it an ideal destination for weddings, honeymoons, and romantic getaways.
Sitges:
Secret gem

destination for same-sex weddings
A little further down south, in Spain, we can organize your wedding in Sitges. The biggest gay-friendly beach destination in Europe, Sitges is a great spot to soak up the Mediterranean vibes, sun on the beach, and destination weddings. Sitges has been a gay-friendly city since the 1960s, with a famous Pride Parade and several restaurants, bars, and other businesses promoting LGBT tourism, ensuring their safety.
Sitges are the traditional stone with flowers in Mediterranean towns, but they are far less crowded and mainstream than elsewhere. The clear advantage of Sitges is that it's only 30 minutes from the vast international airport of Barcelona, with flights coming in and out from everywhere at a very affordable price. Not only that, but Sitges is only 30 minutes from downtown Barcelona where you'll find everything you can think of. So, Sitges offers both the advantage of a small town on the sea with all the benefits of a big city. Check it out and see if the Spanish vibes are for you!

Create your perfect ceremony
The best LGBT ceremony is the one that you are dreaming about!
Feeling overwhelmed about organizing your elopement in Europe is expected, so many questions arise. But that is why we are here, to answer all your questions and disappear your fears. Let's start organizing your same-sex marriage.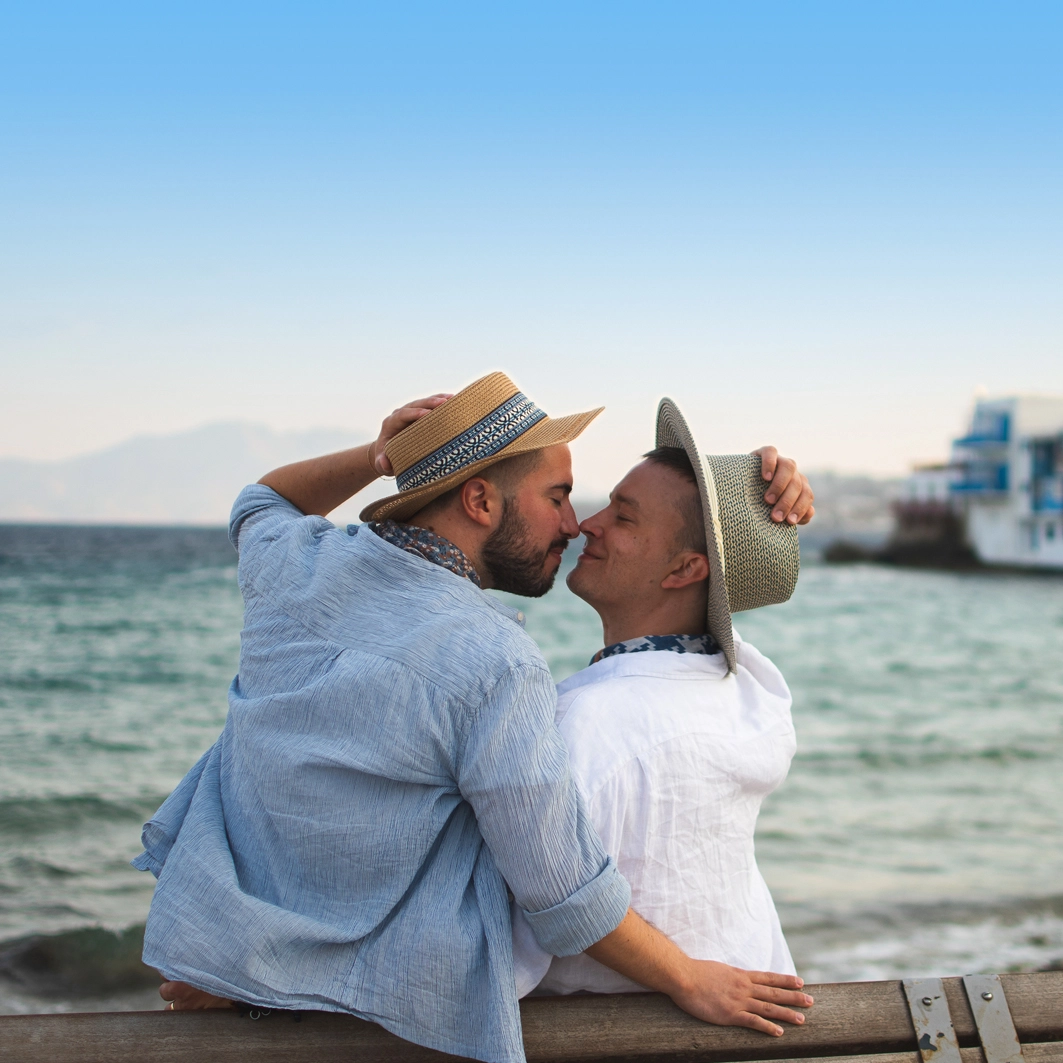 STEP

1


Chose your destination
As we said, all our wedding destinations are LGBT+ friendly, and you will feel celebrated and welcomed. Of course, if you want to feel in the heart of the gay and lesbian communities in Europe, Sitges and Mykonos are your best choice.
Otherwise, you can pick a location with another criterion. Maybe your ancestors were from Europe, and you want to honor them on this special day. On the other hand, you might want a specific vibe or aesthetic, and that's a great reason to choose one place or another. You might want to consider your budget and loved ones if you plan to have guests – some destinations can offer the same comfort and greatness while being more affordable.
If you are still in doubt, don't hesitate to reach out, and we will help to find the perfect place for your LGBT+ elopement, destination wedding, or vow renewal.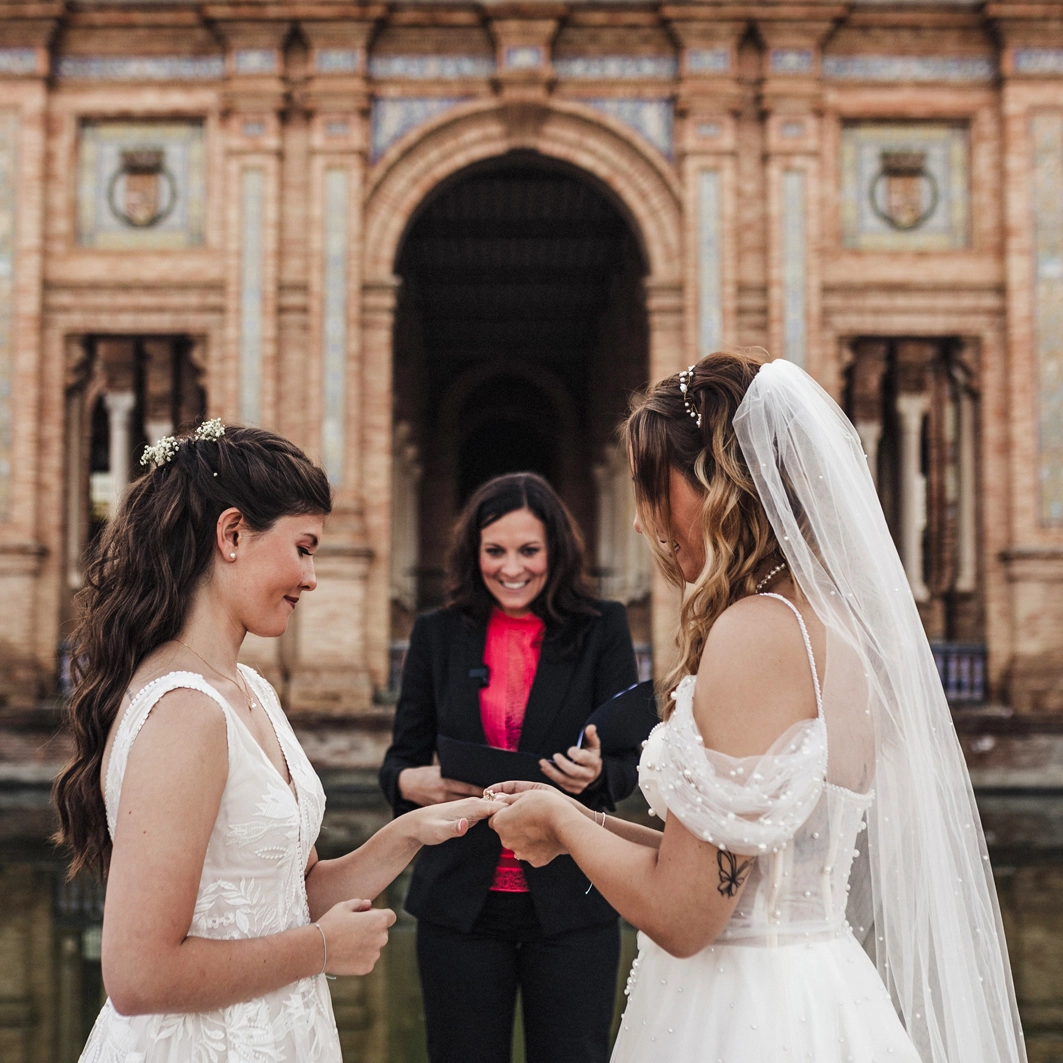 STEP

2


Book your special day
Dates at Love Gracefully book very quickly, so once you are committed to getting married in Europe, you should block your day and wedding package as soon as possible to ensure your planning goes smoothly.
You can decide on a date that is significant in your love story or convenient for your trip. Keep in mind weather conditions or the affluence of tourism crowds. We can help you with that, but ultimately, all decisions are alright!
With your date defined, it is time to pick a wedding package. We created five ceremony packages that accommodate most couples' basic needs but will be personalized to make your vision come true.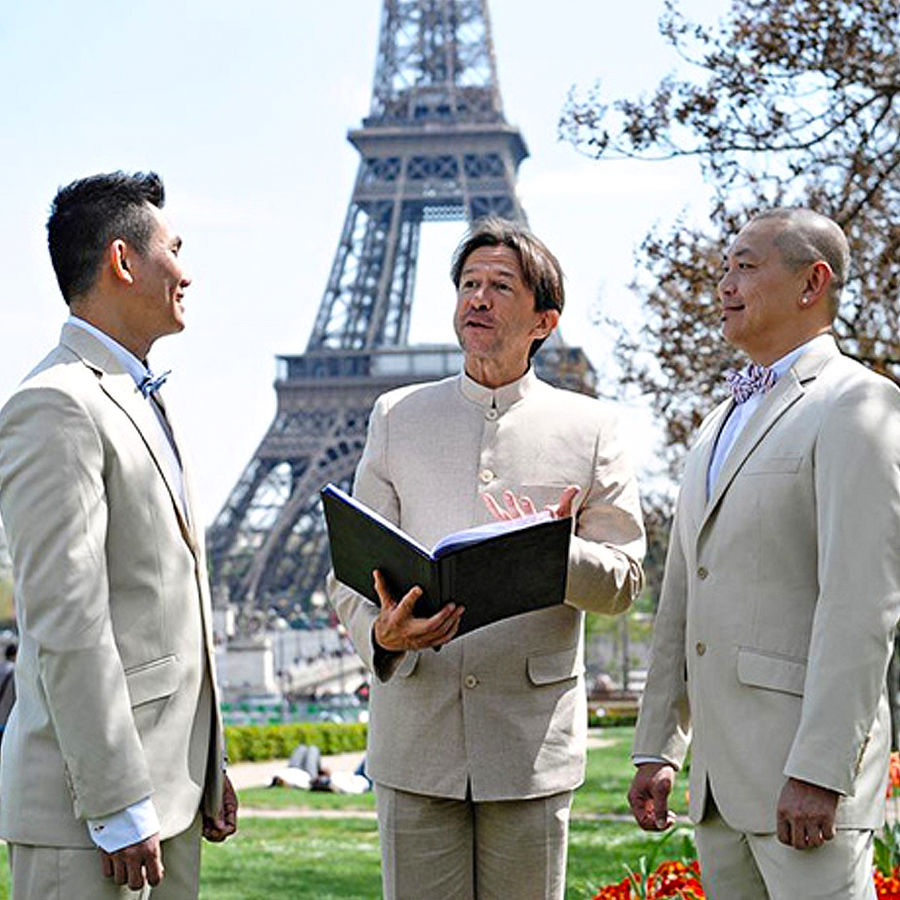 STEP

3


We create together the best day of your life
With a location, date, and wedding package chosen, it is the moment to have fun: design your wedding!
The ceremony must speak about who you are and your love story. That's why our celebrant will contact you in advance to get to know you better and ensure your day is only about you. This way, they can build a script that touches your heart and work with the coordinator to offer you the best ideas for this unique day.
Once we get to know you, we will help you personalize all the details in your package. If you want some extras, we can add them for an extra cost. No matter what you wish, we will make it happen.
Are you ready to plan your dream wedding in Europe?

MEET OUR TEAM
Pierre,
Love Gracefully founder and director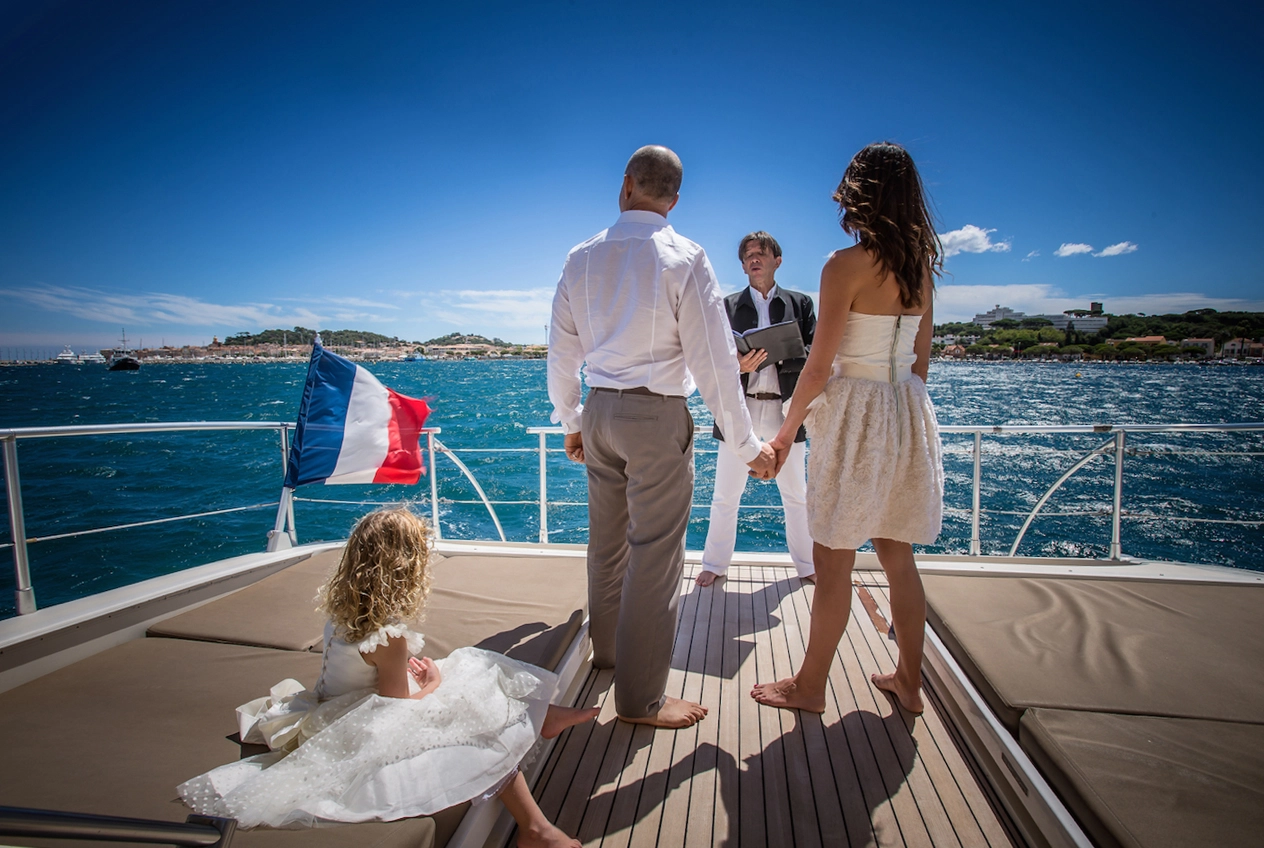 Pierre is the founder of Love Gracefully, an organization who have helped hundreds of couples celebrate their wedding day in Greece and Europe. Love Gracefully has gained plaudits for the brilliant ceremonies it delivers, and the way in which our team works with the utmost diligence to make each ceremony unique.
Pierre and his team Will help you piece together the ceremony you wish, and in the location of your choice. You can contact Pierre to discuss all of your requirements, and in depth. Be assured that Pierre and his team Will cater for your needs, no matter what it is you are seeking to arrange, and where you wish it to happen.
"The fact that I talk about love all day long with couples who want to celebrate their love is a real blessing. I have so much gratitude for the life I have: being of service for couples from all over the world! I love to create ceremonies that are meaningful. To see the eyes of the couples I marry while they share their vows is magic: I know I am making a difference in a world that, sometimes, doesn't make much sense…"
Pierre Thérond.
Pierre and his team Will help you piece together the ceremony you wish, and in the location of your choice. Check out the packages and destinations that are available on our website, but let them simply be the inspiration for your own thoughts and wishes. You can contact Pierre and his team to discuss all of your requirements, and in depth. Be assured that Pierre and his team Will cater for your needs, no matter what it is you are seeking to arrange, and where you wish it to happen.
Do you need more information about our lgbt+ wedding packages? Feel free to fill this form and we will contact you.
Please fill in the form below.
WATCH MORE TESTIMONIALS
IN OUR YOUTUBE CHANNEL
Would you like to hear about how the wedding, the planning, the ceremony went for other couples we have worked with? Feel free to listen to our wedding testimonials video recorded all over Europe. It's direct and personal testimonials. Couples will talk about their renewal of vows, their elopement or their destination wedding. For more, you can also check out our Love Gracefully testimonials Youtube channel.