Spain Wedding Packages
ELOPEMENTS • DESTINATION WEDDINGS • VOW RENEWALS
CELEBRATE YOUR LOVE IN SPAIN
HEARTWARMING TAILOR-MADE CEREMONIES
Warm sun, beautiful colors, delicious food, and heartwarming people: what do you want for your wedding ceremony? Welcome to Spain!
Look at our wedding packages in Barcelona, Mallorca, Sitges, Seville, or Madrid. They will provide you with that Spanish spice: colorful, sunny, and vibrant! A mix that you can not find at home but also an energy that will make your wedding shine high! Spain is perfect for combining your destination wedding with a relaxed vacation.
Not only that, but if you come to Spain to get married, you'll hit two birds with one stone: you'll have the best wedding you can dream of without the pressure of organizing a big event at home! And, to be honest, in your homeland, you can't find such breathtaking and particular architecture for your wedding venue, or the salero, the unique vibe that the Spanish lifestyle has. It is perfect for couples who are passionate about each other and enjoy the little things in life. And, of course, with some help from our wedding coordinator, we will organize a memorable event you will remember forever.
CONTACT US AND TELL US ABOUT YOUR DREAM CEREMONY; WE WILL MAKE IT HAPPEN.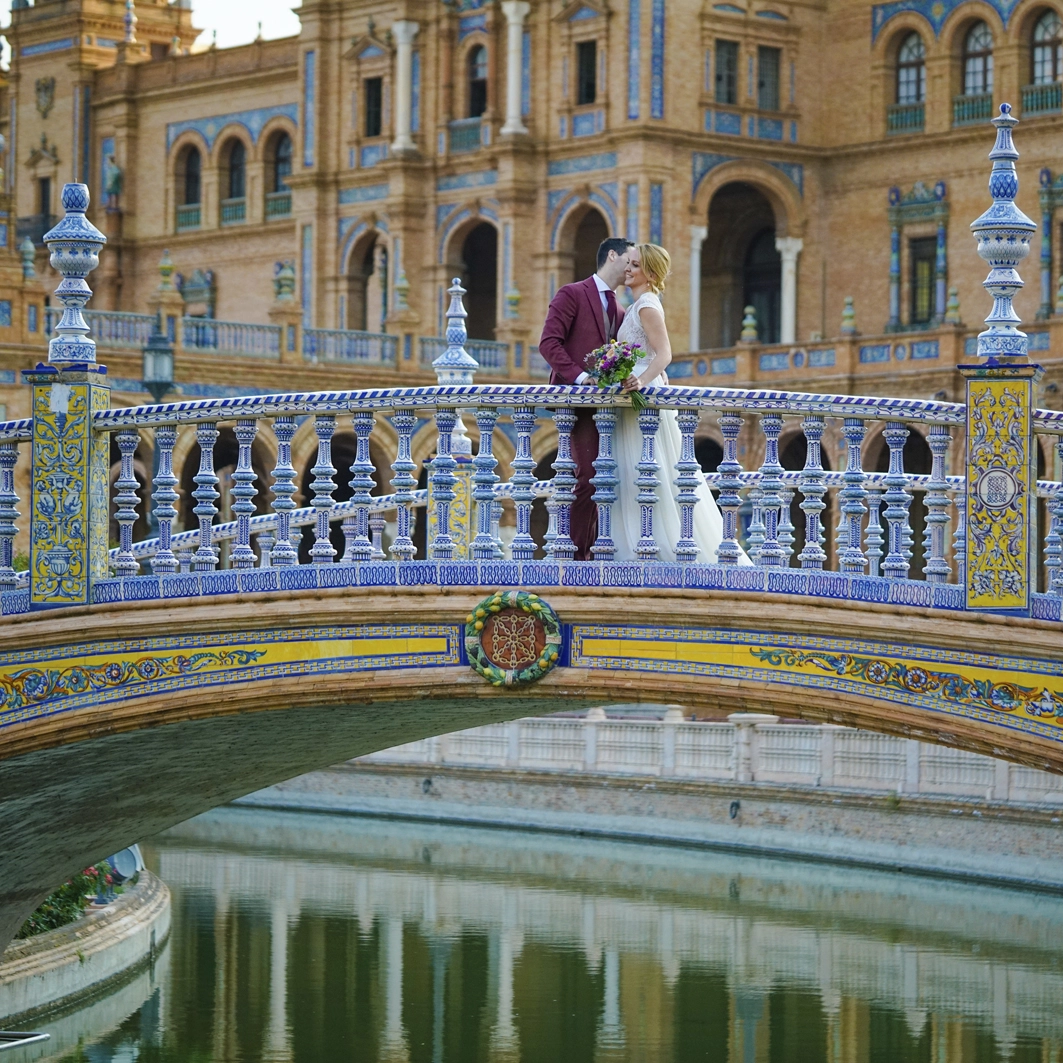 CEREMONY IN SPAIN
The beautiful coast of Spain and its many ancient cities are replete with glamorous, fun, and original spots for your destination wedding. Can you picture yourself exchanging your vows under the sun, braced by the rich and warm culture of the Latin spirit, or by the beach? Then head to Spain and prepare for the best day of your life. We will organize the perfect Destination Wedding in Spain tailor-made to your desires: do you love Barcelona's colorful, dreamy architecture and beach, or prefer the ancient and magical city of Seville? Do you want a chic and classy ceremony in Madrid?
Which Spanish city is the best for your destination wedding? Choosing between Barcelona, Sitges, Seville, Mallorca, or Madrid might feel daunting. Even though these cities are very different from each other, they all have the potential to make your dream wedding come true: no matter if you want to elope in Spain, celebrate a vow renewal, or organize a lavish destination wedding, Spain will ensure a wedding out of this world. We are here to help you find the Spanish city that fits your vision! We have organized symbolic ceremonies in Spain for a decade, so we know each place's vendors well. Book one of our Spain wedding packages, let us know your dream, and we'll make it happen!
SPAIN: BLENDING OF CULTURES, IDEAL VACATIONS
Historically, Spain has been the melting pot of Europe: Iberians, Romans, Greeks, Vikings, Muslims, Christians, and Jews have shared the land, exchanging knowledge and traditions for centuries. Suppose you book a Spain wedding package for your special day. In that case, you will feel this multiculturality in many ways: Spanish people are open-minded and creative, a varied and distinctive gastronomy that fits many palates, and the architecture has a unique flair you can only find here. Due to their cultural heritage, life in Spain is on the streets: markets, terraces, tapas, and traditional festivals are everywhere.
In Spain, it is easy to find a cultural spot representing your ancestors; to connect with their history and culture. This is why it is a great place to celebrate your new life chapter and organize a romantic and passionate honeymoon that will show you bits of many cultures together. At the same time, Spain is generally affordable and ready for tourists, so guests will be entertained and comfortable if you have any.
Ancient Spain as your wedding backdrop is the perfect message of union, and working together is the essence of love and life. Get ready to say 'Sí, quiero'.

CREATE YOUR PERFECT CEREMONY
We know: you have many questions and worries. That's why we are here: Love Gracefully are professional celebrants with experience with the locals who will help your Spain wedding shine.
We don't work with boring templates to create a wedding. We have five Spain wedding packages to help you with the initial planning, but it's just a start! Our coordinator will help you design the perfect day for you.
Choose between a destination wedding, an elopement, or a vow renewal in Spain, and we will make it happen
Get ready to create your dream wedding now:

CHECK AVAILABILITY
Please go to our contact page here. You tell us when & where you want to celebrate your Spain wedding ceremony, and we'll let you know the possibilities. We'll explain our work in detail and guide you through the process.

CHOOSE YOUR PACKAGE
We have different Spain wedding packages that match different wedding styles, but remember that they can be customized to make your vision a reality. So no matter the type, ask us as many questions as you need to before you book us.

BOOK YOUR DATE
Once we have answered all your questions, you can book our wedding packages by only paying a deposit via our friendly-user credit card. Once that's done, we start working side to side. We finish our work once your ceremony is over.

PICK YOUR WEDDING CEREMONY STYLE
SPAIN DESTINATION WEDDING
Imagine yourself surrounded by your loved ones in a sunny, breathtaking location overlooking the mediterranean sea or some ancient buildings. That's a Spain destination wedding! Our packages include free spots, but you could go the extra mile and get married in historical landmarks, beautiful beaches, enchanting castles, and charming vineyards. The vibrant and passionate atmosphere will add the cherry on the cake for a perfect day. And, now that you crossed the ocean with friends and family, why don't you extend your days here to enjoy fun and affordable vacations together? In Spain, everyone will find some cultural or leisure activity to enjoy, and gastronomy will offer something to every palate! Book your Spain destination wedding package now, and let's organize your special day.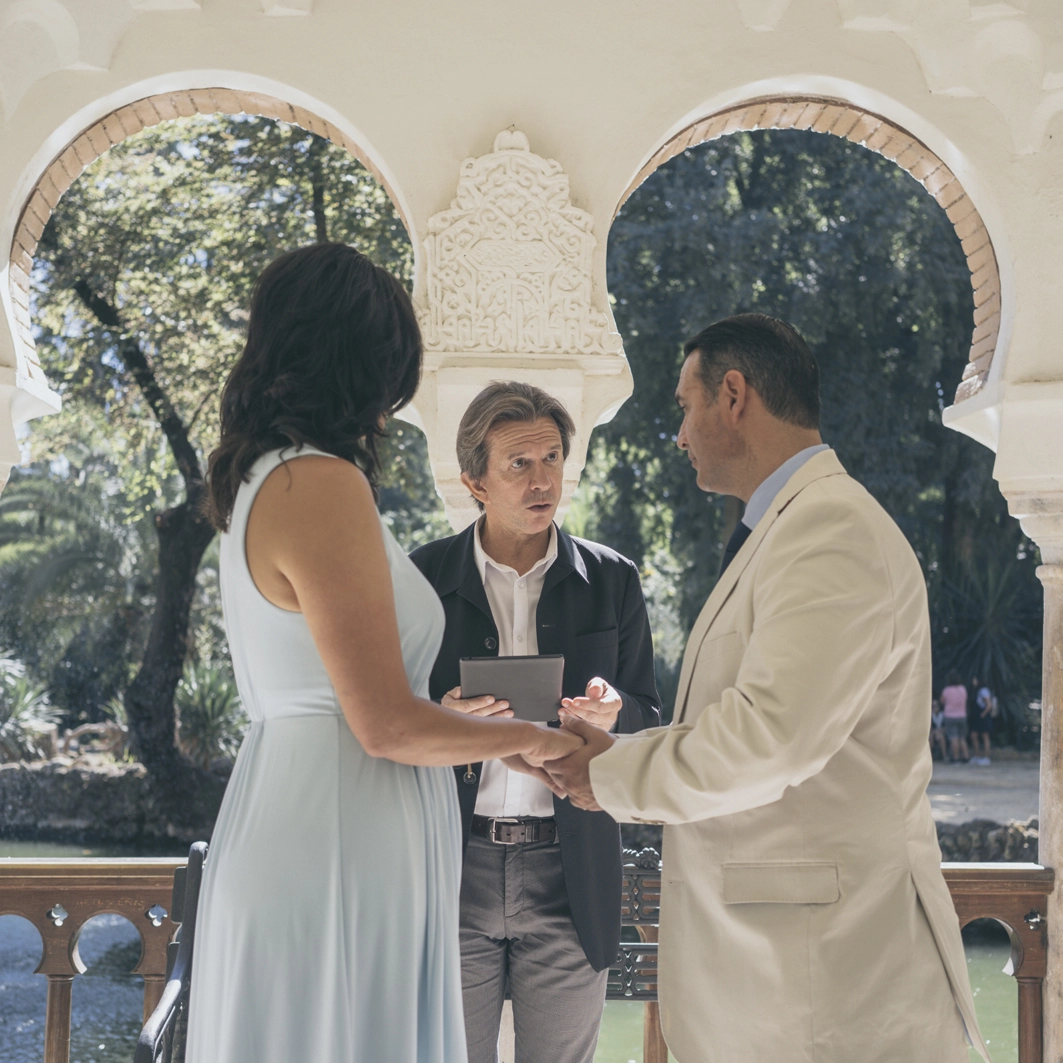 SPAIN VOW RENEWAL
It is the moment to reaffirm your love! And there isn't a better place than the country of passion. Organize a Spain vow renewal while on a romantic and seductive getaway in the land of sun, colors, and sea. Whether you renew your vows in front of a historical monument, a beachfront setting, or a romantic little garden, you can select a venue that has special significance for both of you. If you have a special connection to Spain, such as through heritage, memories, or life experiences, renewing your vows in the country can serve as a way to honor that connection. It allows you to celebrate your love while embracing and sharing a part of your history. Don't hesitate and book a Spain vow renewal package today!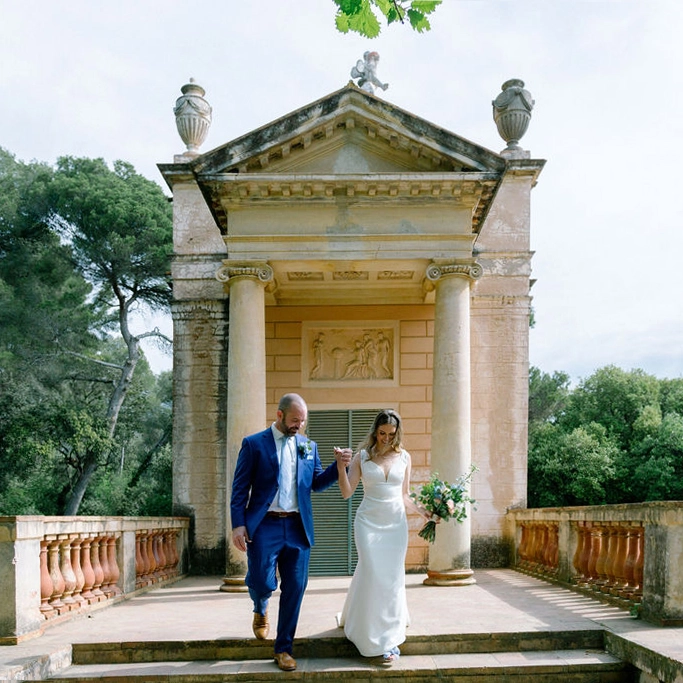 SPAIN ELOPEMENT
Do you want to avoid the stress of organizing a big event at home? Eloping to Spain gives you an intimate wedding experience, free from the stress and expectations often accompanying large weddings. You can focus solely on your partner and create special memories together in a romantic and private setting. Spanish cities are romantic and full of passion thanks to their beautiful warm colors, ancient magical architecture, and idyllic beaches. A symphony of love and serenity will surround the two of you while you say, 'I do.' Last, it will be the perfect country for an intimate but adventurous honeymoon, with many activities you can enjoy only for two. Discover our Spain elopement packages and enjoy a unique celebration.

PICK YOUR SPAIN WEDDING LOCATION
Do you want to marry in Spain but still need help picking a city? Read more! We explain the keynotes of each one below and the flavor they will add to your wedding.
If you are still undecided, don't forget we are here. Contact us, and we will find the city of your dreams. We have over 10 years of experience.
All our Spain wedding packages include several free locations, but we can offer you more exclusive, private venues in Spain for an extra fee. Contact us to know more.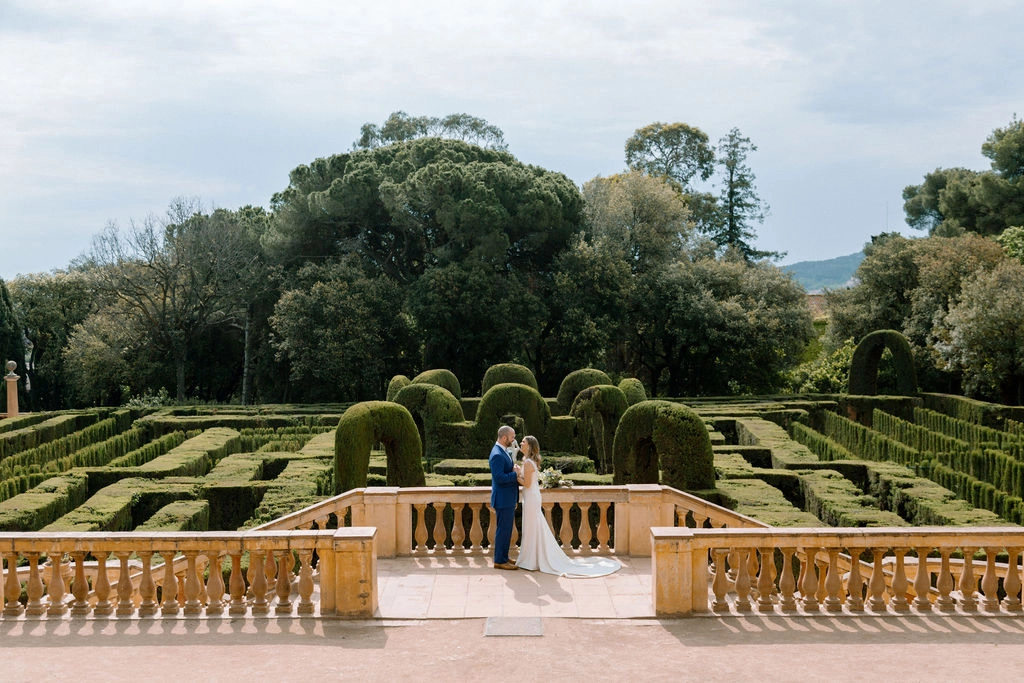 Barcelona is more than a city. It has buildings, streets, and shops, but it has a beautiful beach and attractions around its outskirts. So, a Barcelona wedding package is for you if you want your wedding ceremony to mix nature and the city.
Barcelona is also built of the greatest's minds' dreams. You be attracted by the mix between modernity and old architecture, with many buildings from the Gothic era, such as the Cathedral or the Gothic Quarter, while you suddenly find one of the emblematic buildings designed by Gaudí or any other modernist-era artist. You can travel in time or to a fairyland in Barcelona, bringing you many photo opportunities!
Regarding photo opportunities, one should mention the special Mediterranean sunlight, the world's uniqueness, and the city's colors. It has inspired many artists such as Picasso or Gaudí, representing it in their art or using it as an artistic tool reflecting the city's beauty. As for the colors, you'll see that the people here love them! Barcelona is a colorful city, exacerbated by the particular sunlight. So, if you want a colorful elopement, destination wedding, or vow renewal, Barcelona is your city!
Barcelona also has a unique vibe. Their people love to celebrate life. So, they often organize events and festivities where they enjoy themselves with their neighbors and friends. They take life seriously but do not take themselves seriously, so Barcelona has a lovely feeling of lightness. So, if you want your wedding not to be a boring serious event but a light and merry one, book a Barcelona wedding package!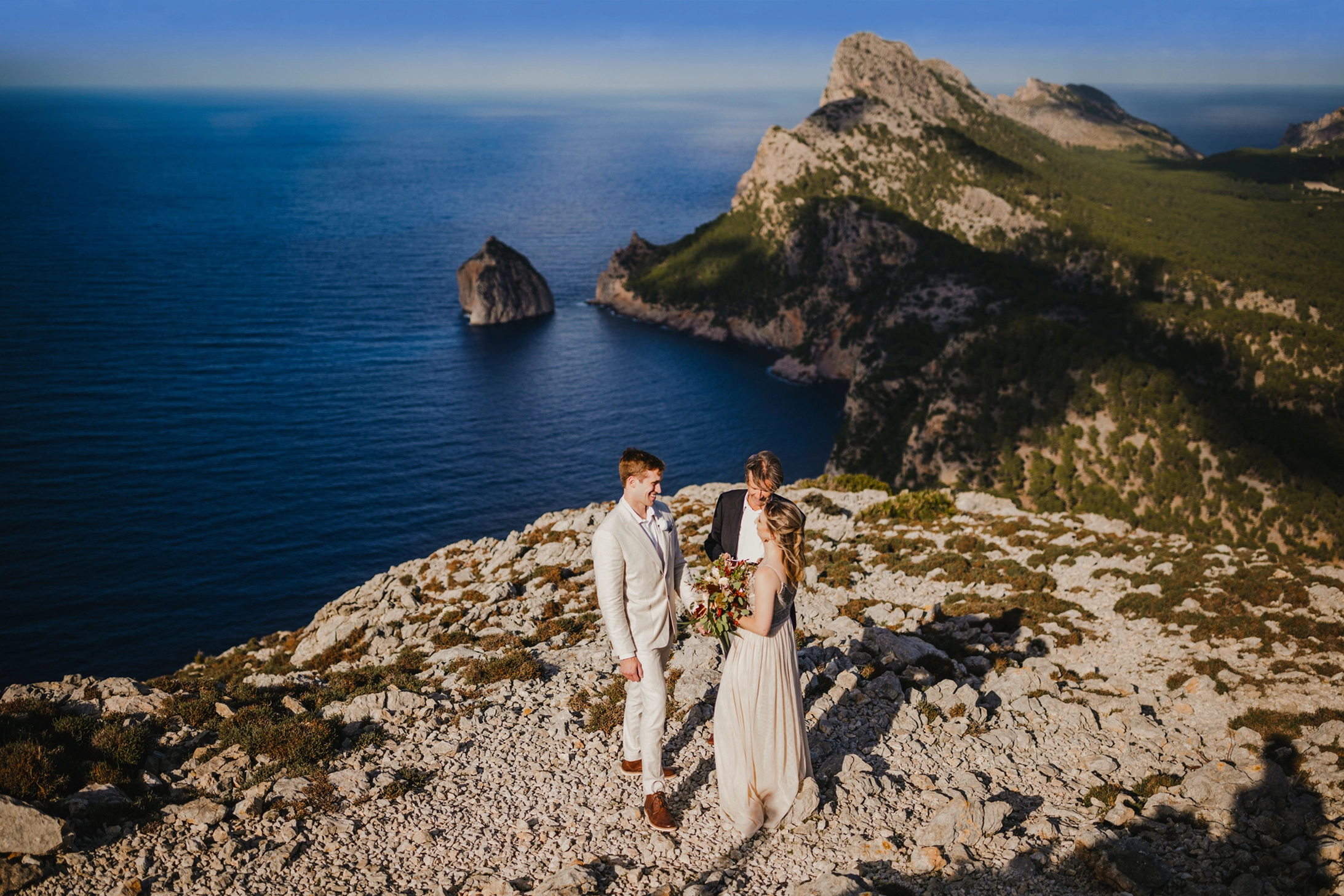 Mallorca es the biggest isle of the Balearic Islands, cozy Mediterranean islands with their own microclimate and unique landscapes. If you want to celebrate your wedding in a tiny paradise on Earth, Mallorca is known for its stunning backdrops, including picturesque beaches, mountains, and countryside. If your wedding style is boho-chic, Mallorca is the place.
You will find many different spots and venues to celebrate your Mallorca wedding: whether you say 'I do' on a cliff, on a luxury hotel terrace, or on a charming villa, breathtaking Mediterranean sea views with a golden sunset will be your ceremony backdrop.
As you can expect, Mallorca has a Mediterranean climate with mild winters and hot summers, making it an ideal destination for a wedding ceremony. The island offers sunny and warm weather for most of the year, ensuring couples can have an outdoor wedding without worrying about rain or extreme temperatures. At the same time, compared to other remote Islands, Mallorca is well-connected to major European cities with regular flights from various airlines. This makes it convenient for couples and their guests to travel to the island for the wedding ceremony. Additionally, Mallorca has a modern infrastructure, including reliable transport and accommodation options, further adding to the ease of organizing an event.
As you can see, it is also a great place to enjoy your romantic honeymoon or extend some family vacations after the ceremony if you have guests. Mallorca is renowned for its gastronomy, offering many delicious dishes and local specialties. Of course, there is a plethora of activities for guests to indulge in. From exploring the historic Old Town of Palma to enjoying water sports, hiking, or sightseeing, there is something for everyone to enjoy and make the most of their time on the island.
Book now your Mallorca wedding package and start planning your adventure.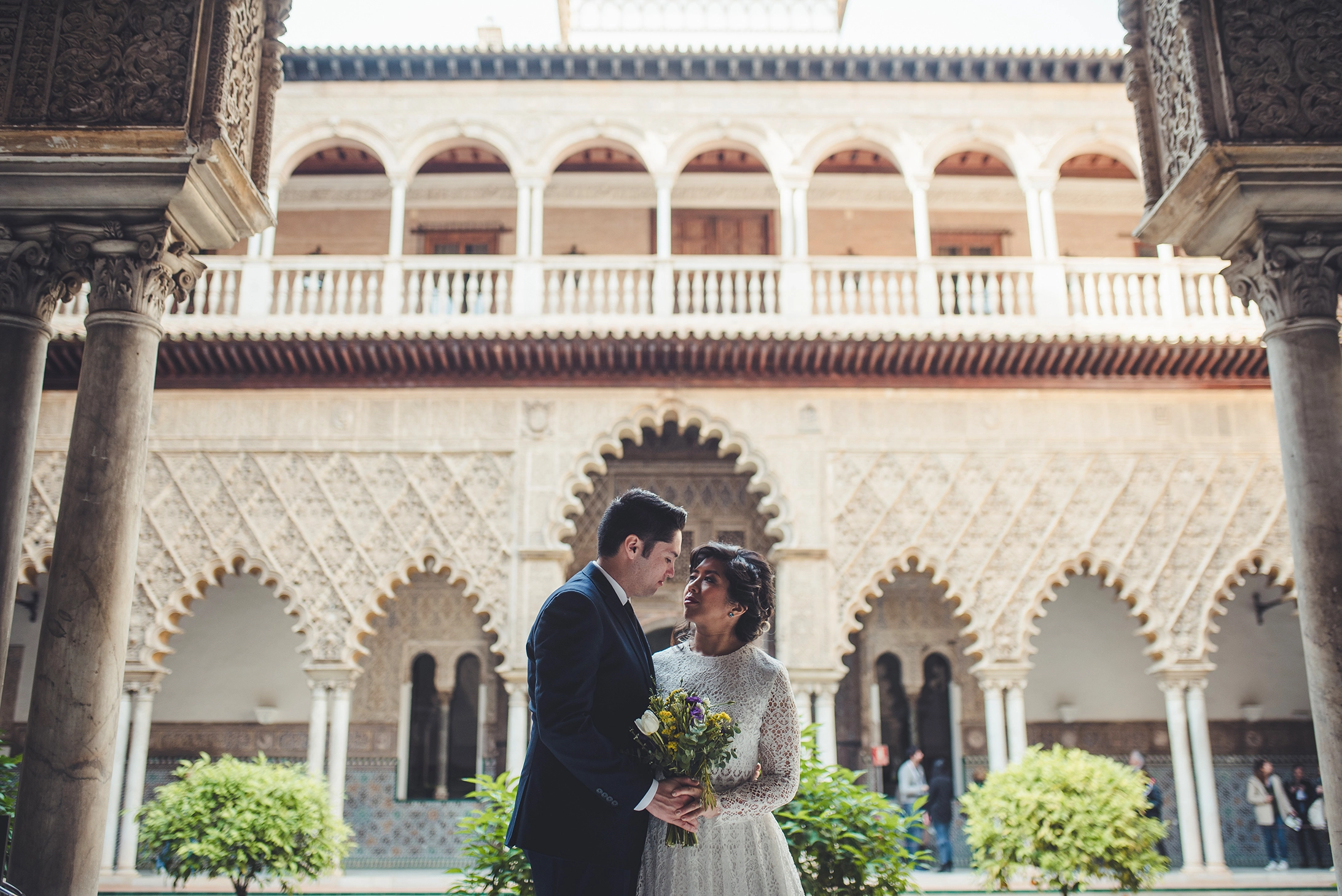 Do you want to tie the knot in a fantasy land? Book your wedding package in Seville! Seville is your destination if you want something different for your ceremony. This unique mix of Eastern and Western civilizations, such as architecture, music, dance, and food, will be found here.
Lovers who celebrate their destination wedding or elopement here experience the magic of Seville's history, the beauty of Alcazar's palace, its colorful streets, and the awesome architecture of its different buildings. Because you'll be in a city that has remained intact over the centuries, despite many wars, you will feel something unique during your stay there. You will feel like you are walking inside a fairy tale.
Walking thru the Alcazar palace, you'll feel like a princess coming out of the One Thousand and one-night legend! And that feeling will still be there during your destination wedding in Seville because the city has this charm: to make you feel princely in a tale as old as time.
Seville is the city of passion, too. Their people live everything intensely; they grasp the meaning of life vividly. Isn't this blessing what you want for your union? Just close your eyes and imagine flamenco dancers at your wedding, showing you and your lover how to dance to that passionate music. Those dancers are everywhere, at every street corner, alongside the traditional festivities and street food, adding a vibrant vibe to this colorful and sunny city — an ideal place for an intimate gateway or a funny family & friends trip after the ceremony.
Book now your Seville wedding package and discover its magical color.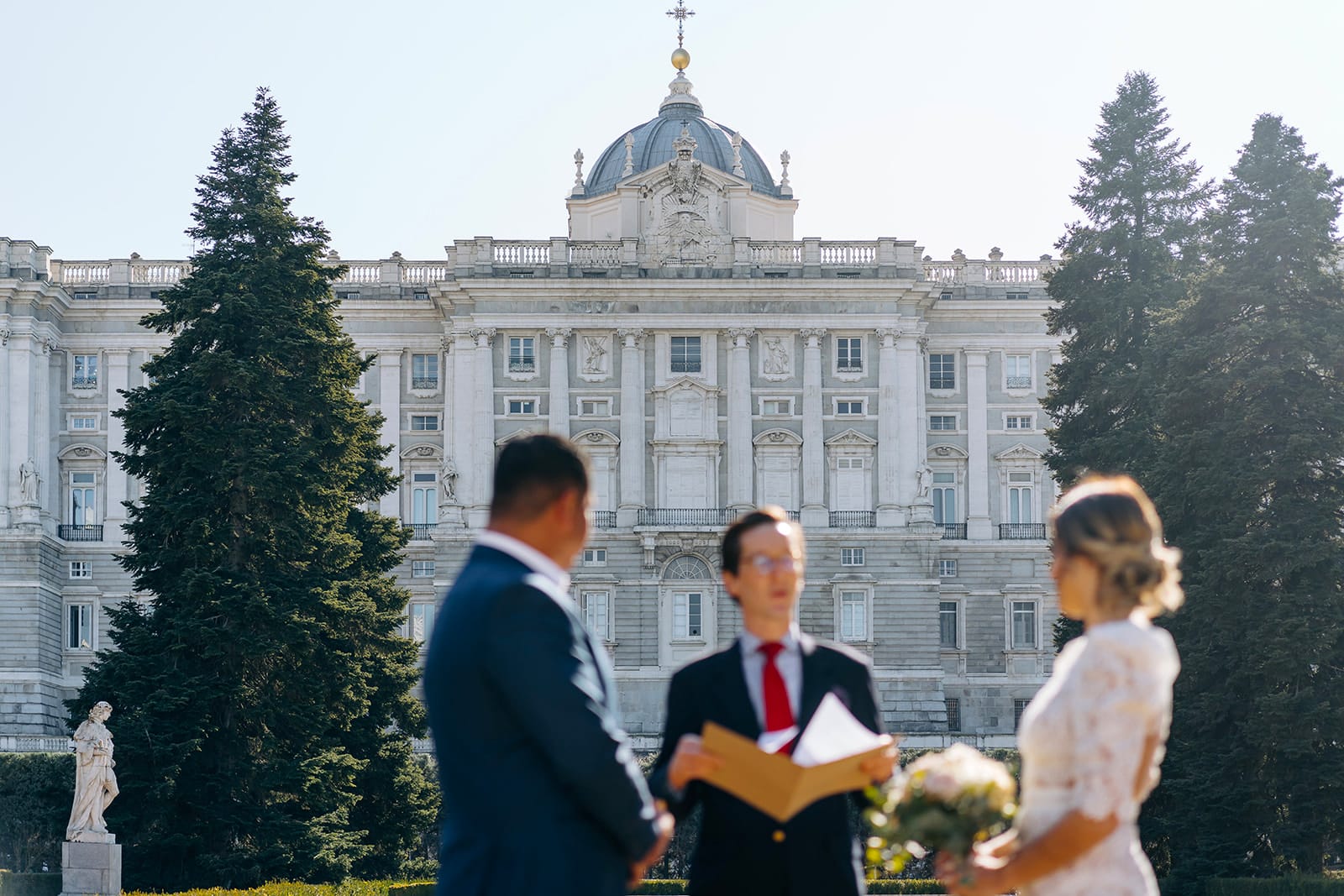 Madrid is the capital city of Spain; as such, it's the Jewel of Spanish culture. The home city of the Spanish monarchy, a Madrid wedding package offers the opportunity to experience moments of royal vibes that will bring added value to your wedding ceremony. With its particular unmistakable style that overwhelms you as soon as you set foot in its streets, Madrid will give you and your lover moments of unforgettable magic!
Madrid has a special vibe. Spanish people love to be outdoors: Often, you can hear them laugh and dance! That very nice feeling of lightness will spread into your ceremony. So, if you want your wedding celebration to be heartwarming, Madrid is the one!
Madrid has many open patios and squares, narrow streets, and large parks, such as the Retiro Park with its beautiful Palacio de Cristal or the Sabatini Park overlooking the Royal Palace. While you can see Madrileans walking down the streets of the barrio de la Latina filled with tapas bars and chattering away like there's no tomorrow, you get the sense that Madrid has just got that rustic, poetic, uncommercialized charm.
Last but not least, Madrid being the driest capital in Europe, you will surely have a great sunny day for your destination wedding. The temperature added to the warmth of the Madrileans will warm your heart and soul! Find out more about our Madrid wedding packages.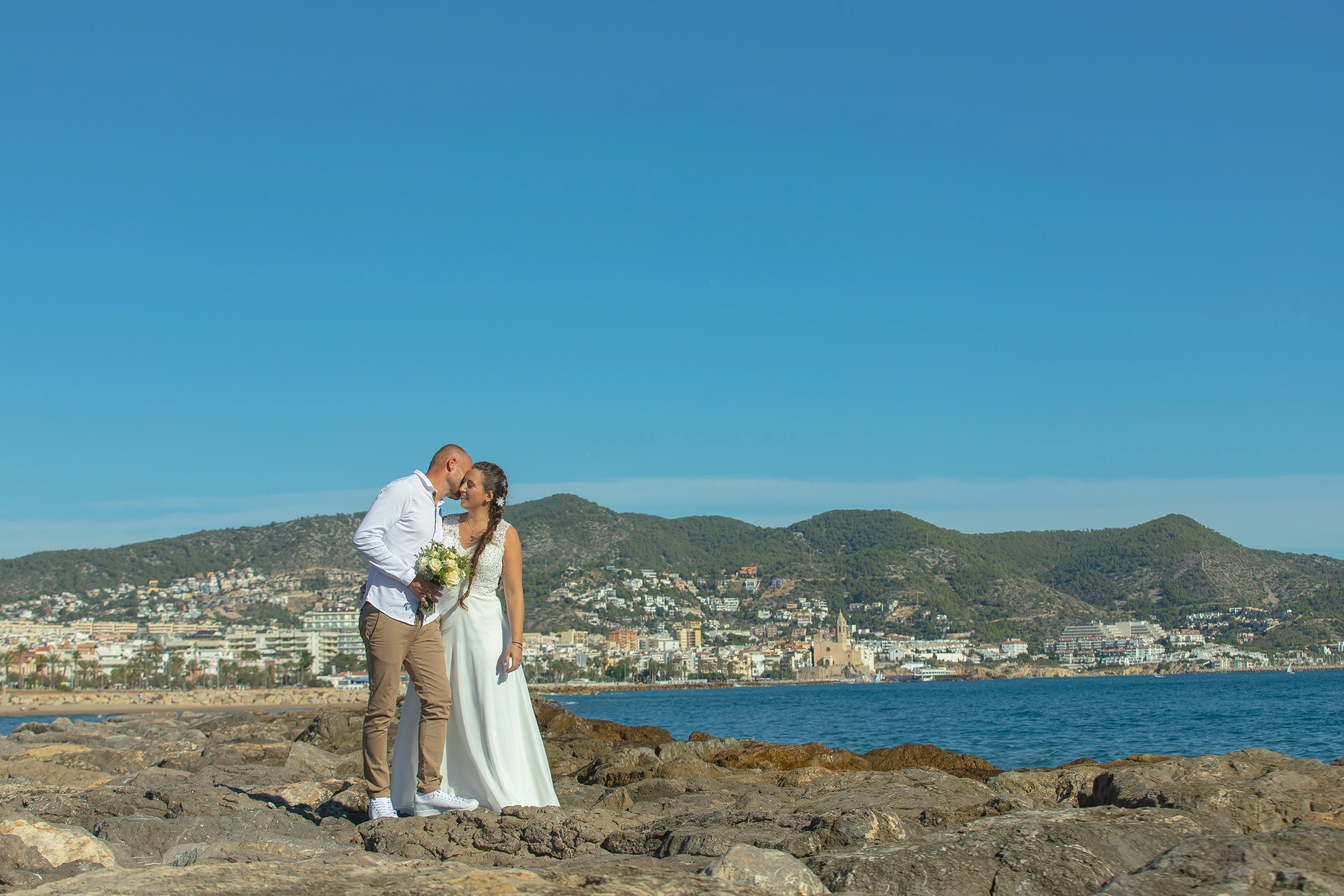 Sitges is the capital city of the LGBT community in Europe. Whether you are gay or lesbian, Sitges has always been open to same-sex destination weddings! Even during the terrible era of the Franco dictatorship, Sitges welcomed and protected gay couples worldwide.
Now, if you are straight but fancy the idea of getting married in a small, cute, and cozy village in front of the Mediterranean. In that case, Sitges can work for you too: wherever you are in Sitges, it's impossible not to see the sea while you say 'yes, I do.,' surrounded by ancient stone and the fragrance of traditional Spanish flowers.
Even if it's a small village, Sitges is very well located: 30 minutes from Barcelona and its airport (one of the biggest European airports), you have direct flights from many parts of the world. It is the perfect place to be away from massive tourist destinations while enjoying all the comforts of a well-deserved chic honeymoon with a ceremony.
Do  you want more reasons to book a wedding package in Sitges? The beauty of its church, the fantastic sunsets facing the sea, the cobblestone streets of the old town, and the beautiful nature all around are a few of the many attractions that the village will offer for your wedding. Whether your dream Sitges ceremony is on an outdoor terrace with a 360° view of the sea and mountains or you are in for a huge gay party, Sitges is your spot!

OUR SPAIN WEDDING PACKAGES
BASIC
€ 924

Tailor-made Ceremony including your own vows & texts
English-speaking officiant
Free assistance per phone or email
Free locations available(up to 15 guests)
Symbolic Certificate(without legal value)
VAT TAX included
No hidden fees
SILVER
€ 1518

Tailor-made Ceremony including your own vows & texts
English-speaking officiant
Free assistance per phone or email
Free locations available(up to 15 guests)
Bouquet Of Flowers
Photographer 1 hour
Symbolic Certificate(without legal value)
VAT TAX included
No hidden fees
GOLD
€ 2497

Tailor-made Ceremony including your own vows & texts
English-speaking officiant
Free assistance per phone or email
Free locations available(up to 15 guests)
Bouquet Of Flowers
Photographer 3 hours
Mercedes Car Tour With Chauffeur
Complimentary bottle of champagne
Symbolic Certificate(without legal value)
VAT TAX included
No hidden fees
DIAMOND
€ 3866

Tailor-made Ceremony including your own vows & texts
English-speaking officiant
Free assistance per phone or email
Free locations available(up to 15 guests)
Bouquet Of Flowers
Photographer 3 hours
Mercedes Car Tour With Chauffeur
Complimentary bottle of champagne
Videographer 3 hours
Symbolic Certificate(without legal value)
VAT TAX included
No hidden fees
INFINITY
€ 8020

Tailor-made Ceremony including your own vows & texts
English-speaking officiant
Free assistance per phone or email
Free locations available(up to 15 guests)
Bouquet Of Flowers
Boutonniere
Photographer 8 hours
Vintage Car With Chauffeur
Complimentary bottle of champagne
Videographer 8 hours
Hair & Make up artist
Symbolic Certificate(without legal value)
VAT TAX included
No hidden fees

MEET OUR TEAM
Lorena,
Love Gracefully Seville coordinator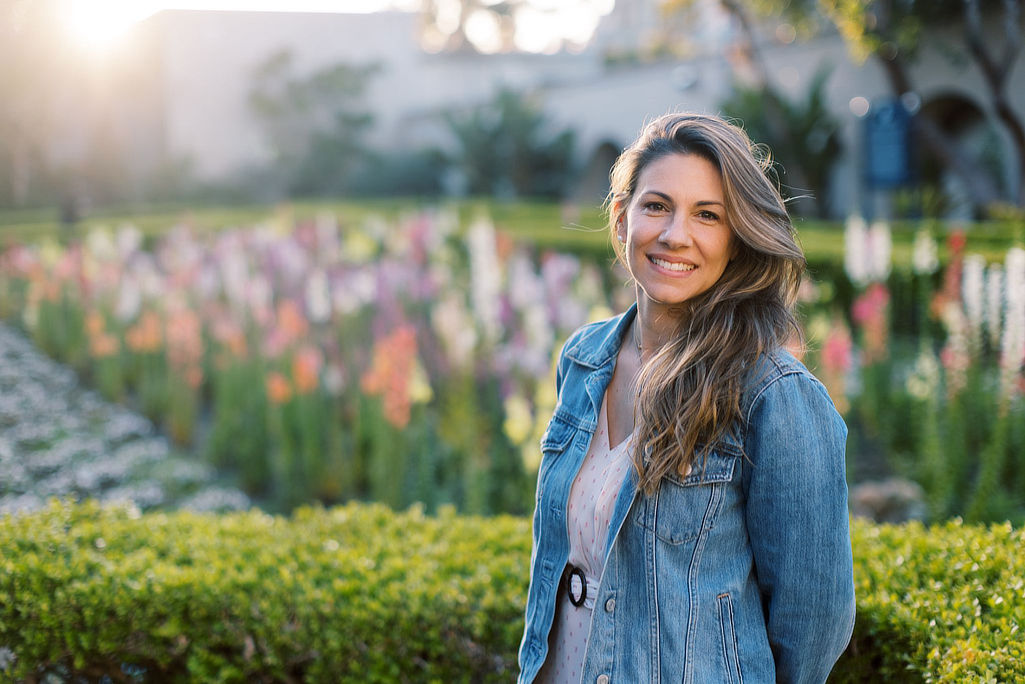 Lorena has been working in the wedding industry for the last 12 years and joined Love Gracefully in 2016. Resolutive, responsible and detail-oriented.
She's a dreamy, creative and sensitive person who lives with emotion and passion everything that surrounds her. She will be in charge of booking and coordinating
all our vendors to suit your desires and ensure you have an excellent Spain elopement.
She will also take care of all the little details and inspire you with her graceful ideas and expertise, so your elopement ceremony will be tasteful, elegant and romantic.
Do you need more information about our Spain wedding packages? Feel free to fill this form and we Will contact you.
Please fill in the form below.
WATCH MORE TESTIMONIALS
IN OUR YOUTUBE CHANNEL
Would you like to hear about how the wedding, the planning, the ceremony went for other couples we have worked with? Feel free to listen to our wedding testimonials video recorded all over Europe. It's direct and personal testimonials. Couples will talk about their renewal of vows, their elopement or their destination wedding. For more, you can also check out our Love Gracefully testimonials Youtube channel.