Romantic destination wedding in Italy
Seeking Italian romanticism? Whether you head to Venice, Rome or Florence, you will enter in the land of Love…
You are looking for the perfect location for your destination wedding and, of course, you are thinking about Italy! Having your destination wedding in Italy feels like being inside a classic Italian movie: elegant, romantic and magic. In addition to experiencing a totally unique adventure impossible to find at home, it's the perfect scenario for couples who wants to combine their destination wedding with some relax holidays. Furthermore, celebrating your love in Italy will allow you to enjoy the excitement of a real wedding without the pressure of organizing a big event at home.
Maybe you are not sure exactly where in Italy? Venice, Rome or Florence are the most popular locations for a destination wedding in Italy. Even though these cities are very different one from the other, they will make your dream come true: to celebrate your Love your way! Whether you want your ceremony to happen in a gondola in Venice or in front of the coliseum in Rome or in a Tuscan rose garden in Florence, at Love Gracefully we are specialized in creating your dream destination wedding in Italy! So, let us know what your dream is about and we'll make it happen!
In the next chapter below, we'll explain you the main differences between Venice, Florence and Rome. Love Gracefully has been meticulously organizing over 400 Italian destination weddings since 2009. To be sure your dreamed destination wedding comes true we have gathered the best photographers, videographers, celebrants, make-up artists, florists in each of these cities! So, in addition to experiencing a totally unique adventure impossible to find at home, you will have photos or videos that you will keep forever. The idea is that your destination wedding is all about you and your dream. Our job is to make it happen.
Cities to choose from in Italy
Getting married in Italy will make you feel like achieving a dream. These are our curated cities where you could celebrate your destination wedding  in Italy. Do you have another city in mind? Please contact us.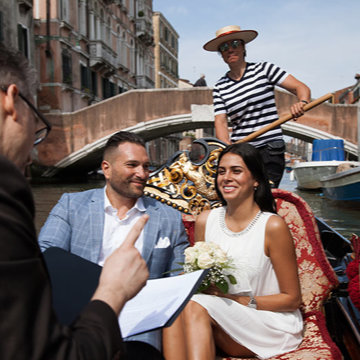 Venice is more than an island, the entire city is on water. As you come to Venice to celebrate your marriage, you'll fill the romanticism that comes with the waters all around you: everything is organized to be transportated by boat. People travel with their boats, there are no cars, so there's no traffic!
Locals love to walk around, or ride their boats to go to the office, to do shopping or take the kids to school. A bit as if you were on a floating city…
Lovers like you can experience the uniqueness of Venice' history, the beauty of its palaces and the ancient architecture of its buildings. Because you'll be in a city that has remained intact over the centuries, you will feel something unique during your destination wedding in Venice. A bit as if you were a princess…
Because you come to Venice to celebrate your love, you will also fall in love with Venice' beauty. So much history and art packed in a small island will give you the possibility to enrich your culture and discover something new at every corner. A bit as if you were travelling in time…
Once a republic called The Serenissima, Venice inspired many poetries and writers over the centuries. its beauty and uniquieness, its mistery and its romantic style are a gift for those who aren't afraid to get lost in its small streets and wish to have their eyes filled with wonder. A bit like you were a true Venetian…
Please click on our Venice link on top of this paragraph to find more about our Venice locations.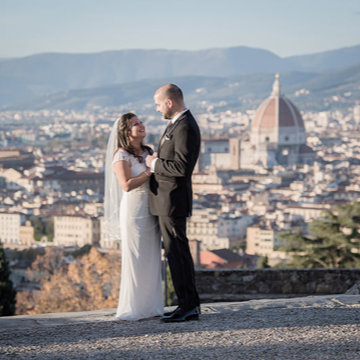 Florence is the capital city of Tuscany region; it's clearly the Jewel of Italian renaissance.As such Florence offers the opportunity to experience moments of timeless elegance that will bring an added value to your ceremony. With its unmistakable style and that intrinsic romanticism that envelops and overwhelms you in a second, Florence will give you and the guests of your destination wedding (if any) moments of unforgettable magic!
There are places in the world with intrinsic charm, Florence is one of them. If one closes his/her eyes and thinks of Florence, it is inevitable to hear a sweet music in the background, to smell a good and intense perfume or to perceive the taste of a delicious dish. It is inevitable to feel catapulted into a magical reality among boulevards full of people who elegantly whisper phrases with that captivating and intriguing Italian accent. In Florence, it is inevitable to feel to be part of the History of the world. Every corner reminds of history, every terrace offers a unique and unforgettable view. No wonder that Kim Kardashian married her rapper husband Kanye West in a lavish ceremony at Forte di Belvedere in Florence!
The beauty of the Duomo, Florence Cathedral, the fantastic sunsets of the Piazzale Michelangelo, the cobblestone streets of the old town, are a few of the many attractions that the city will offer you for your marriage. Whether your dream Florence destination wedding is on an outdoor terrace with a 360° view on the city or in a Tuscan rose garden overlooking the entire city or in a garden in the heart of the old town, next to the famous Uffizi Gallery, all that is possible in Florence!
Please click on our Florence link on top of this paragraph to find more about our Florence locations.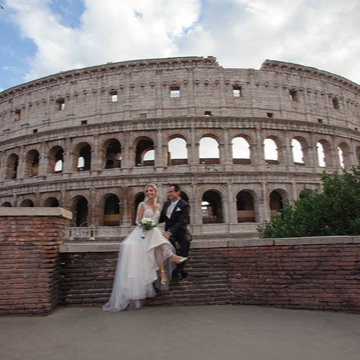 Rome has many epithets, but the two most famous are the ones that better describe it: the eternal city and the Caput Mundi which is the Latin expression for Capitol of the world: Rome's history spans 28 centuries and this is one of the reason why many couples decide to get married in Rome.
Rome' architecture and historic sites like the Forum or the Colosseum make it the perfect backdrop for a romantic and unique wedding ceremony.
Rome offers some historic spots in beautiful parks for your destination wedding where you are surrounded by wild and lush nature, and yet you are in the center of the city. If you prefer a more formal ceremony, there are many hotel rooftops which offer a stunning view on the major landmarks.
Another important reason is its climate, that is usually mild, even in Autumn. In Winter the temperature are colder but always nice to have an outdoor ceremony.
Last but not least, "la Dolce vita" is a very good reason to get married or renew your vows in Rome. This very famous expression used for the first time in a movie by Federico Fellini refers to the cheerful lifestyle full of worldly pleasures, which is exactly what you can expect if you get married in Rome. You will taste authentic food home-made in our trattorias, sip a perfect Cappuccino in any bar of the center, rent a Vespa for a nice tour and get lost in the beautiful narrow streets of the center, enjoy the breathtaking view from any terrace you meet, and discover many beautiful corners that will make your staying in Rome unforgettable.
Please click on our Rome link on top of this paragraph to find more about our Rome locations to celebrate your destination wedding.
Our Italian destination wedding packages
We created five different Italian Destination Wedding Packages in each cities to offer the best deal to our beloved couples. Please feel free to contact us if you have questions or you need something that isn't included. Remember – all packages may be customized to your desires!
Our team
Your perfect destination wedding in Italy can only happen thanks to our wonderful team of celebrants, wedding planners, photographers, videographers, hair and make-up artists, florists, in Venice, Florence or Rome. They guarantee a wonderful tailor-made destination wedding with the real Italian romantic feeling.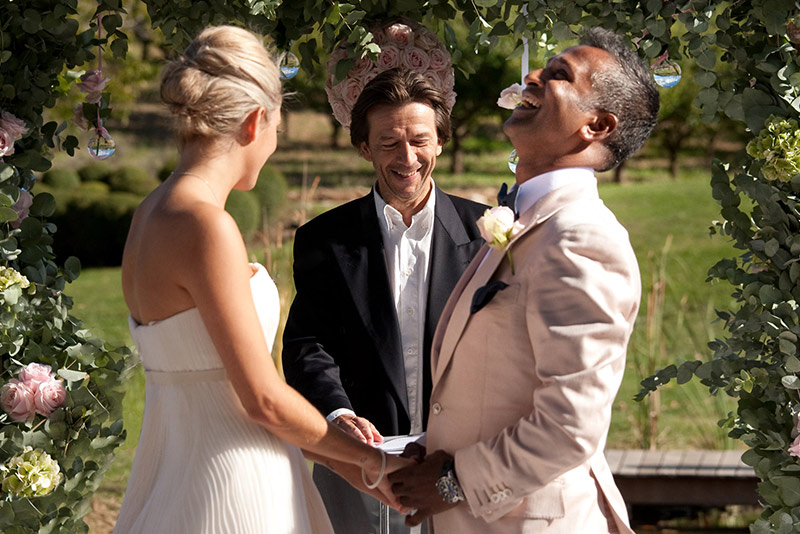 Pierre, Founder, director and celebrant in Italy
Pierre is Love Gracefully founder. His is also the leading celebrant in Italy. He is in charge to create the perfect ceremony that will meet your values and beliefs. He celebrated hundreds of wedding ceremonies through his career, each one unique in its own way. He was pioneer in creating destination weddings in Italy. Be assured that Pierre and his team will cater for your needs, no matter what it is you are seeking to arrange, and where you wish it to happen. « Even though I am french I must admit that the best cuisine I ever tasted in the world is in Italy! It breaks my heart to say it but it's true! Also, not sure if reincarnation exists but if it does, I would love to come back as an Italian. Each time I travel to Italy, I feel home. Not sure if it's because I hear men singing in the Italian restaurant' kitchen or because I am at awe in front of the Italian architecture or because how elegant Italians are but, each time, Italy fills my heart in a very special way. » Pierre
Love Gracefully Italian vendors
Since 2009, Love Gracefully has celebrated over 400 destination weddings in Venice, Florence or Rome. All these ceremonies could only happen thanks to a great team of local vendors that are used to work together. These vendors all work with the same 3 Love Gracefully rules: preparation, preparation and preparation! All are dedicated to convey the best service to make your destination wedding an unforgettable success. Everyone of them are true Italian artists: whether it's a videographer that will produce your Italian film or whether it's an hair and make up artist that will make you feel like a star, they are all passionate about their work!
How our Italian vendors work
For each city, you'll be put in contact with the local Love Gracefully coordinator: Paola in Venice, Lorena in Florence and Francesca in Rome. Each of them are dedicated planners that will help you create your dream destination wedding according to your taste and desires. They will help you design the look and feel you want for your ceremony. They will select the team that will work for you and that best fit your desires. All our vendors are local and fully bilingual. That way, not only are you dealing with a local but a local you can communicate with!
Testimonials: destination weddings in Italy
We successfully created intimate & special destination weddings In Italy for hundreds of couples. You can discover some of their stories here.
Because we want you to remember your Italian destination wedding forever, we will be at your sides every step pf the way, very much like we did for Hannah and Brandon that you can see in their video shot in Florence, Italy. From the very first question you might have, such as: where is the best place to marry in Italy? to the last question that could be: how can it fit my budget? we will guide you through the difficulties of planning a destination wedding from far away. Whether you choose Venice, Florence or Rome, our local wedding planner will help you choose the best location for your special day. I will also introduce you to the people we love working with: a variety of talented artists and professionals such as photographers, filmmakers, musicians, hair and make-up artists. We only work with people who share the same passion and professionalism as I do. Experts who have a love of beauty and the desire to create truly tailor-made Italian destination wedding.
Testimonials of a happy couple
You would like to hear about how the destination wedding in Italy went for another couple we have worked with? Feel free to listen to our wedding testimonial video recorded in Italy. It's direct and personal testimonial about our destination wedding services. This couple talk about their destination wedding in Italy. You can also check out our Love Gracefully testimonials Youtube channel.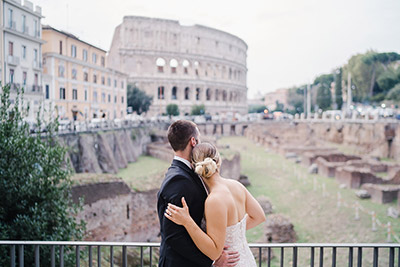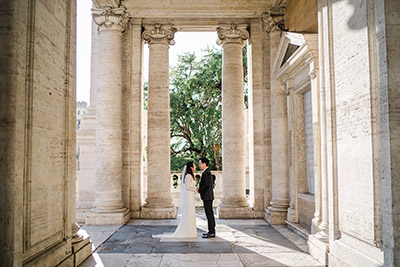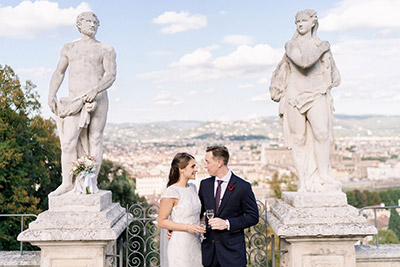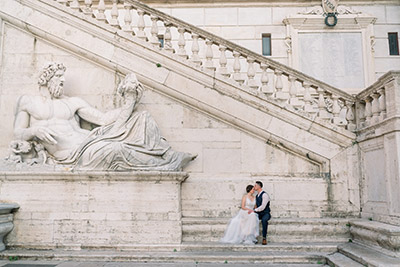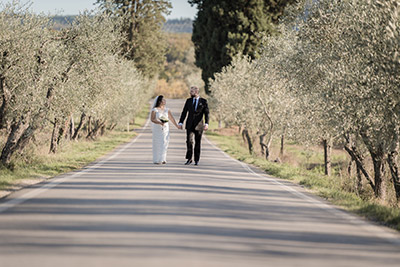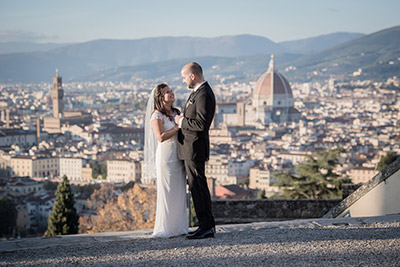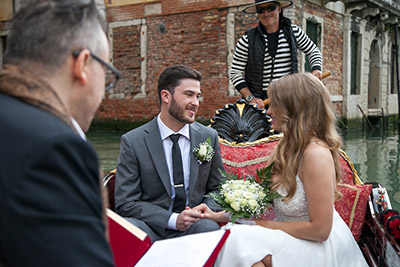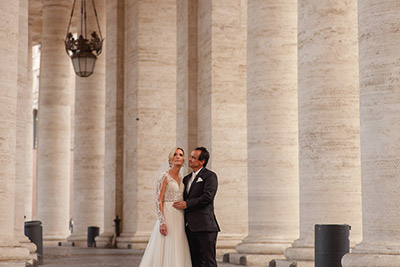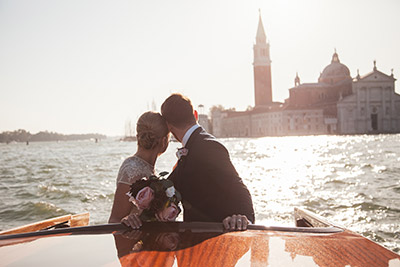 Contact now
Do you need more information about your destination wedding in Italy? Feel free to fill this form and we will contact you.
Please fill in the form below.
FAQ about your destination wedding in Italy
Check the most common questions our couples have before they decide to marry in Italy. Feel free to contact us for further information.