CELEBRATE YOUR LOVE ON FRENCH RIVIERA
YOUR TAILOR-MADE CEREMONY
Celebrating your wedding on French Riviera, the Blue Coast, is like a movie: The cerulean Mediterranean sea, the little beaches hidden in the rocky coastline, the good French cuisine, driving an antique car… but it might seem daunting to organize it from far away. So many cities and locations to pick from!
But don't worry; at Love Gracefully, we create symbolic, tailor-made ceremonies on French Riviera. Love Gracefully will meticulously organize your French Riviera wedding, elopement, proposal, or vow renewal in Monaco, Nice, Eze, or Cannes. So pick one of our wedding packages, explain your wish, and leave the details to us.
Love Gracefully has meticulously organized over 300 French Riviera destination weddings since 2009. To be sure your dream destination wedding comes true, we have gathered the best vendors in town: photographers, videographers, celebrants, make-up artists, and florists! Our job is to make your Blue Coast dream wedding happen.
CONTACT US AND TELL US ABOUT YOUR DREAM CEREMONY; WE WILL MAKE IT HAPPEN.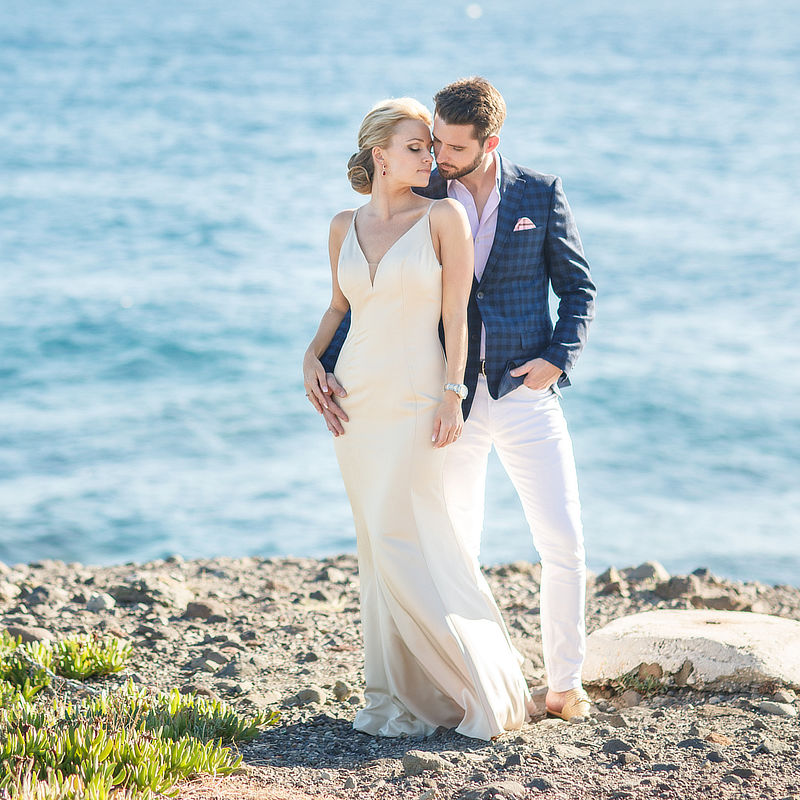 CEREMONY EN THE FRENCH RIVIERA
The French Riviera, known in France as "Côte d'Azur," or Blue Coast, has this name because rightfully earned it! This is the place if the vision for your wedding, elopement, or vow renewal includes sea, sunshine, and glamour. Full of evocative and cozy coast cities, you will love its classy and laid-back vibe, just like many celebrities.
The color blue of the Mediterranean Sea is the perfect background for your ceremony. Nice, Monaco, Cannes, and Eze are ideal locations for a destination wedding on the French Riviera. These cities can make your love celebration really special and truly different; each owns its style. Let us know your vision, and we'll make it happen.
ONLY IN FRENCH RIVIERA: FEEL LIKE A MOVIE STAR
Having your destination wedding, elopement, or vow renewal on the French Riviera feels like a classic French movie: elegant, romantic, and boho. It's also the perfect scenario for people who want to combine their wedding with relaxing holidays in a picturesque coastal town. Furthermore, celebrating your love in Nice, Monaco, Cannes, or Eze will allow you to enjoy the excitement of a real wedding without the pressure of organizing a big event at home.

CREATE YOUR PERFECT CEREMONY
The best French Riviera wedding ceremony is one of your dreams!
What do you wish? Everything will fit in the French Riviera, a cheerful destination wedding, an intimate elopement, or a romantic vow renewal, and we will make it happen.
We created some French Riviera wedding packages to make everything easier. Still, they are fully customizable. Get ready to create your dream wedding now:

CHECK AVAILABILITY
Please go to our contact page here. You tell us when & where you want to celebrate your French Riviera wedding ceremony, and we'll let you know the possibilities. We'll explain our work in detail and guide you through the process.

CHOOSE YOUR PACKAGE
We have different French Riviera wedding packages that match different wedding styles but keep in mind that all of them can be customized to make your vision a reality. So no matter the type, ask us as many questions as you need to before you book us.

BOOK YOUR DATE
Once we have answered all your questions, you can book our wedding packages by only paying a deposit via our friendly-user credit card. Once that's done, we start working side to side. We finish our work once your ceremony is over.

PICK YOUR WEDDING CEREMONY STYLE
FRENCH RIVIERA AS YOU DREAM IT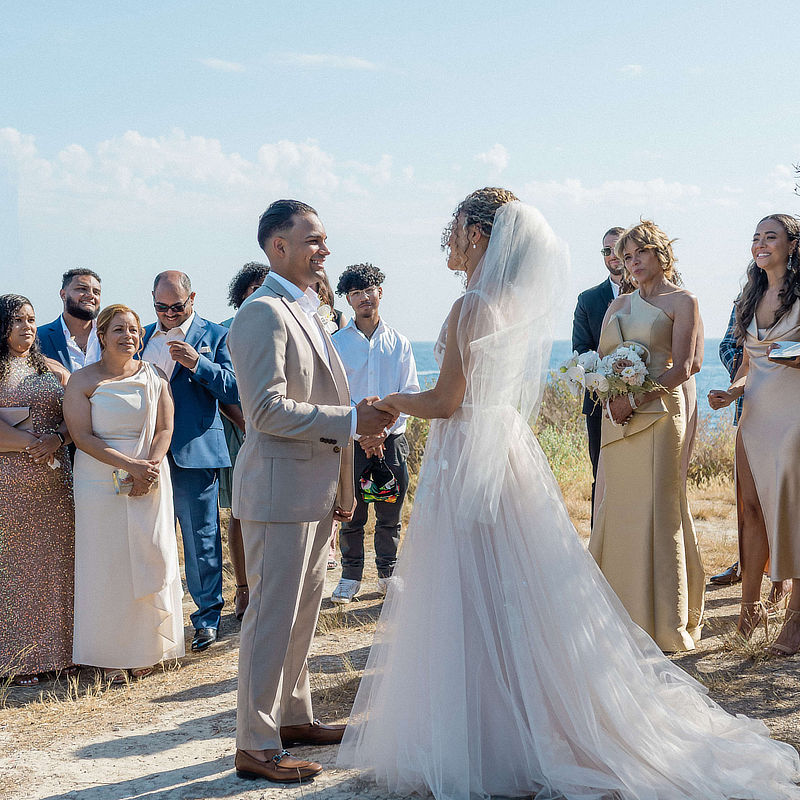 FRENCH RIVIERA DESTINATION WEDDING
Celebrating a French Riviera destination wedding is a great choice: Not only does the French Riviera offer stunning views of the Mediterranean Sea and picturesque coastal towns, but it also boasts world-class hospitality, luxurious accommodations, and exceptional cuisine. It is the perfect holiday destination for friends & family to spend quality time together while celebrating your union. So say "I do" in the heart of the French Riviera, surrounded by the glamour and charm of the Cote d'Azur, for a truly magical wedding experience, and your guests will never forget this day. Check our French Riviera destination wedding packages, and make it magical with your own personalization.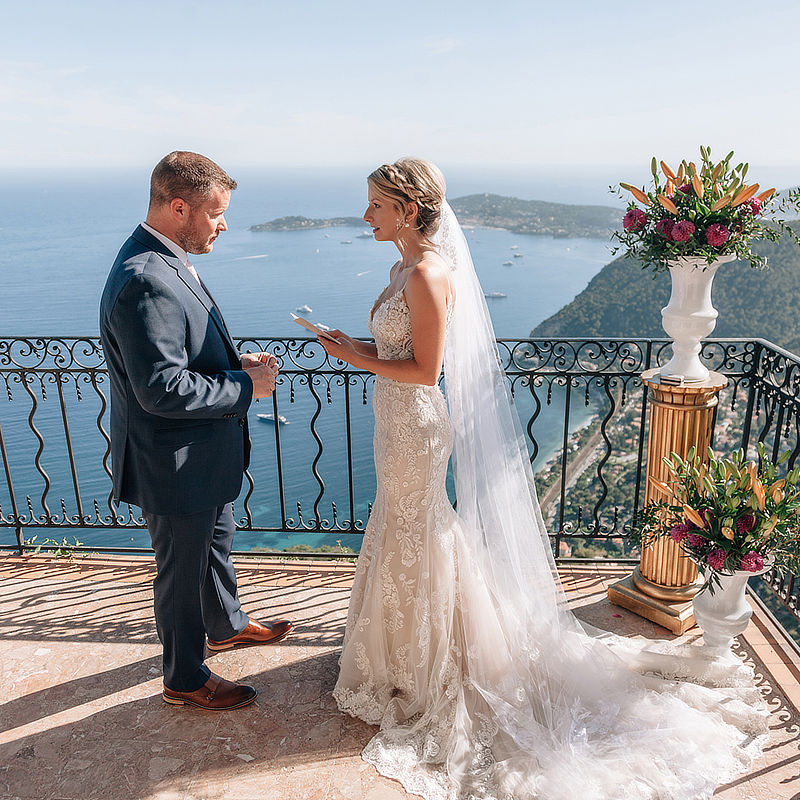 FRENCH RIVIERA ELOPEMENT
A French Riviera elopement is the perfect choice if you're looking for an intimate and romantic setting to exchange your vows. Imagine the turquoise waters at your feet and the warm sun on your face as you pledge your love to one another. You can also get lost in the charming ancient streets of their captivating coastal villages. With its unparalleled natural beauty and peaceful serenity, the French Riviera is ideal for a private and unforgettable elopement, like the main characters of your favorite vintage movie. Check out our elopement packages: they can be customized to your desires; they are simply a base to build your perfect ceremony.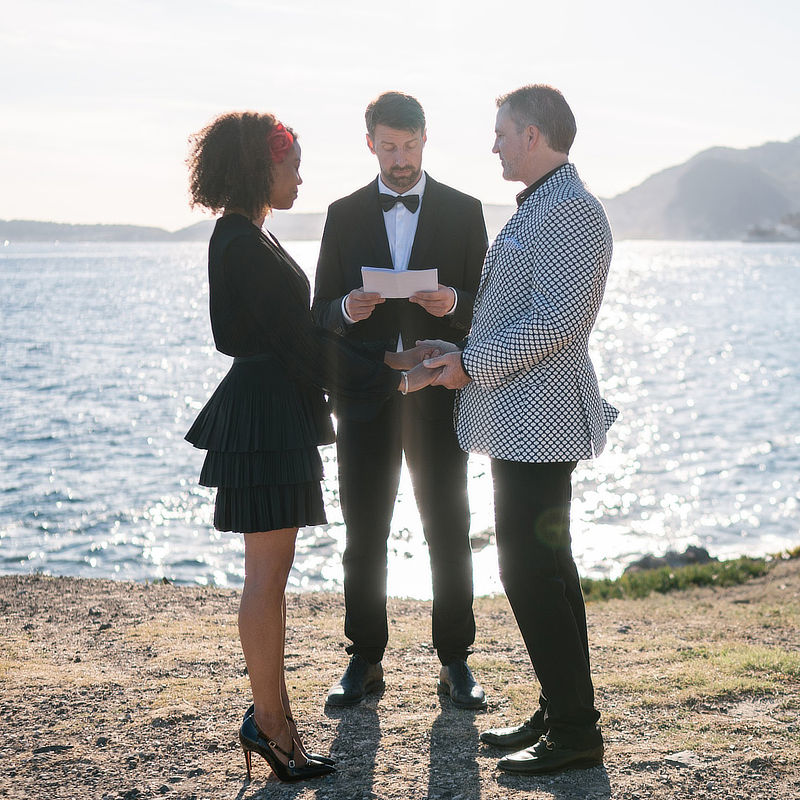 FRENCH RIVIERA VOW RENEWAL
Renewing your vows is a beautiful way to revive your love and commitment to one another. In the end: marriage is a journey, and it's always good to feel goosebumps on your wedding day. And what better place to do it than in the French Riviera? You can enjoy glamorous vacations on the dazzling Mediterranean coastline and find the perfect backdrop for your vow renewal ceremony amongst its lush gardens and charming villages. Whether celebrating a significant anniversary or simply reaffirming your love, vow renewal on the French Riviera is a truly magical experience.

PICK YOUR FRENCH RIVIERA WEDDING LOCATION
FRENCH RIVIERA AS YOU DREAM IT
You have decided to celebrate your love story on the French Riviera, the Blue Coast, but don't know how to pick the perfect place for your ceremony? Don't worry; we are here to help you smooth the process.
With over a decade of experience, we curated the best French Riviera cities to elope or organize a destination wedding. Of course, your backdrop must speak about your personality and love story. Still, factors such as accessibility, B plan in case of rain, or avoiding crowded spots are factors that only experienced coordinators know about.
Our wedding packages include several free spots, but we can offer you more exclusive, private venues for an extra fee. See all the options below!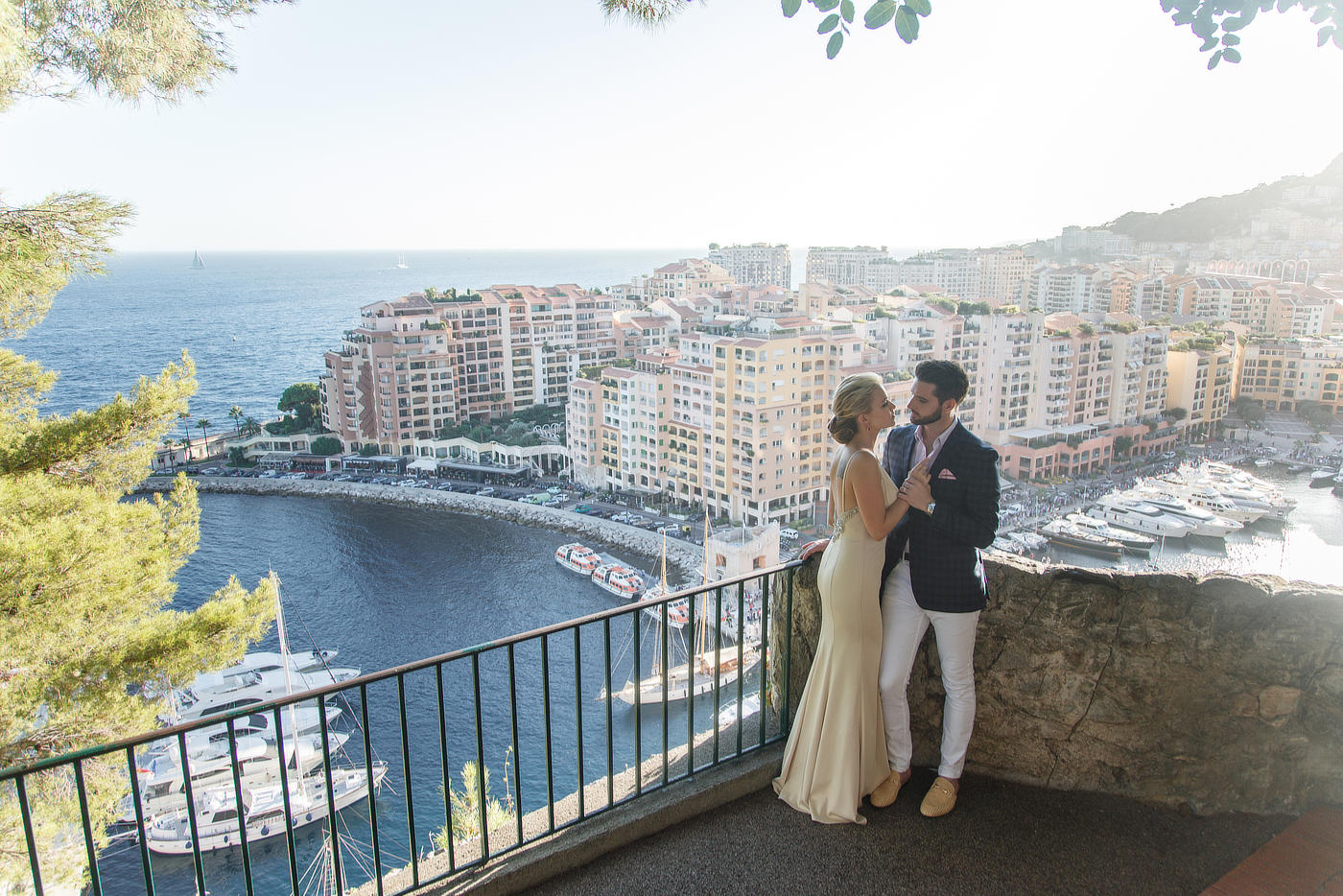 Are you a hopeless romantic dreaming of an alluring ceremony? Look no further than Monaco, the ultimate destination for glamorous weddings. This tiny yet mighty country is an oasis of luxury and sophistication, perfect for couples looking for a breathtaking setting that will leave their guests speechless.
Imagine exchanging your vows on a gorgeous terrace overlooking the sparkling Mediterranean Sea or in front of the iconic Casino de Monte-Carlo or the intimate Prince's Palace, where you can feel like royalty for a day. Celebrating your wedding or vow renewal in Monaco is a lifetime experience. Think of the memories you and your loved ones will create in this enchanting destination, from exploring the charming streets of the old town to sailing along the coast on a private yacht.
Monaco is also renowned for its exquisite cuisine, with many Michelin-starred restaurants and haute cuisine options. And let's remember the legendary nightlife that Monaco is famous for. Your guests will enjoy partying like rock stars in world-class clubs and bars, rubbing shoulders with the French jet set.
Monaco is the perfect destination for the wedding of your dreams with its enchanting beauty, delicious cuisine, vibrant nightlife, and unbeatable ambiance. Book your Monaco wedding package and start your happily ever after.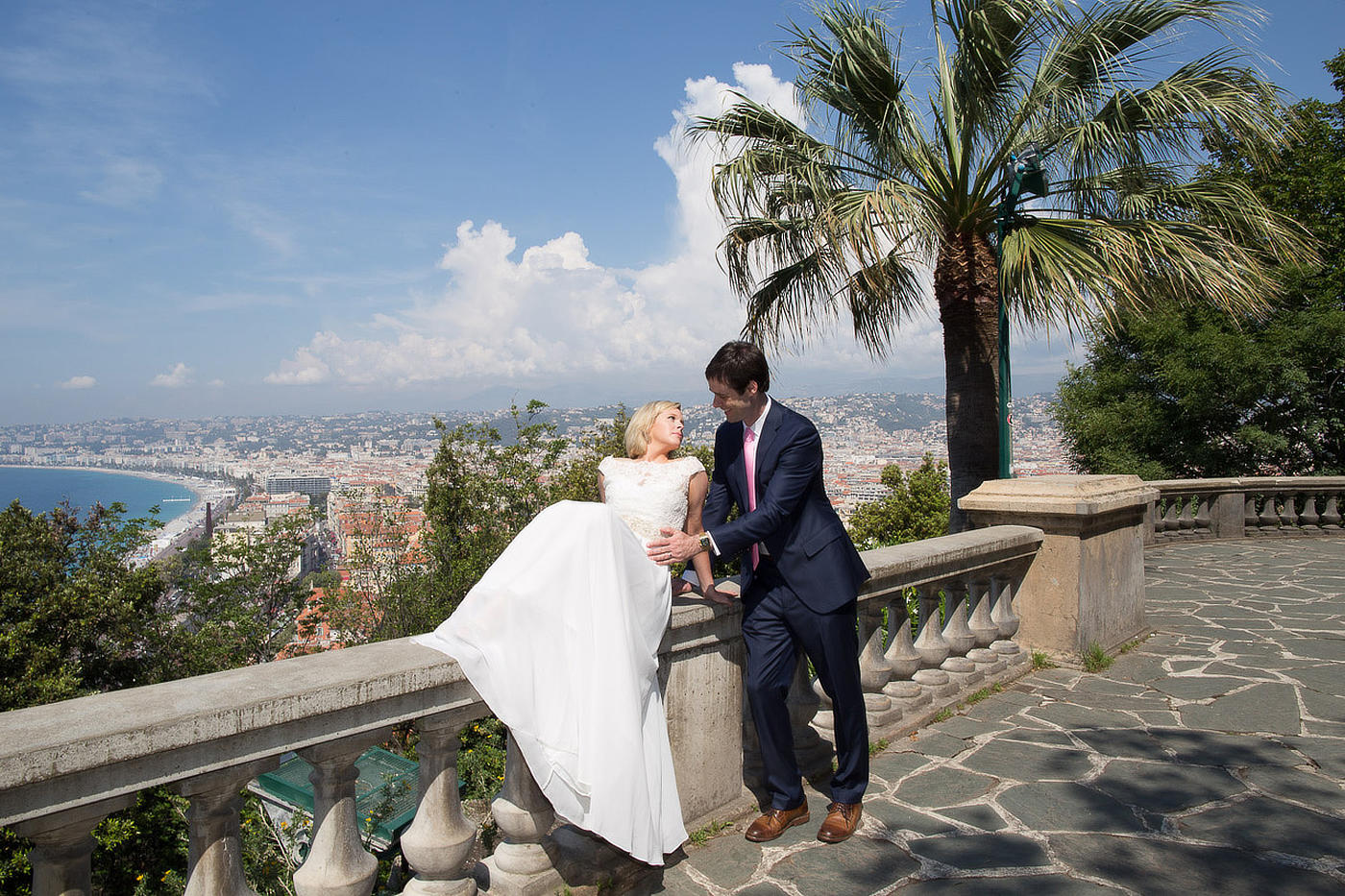 WEDDING IN
NICE'S OLD TOWN
'La vie en rose' is your life motto? Organize your wedding in the old town of Nice!
Exchange your vows amidst the charming cobblestone streets framed by ancient architecture and colorful traditional houses typical in the French Riviera, perfect for intimate celebrations. But if you want to organize a destination wedding, there are plenty of wide spots! Share your love with your closest friends and family in this romantic medieval city's stunningly beautiful, palm-tree-lined squares and picturesque gardens.
Do you need more reasons? The city is blessed with an average of 300 days of sunshine a year. What better place to let your love shine than in front of the sparkling Mediterranean in a lovely and "nice" spot?
It doesn't matter if it's an elopement or a destination wedding. As you celebrate your special day, you will be surrounded by the vibrant colors of the famous Cours Saleya flower market and the delightful aromas of fresh fruits and pastries from the nearby boulangeries. From small intimate weddings to grand events, the old town of Nice will enchant you and your guests with its romantic ambiance.
Everyone knows about 'La Promenade des Anglais' (the British waterfront path) or the breathtaking Cap Ferrat. These are the absolute top beach destinations to set your love ceremony. But there are even more ways of falling in love in Nice! One of our favorite spots for holding ceremonies is the impressive Mont Boron cliffs, where the Nice Castle is nestled. On top of a hill, it offers a breathtaking view of the coastline. So whether your want to elope, renew your vows, or wed, its stunning sea backdrop will be a perfect setting for your photos and videos of that particular day.
Nice has always been a hit for destination weddings and vow renewals. It offers the advantages we all want for our special day: sun, stunning background, and a relaxed feeling. It's ideal for vacation, either for both of you or to enjoy the company of your loved ones! Check out our Nice wedding packages, and let's plan your perfect day!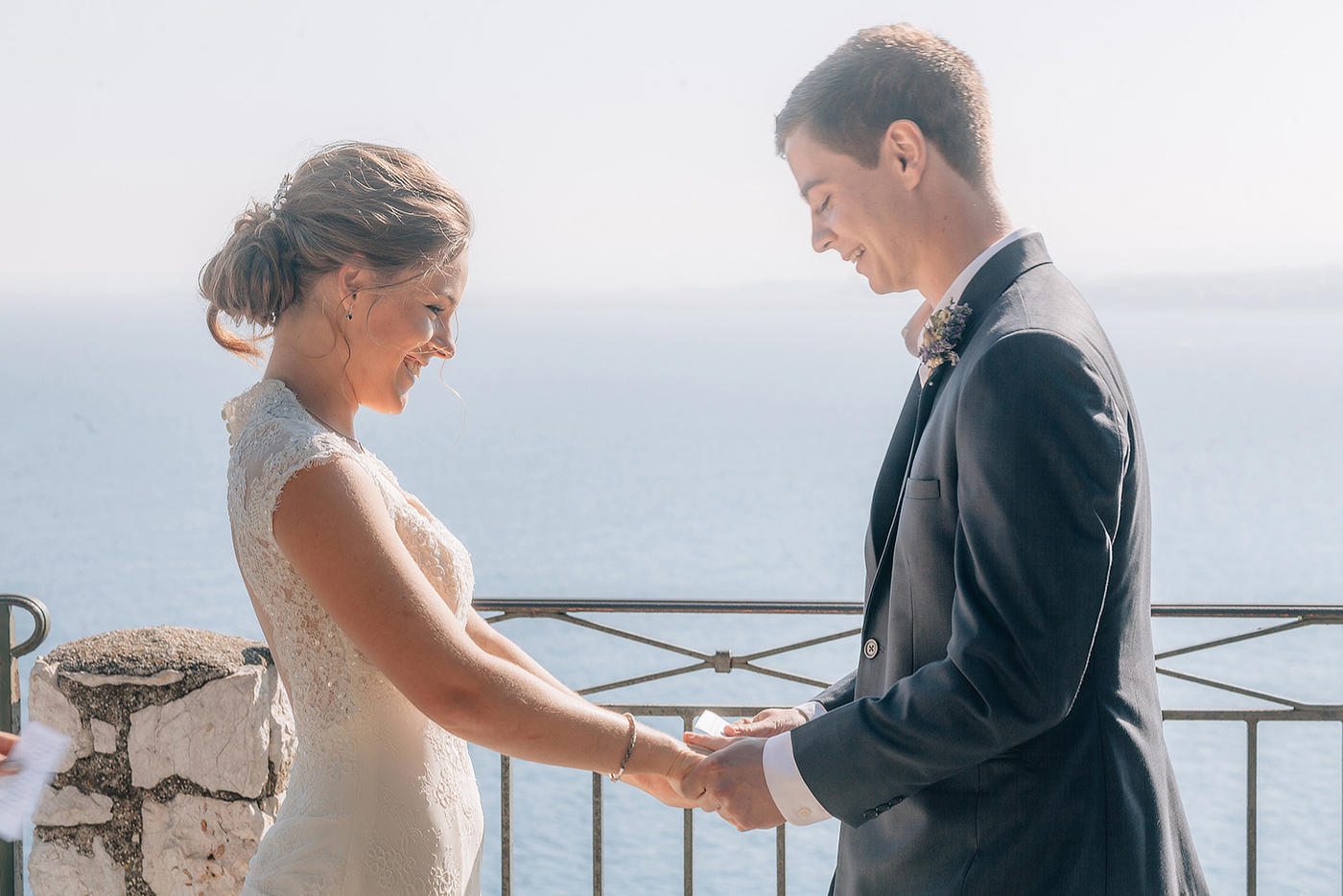 Do you want to feel like you are in a movie during your special day? If one of your couple's hobbies is cinema, Cannes, the city of the most renowned movie festival, is the perfect place to celebrate your special day. While walking on the Promenade de la Croisette, the famous waterfront avenue with palm trees, it's hard not to think that all the stars of the world stepped in the same place! So, it's evident that your wedding vows ceremony will have a star feeling in sunny Cannes. The city has as well 300 days of sun during the year!
Cannes itself breathes a luxurious but relaxed style. With its stunning coastline, beautiful boutiques, and lavish hotels, Cannes is the ultimate destination for your elegant yet boho wedding. Imagine yourself saying 'I do,' surrounded by palm trees and a clear blue sky. Your friends and family enjoy the breathtaking view of the sea and hills while you exchange vows in the perfect setting. It's as though you were the star of your own movie.
Do you want to have guests during your special day in Cannes? Then, after the ceremony, the party awaits. With world-class cuisine, yachts, boats to rent, champagne flowing freely, and a lively atmosphere, all your guests will leave with memories that last a lifetime.
Cannes has many places that will make you feel like a cinema star. From the charming antique markets of Le Suquet to the stunning views from the city's hilltop castle, Cannes is the perfect romantic backdrop for your forever-together. So why not make your special day even more unforgettable? If you book your wedding package in Cannes with us, we will customize the details to ensure the ceremony speaks about your love story and nothing else.
Experience the magic of Cannes, and let your union become a scene from your favorite romantic movie. Contact us today, and let our team bring your dreams to life.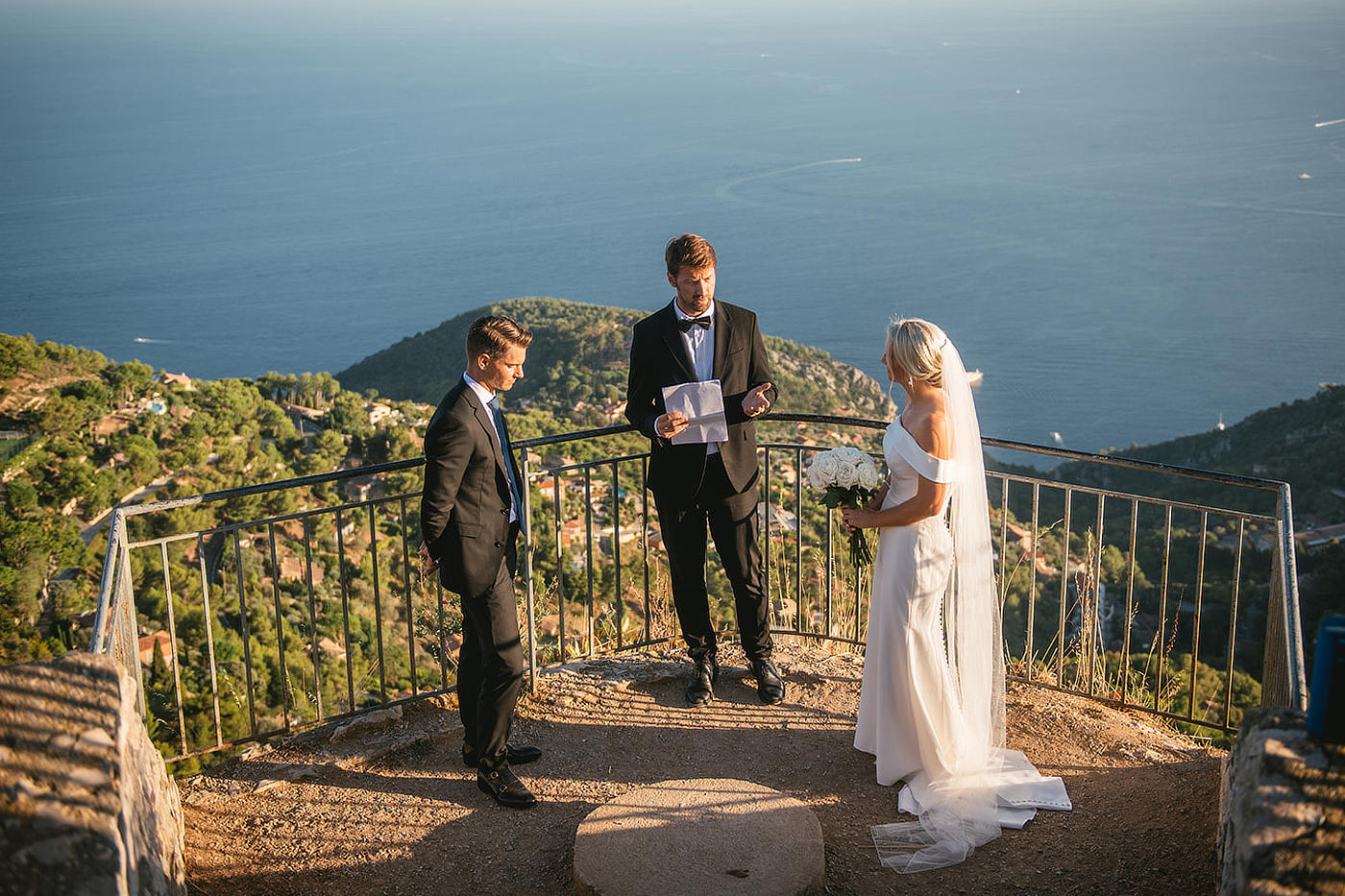 Do you want to celebrate your glamorous wedding in a unique, less mainstream city on French Riviera? Discover Eze! Our secret gem for couples who want something slightly different yet don't want to forget about the glamorous life of the Blue Coast.
Eze is one of the most impressive medieval villages in France! Stones houses, winding uneven lanes, and the 12th-century historical ruins give the village a feeling of historical romance. The magic works in Eze, taking you back to the middle ages, a great place to feel like royals and declare your love.
Whether you're looking for a grand celebration or an intimate gathering, Eze has something to suit every couple's taste. In the picturesque old town of Eze, you will find cozy hidden spots between ancient churches, majestic castles, and stunning outdoor venues overlooking the Mediterranean Sea. There are countless options for your ceremony and reception. You could also find a terrace to watch the Mediterranean Sea and get mesmerized by its deep blue color.
The lifestyle in Eze is one of utmost indulgence and pleasure. If you have guests during your destination wedding, they will also enjoy themselves in some whimsical vacations. Eze is known for its luxurious spas, boutique shops, and exquisite restaurants, you and your guests will feel pampered and spoiled throughout your stay. The delicious food and wine will leave a lasting impression on your taste buds, and the sumptuous atmosphere and bustling nightlife will keep your party going long after the reception if you want to have any.
The timeless beauty of Eze, French Riviera, will provide the perfect backdrop for your wedding pictures, with the sun almost every day of the year. You'll be able to capture lasting memories with your loved ones against the backdrop of stunning architecture and natural wonders. Don't hesitate: book your wedding package and celebrate your love in Eze.

OUR FRENCH RIVIERA WEDDING PACKAGES
FRENCH RIVIERA AS YOU DREAM IT
BASIC
€ 880

Tailor-made Ceremony including your own vows & texts
English-speaking officiant
Free assistance per phone or email
Free locations available(up to 15 guests)
Symbolic Certificate(without legal value)
VAT TAX included
No hidden fees
SILVER
€ 1480

Tailor-made Ceremony including your own vows & texts
English-speaking officiant
Free assistance per phone or email
Free locations available(up to 15 guests)
Bouquet Of Flowers
Photographer 1 hour
Symbolic Certificate(without legal value)
VAT TAX included
No hidden fees
GOLD
€ 2470

Tailor-made Ceremony including your own vows & texts
English-speaking officiant
Free assistance per phone or email
Free locations available(up to 15 guests)
Bouquet Of Flowers
Photographer 3 hours
Mercedes Car Tour With Chauffeur
Complimentary bottle of champagne
Symbolic Certificate(without legal value)
VAT TAX included
No hidden fees
DIAMOND
€ 4230

Tailor-made Ceremony including your own vows & texts
English-speaking officiant
Free assistance per phone or email
Free locations available(up to 15 guests)
Bouquet Of Flowers
Photographer 3 hours
Mercedes Car Tour With Chauffeur
Complimentary bottle of champagne
Videographer 3 hours
Symbolic Certificate(without legal value)
VAT TAX included
No hidden fees
INFINITY
€ 8246

Tailor-made Ceremony including your own vows & texts
English-speaking officiant
Free assistance per phone or email
Free locations available(up to 15 guests)
Bouquet Of Flowers
Boutonniere
Photographer 8 hours
Vintage Car With Chauffeur
Complimentary bottle of champagne
Videographer 8 hours
Hair & Make up artist
Symbolic Certificate(without legal value)
VAT TAX included
No hidden fees

MEET OUR TEAM
Jeremie, Love Gracefully
French Riviera coordinator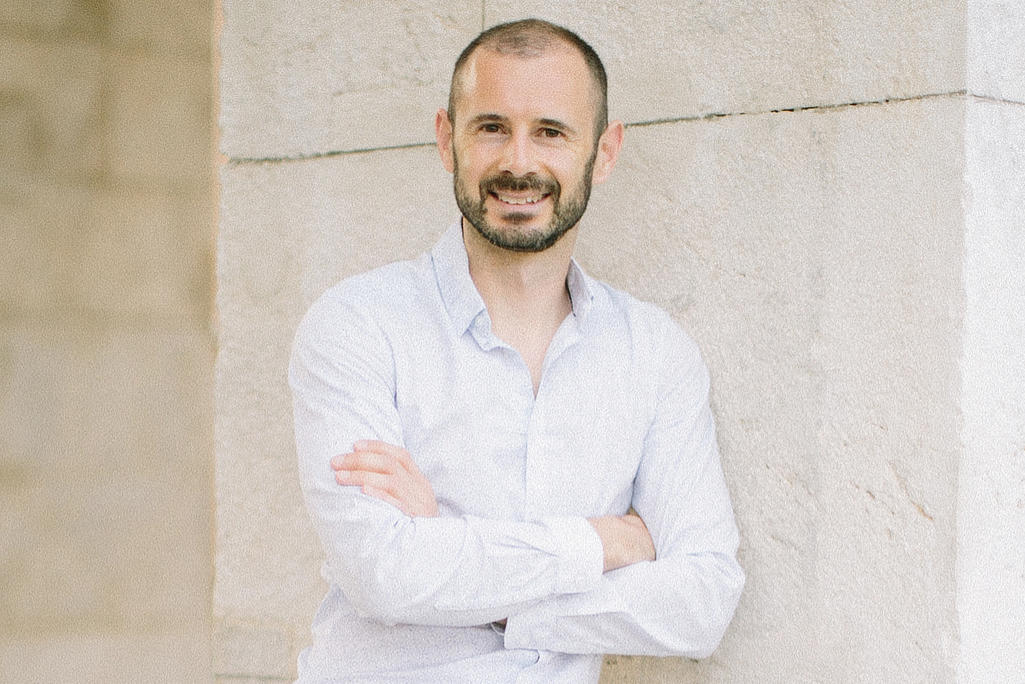 Hello, my name is Jeremie Bertrand
As a seasoned planner for a prestigious elopement company on the stunning Côte d'Azur, I am passionate about curating unforgettable experiences for couples on their special day. With my deep-rooted connection to the region as a native of Nice, I possess an intimate knowledge of its hidden gems and can effortlessly guide you to the most breathtaking viewpoints for your union.
With a keen eye for aesthetics and a background in photography, I bring a unique perspective to the planning process, ensuring that every aspect of the elopement is visually captivating. Whether it's capturing the vibrant colors of the Mediterranean, the charming cobblestone streets of Provence, or the breathtaking landscapes of the French Riviera, I prioritize creating an enchanting atmosphere that will be forever etched in the memories of the newlyweds.
Having successfully managed elopements of all sizes for several years, I am well-versed in the intricacies of orchestrating flawless events. From coordinating vendors and logistics to providing personalized recommendations, I take pride in delivering a seamless and stress-free experience for my clients.
With my expertise and meticulous attention to detail, you can trust that your elopement will be executed flawlessly, allowing you to fully immerse yourselves in the joy and romance of the occasion. Let me bring your dream elopement to life and create an extraordinary celebration of love against the stunning backdrop of the Côte d'Azur.
Do you need more information about our French Riviera wedding packages? Feel free to fill this form and we will contact you.
Please fill in the form below.
WATCH MORE TESTIMONIALS
IN OUR YOUTUBE CHANNEL
Would you like to hear about how the wedding, the planning, the ceremony went for other couples we have worked with? Feel free to listen to our wedding testimonials video recorded all over Europe. It's direct and personal testimonials. Couples will talk about their renewal of vows, their elopement or their destination wedding. For more, you can also check out our Love Gracefully testimonials Youtube channel.