ROME ELOPEMENT
Elegant, whimsical tailor-made ceremonies
ELOPE IN ROME


The eternal city
If you want to escape the hustle of an expensive wedding at home, dealing with many opinions and family demands – flee to Rome and elope in the eternal city!
As you seek an enchanting destination for your elopement, let Rome captivate your hearts. Choosing Rome for your elopement means immersing yourselves in a city steeped in ancient wonders, charming streets, and romantic vistas. Explore iconic landmarks like the Colosseum, stroll hand in hand through the picturesque streets, and bask in the eternal beauty of the Trevi Fountain. Rome's history whispers tales of romance, making it an ideal backdrop for your special day.
Elope in Rome, and you can blend your once-in-a-lifetime day with a romantic honeymoon, savoring the best of Italy's culinary delights, art, and culture. With Love Gracefully as your guide, let us curate a personalized elopement ceremony that captures the essence of your love story. Whether drawn to Rome's storied past, art, or lively atmosphere, our team will ensure your dream day unfolds flawlessly against this eternal backdrop.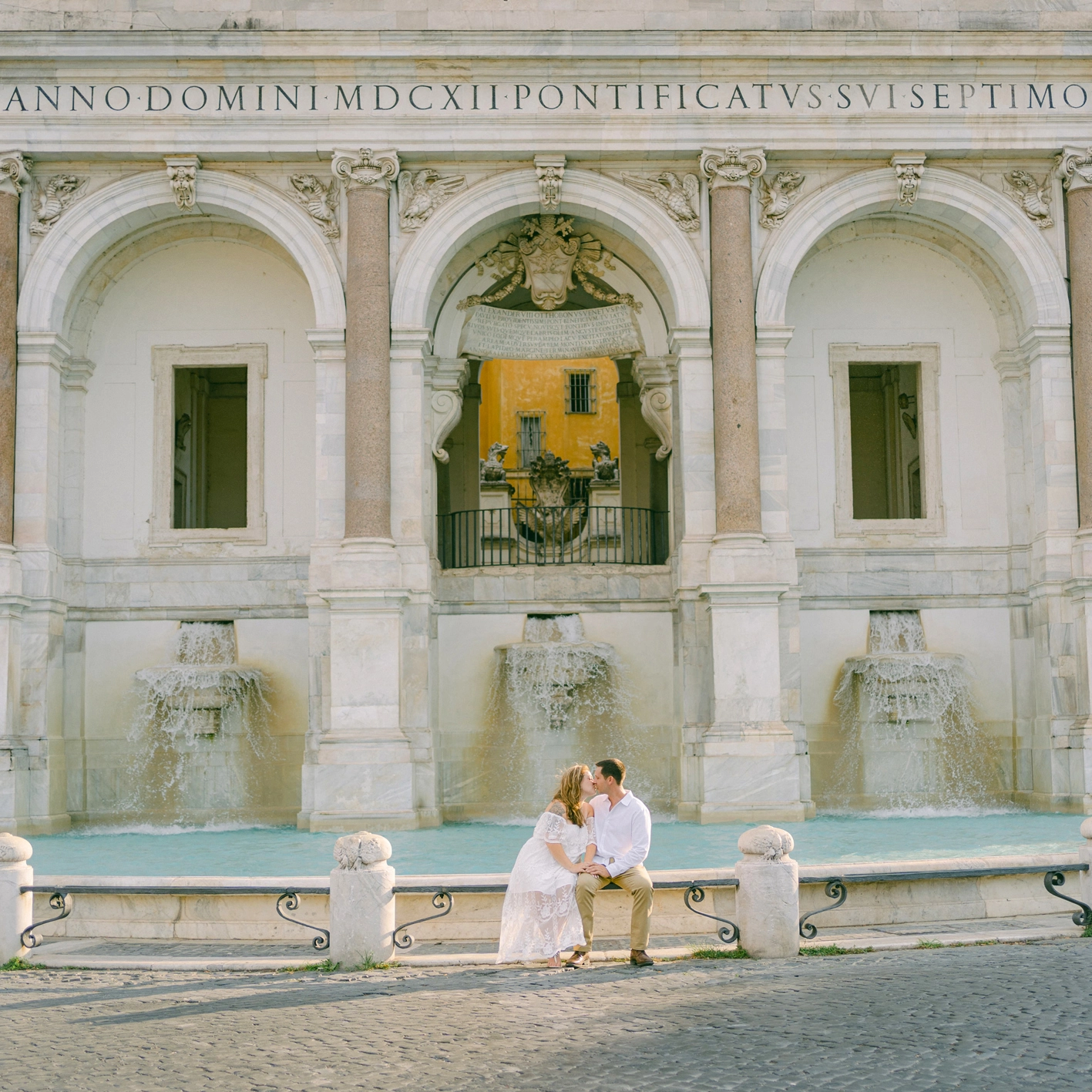 YOUR TAILOR-MADE

ROME ELOPEMENT
Are you tired of predictable wedding ceremonies? Love Gracefully offers a refreshing approach to elopements in Rome. We steer away from generic templates and craft every ceremony from scratch, tailoring your love story and preferences. Your Rome elopement is a chance to embrace individuality.
With over a decade of experience organizing unforgettable elopements in Rome, we've fostered strong connections with top-notch vendors, including photographers, makeup artists, florists, and luxury car services, just to give some examples. We will make your day unique and offer a way to personalize every detail.
Your special day should reflect you, and we're dedicated to turning your dreams into reality. Don't wait any longer; seize the opportunity to elope in Rome with Love Gracefully.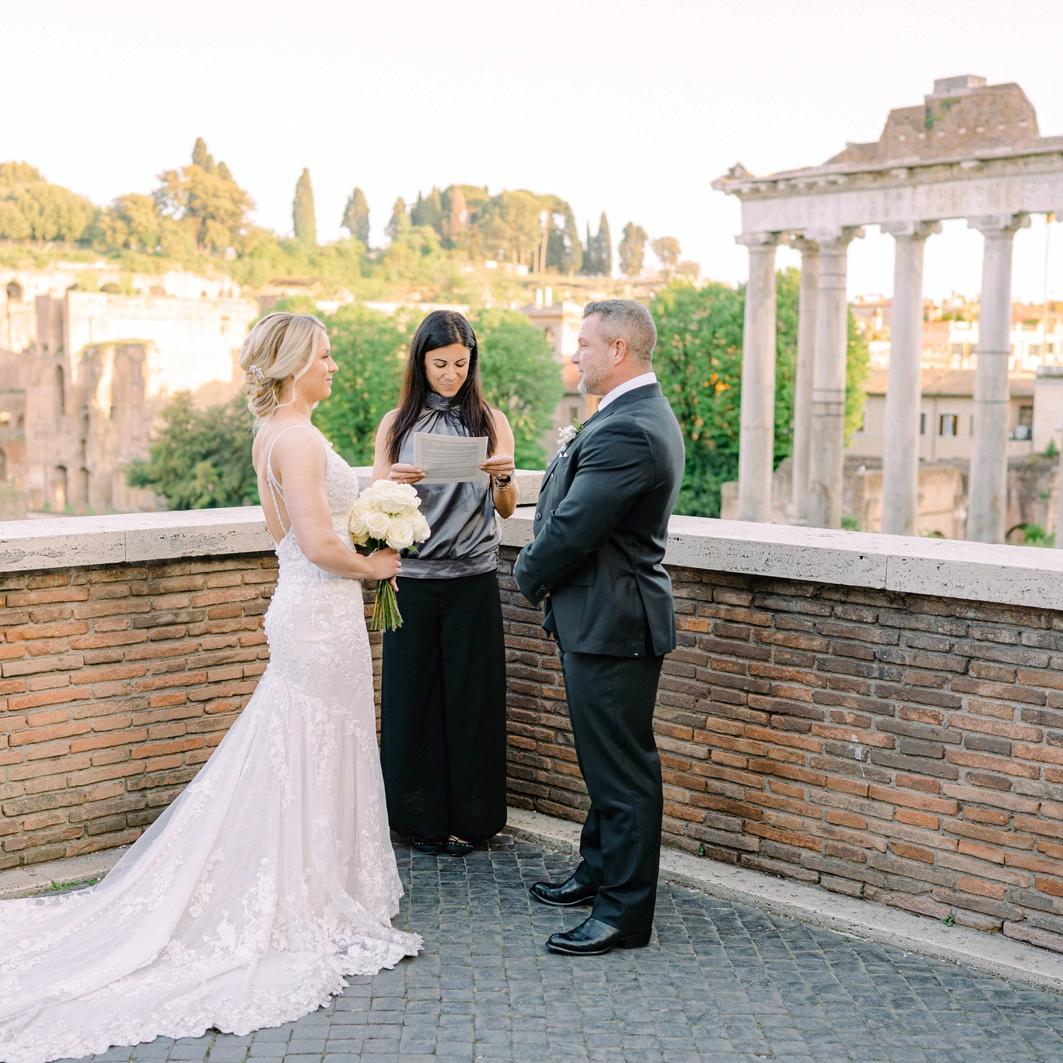 Throughout 15 years of creating cherished memories, Love Gracefully has artfully organized an array of romantic elopements in the captivating city of Rome, where the allure of eternity and historical grandeur intertwine. Our journey began in Paris with our founder and celebrant, Pierre. But soon, the irresistible beauty of Rome beckoned, inspiring us to share this magical destination with couples worldwide seeking an intimate declaration of love.
Guided by our expert wedding team of passionate locals, we unveil Rome's hidden gems and idyllic settings, crafting the perfect stage for your elopement ceremony and captivating photography sessions. We curate a selection of exceptional vendors to breathe life into your unique elopement vision, creating an unforgettable and truly intimate experience. Our English-speaking wedding team ensures a seamless planning process, allowing you to embrace Rome's rich culture and vibrant lifestyle wholeheartedly as you embark on this extraordinary journey of love.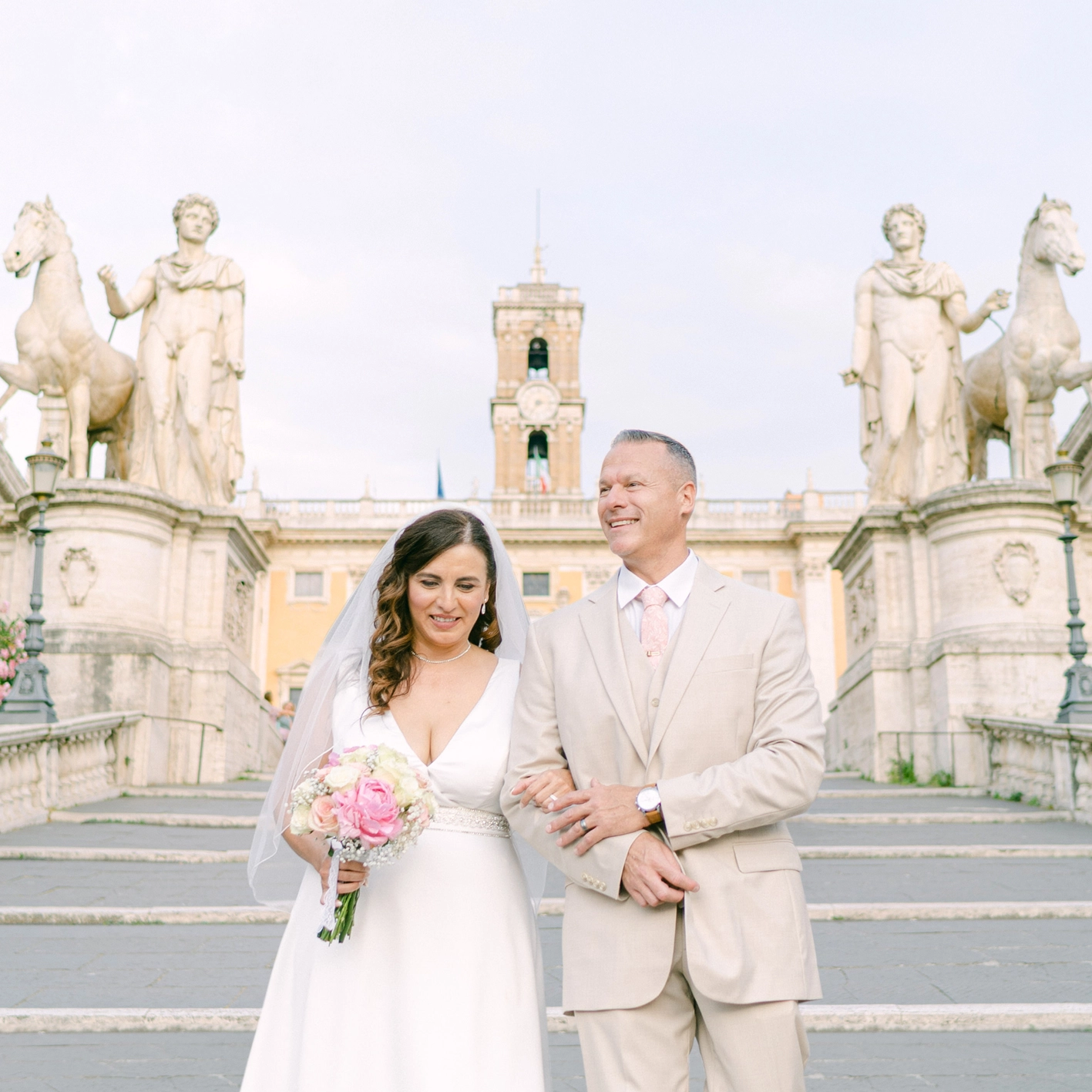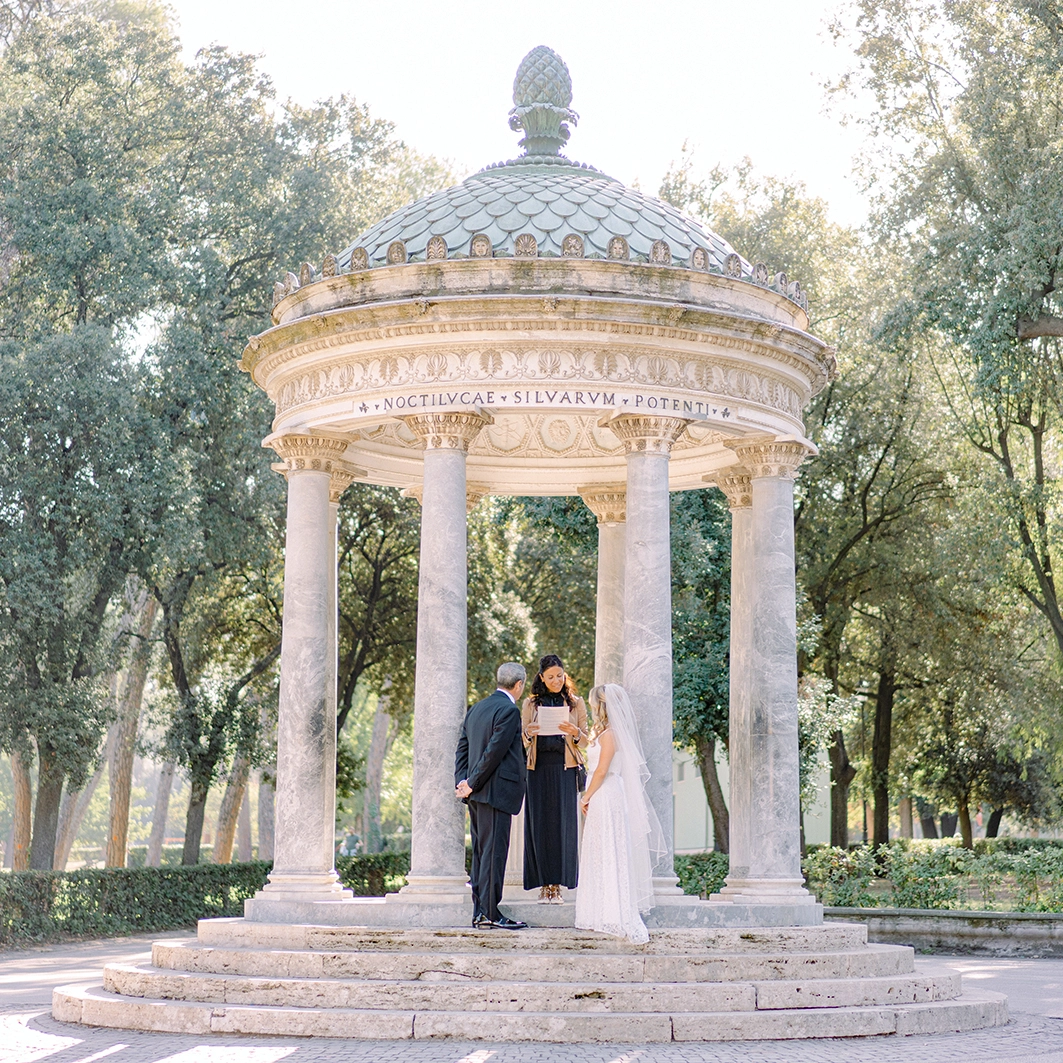 VILLA BORGHESE
ROME ELOPEMENT
Elope in Rome's enchanting Villa Borghese for a romantic celebration amid lush gardens and serene landscapes. This iconic location exudes elegance, offering a tranquil escape for an intimate and unforgettable ceremony.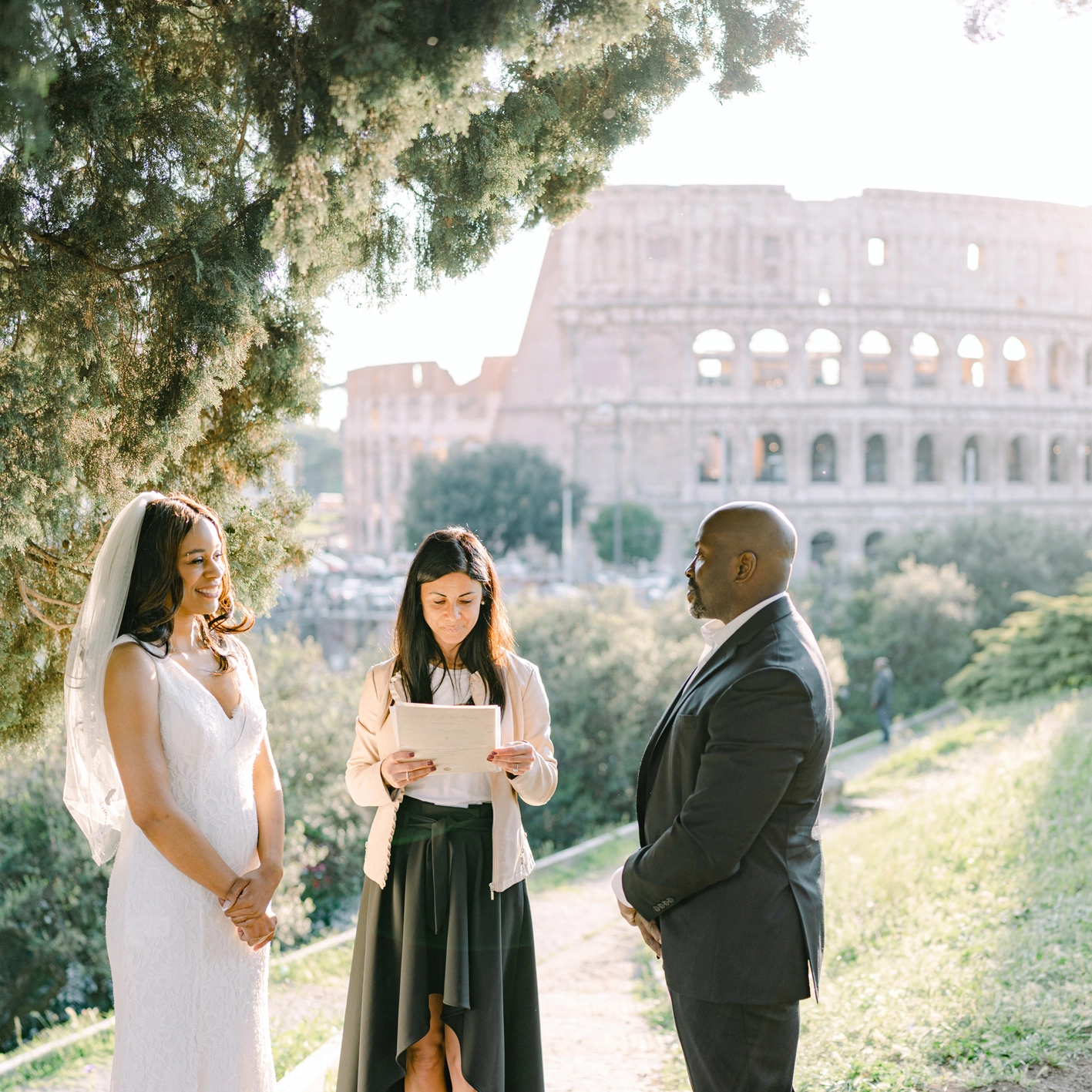 Experience the timeless allure of the Coliseum as you exchange vows in the shadow of ancient history. This iconic landmark lends unparalleled grandeur to your elopement, creating an awe-inspiring backdrop for your love story.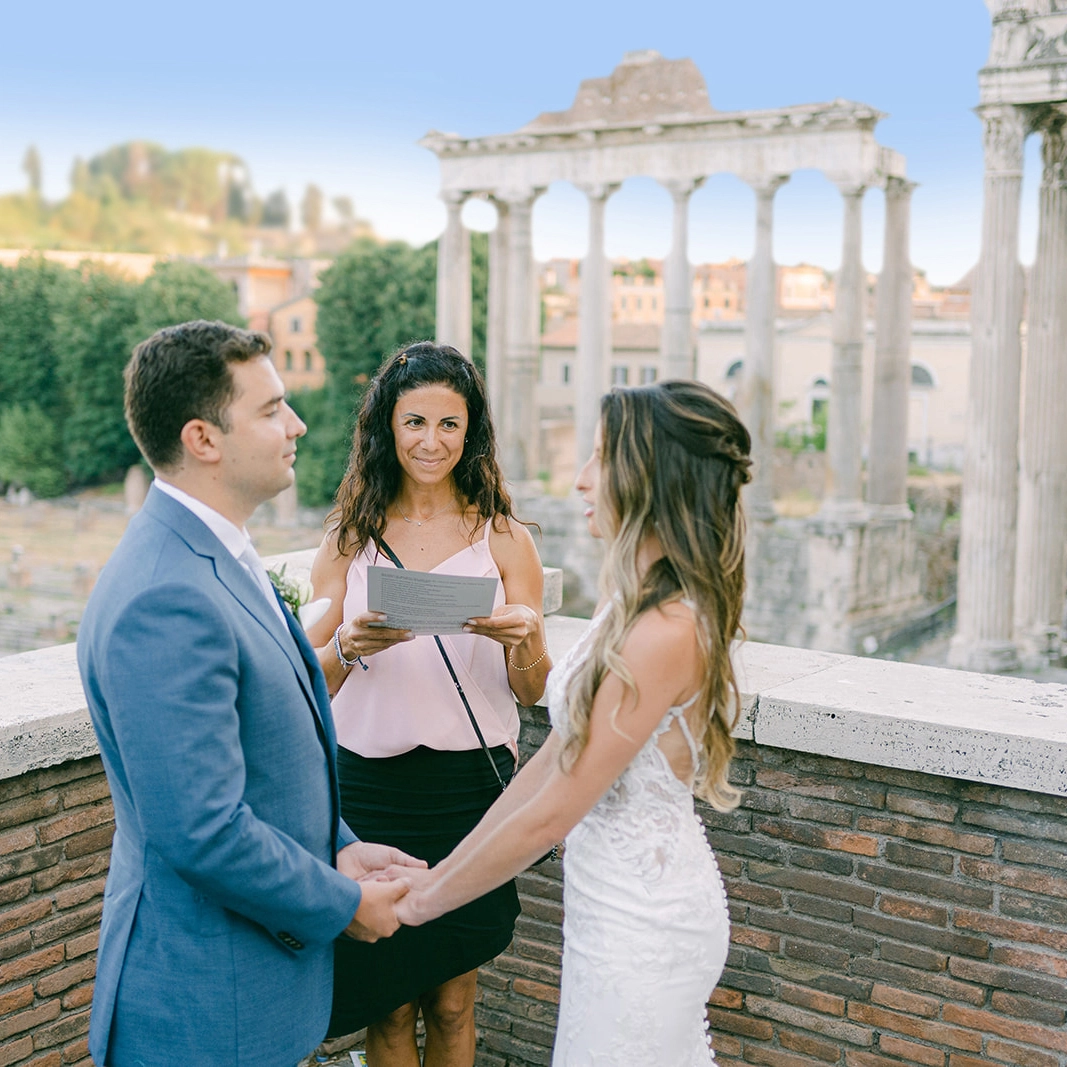 ROMAN FORUM


ROME ELOPEMENT
Step into the ancient world at the Roman Forum and embark on a journey through history as you declare your love. This archaeological wonder embraces the echoes of the past, making it an extraordinary setting for meaningful and symbolic elopement.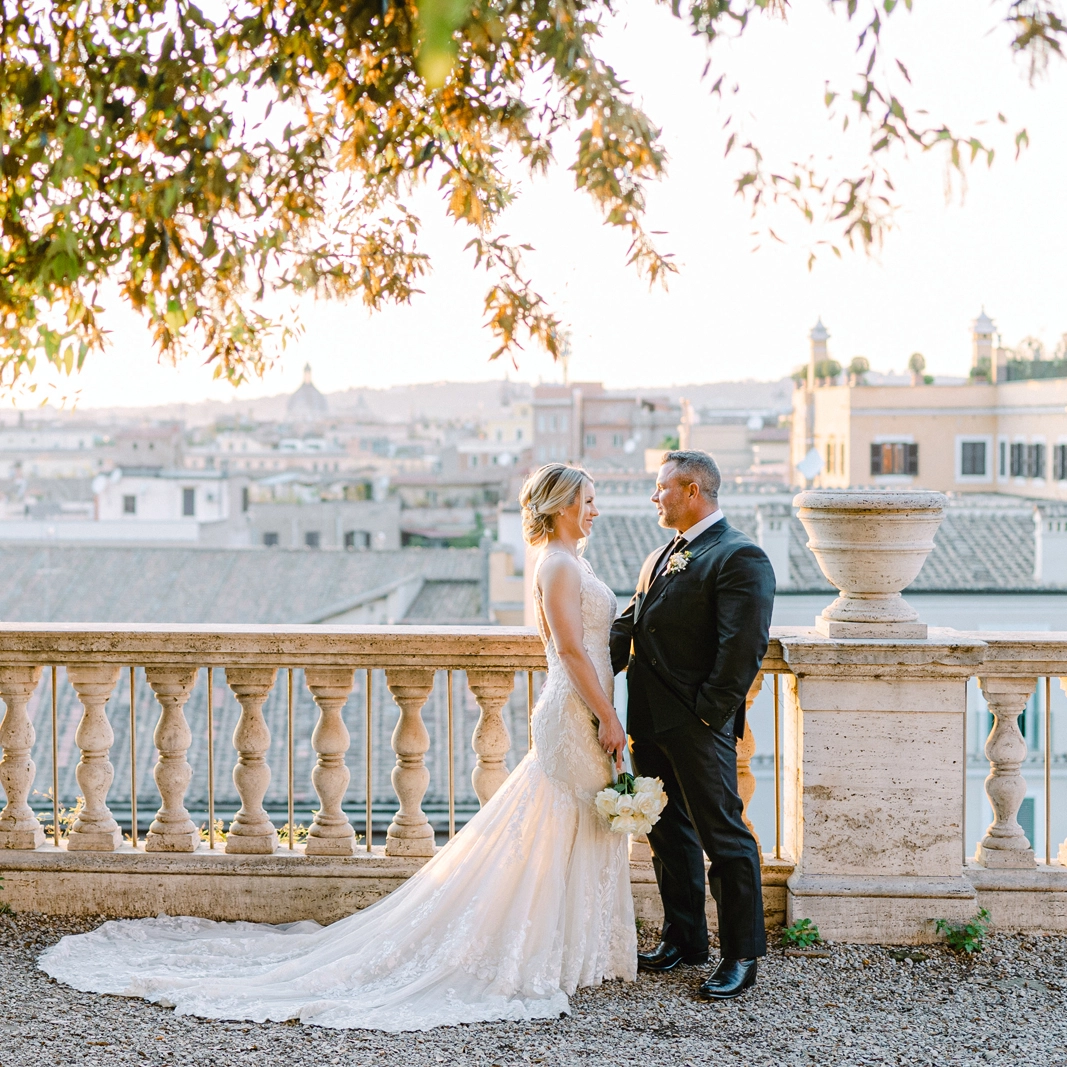 Capture the essence of Rome's grandeur at the Capitol, where breathtaking views and historic significance intertwine. This elevated location embodies the city's spirit, providing a captivating stage for a truly memorable and meaningful elopement. OTHER LOCATIONS


ROME ELOPEMENT
Find your own hidden gem in Rome, where charming cobblestone streets and hidden courtyards create an intimate setting for your love to blossom. Let the Eternal City weave its magic into your special day, whether it's a secluded piazza or a picturesque rooftop terrace.

Watch more testimonials on our
Youtube

channel
Coliseum:
Best-selling

spot to elope in Rome
Elope in front of the Coliseum, our best-selling experience at Love Gracefully. This iconic ancient amphitheater holds a profound historical significance, dating back to the days of the Roman Empire. Standing amidst its grandeur, you'll be transported to a bygone era, surrounded by the echoes of gladiator battles, extravagant spectacles, and the beating heart of ancient Rome. Choosing to elope in front of the Coliseum allows you to declare your love in the footsteps of emperors and old heroes, embracing the rich heritage and timeless allure of this architectural masterpiece. As the sun sets over this magnificent structure, you'll feel an undeniable connection to the past, adding a profound and symbolic layer to your elopement. Like the Coliseum itself, your love will stand the test of time, and this unique experience will be etched into your hearts forever.
Villa Borghese:
Our secret gem

for your Rome elopement
Villa Borghese in Rome is a hidden gem spot for elopement, and its rich history adds a touch of magic to your special day. This enchanting park was originally the private estate of Cardinal Scipione Borghese in the 17th century, showcasing stunning sculptures and art collections. Today, it offers an intimate and romantic setting nestled amidst lush gardens, serene lakes, and elegant architecture. Surrounded by the whispers of the past, eloping at Villa Borghese allows you to immerse yourself in the timeless beauty of Rome while creating cherished memories that will stand the test of time.

Create your perfect Italy elopement
The best Italy elopement is the one you can imagine!
It is normal if you feel intimidated, but with our Italy elopement packages and the support of our team, your special day will be like a breeze. Discover more!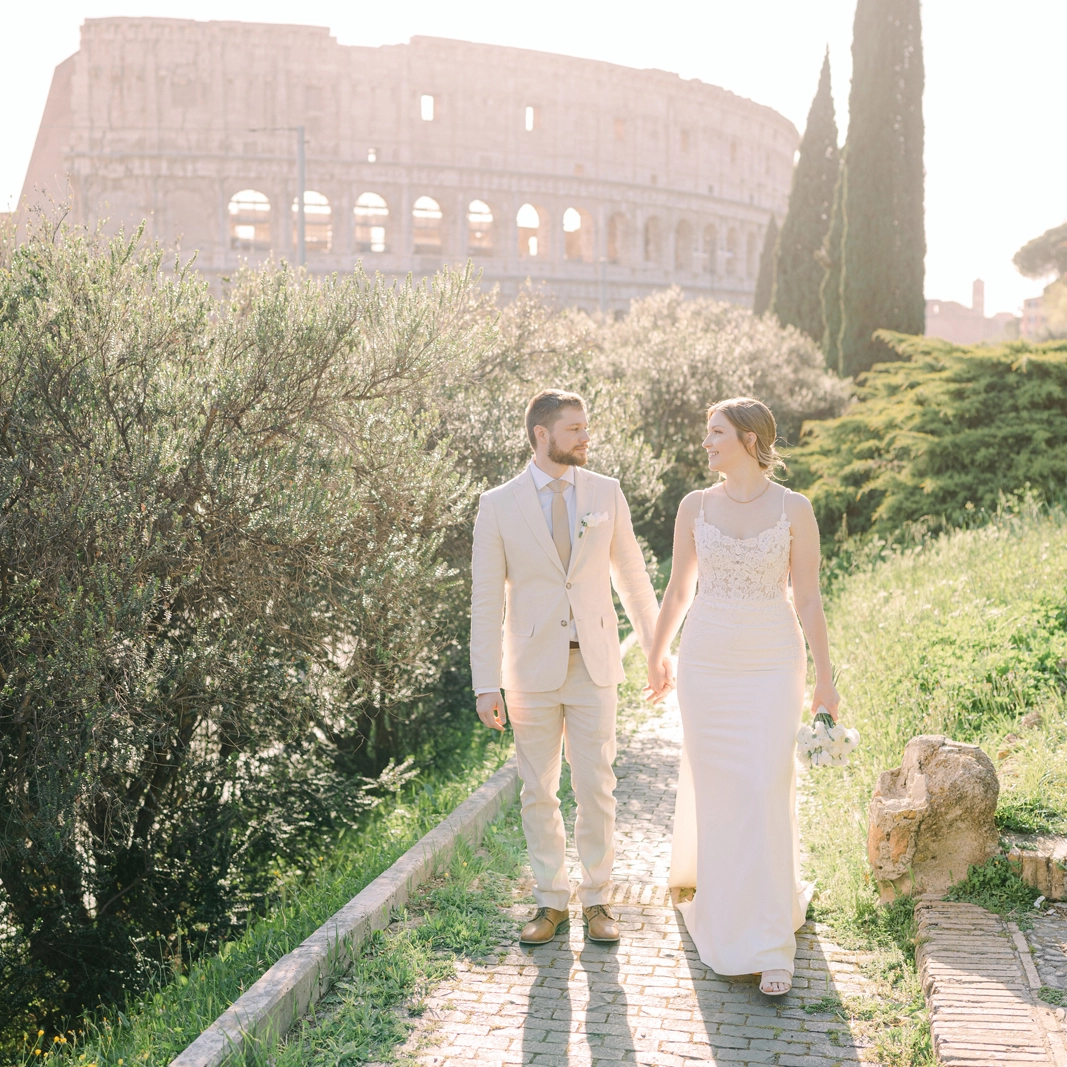 STEP

1


Secure your date and elopement package
Start by selecting a date that holds special significance or aligns with your travel plans. Rome, a sought-after destination with favorable year-round weather, is famous for elopements with Love Gracefully. Act swiftly to secure your preferred date, ensuring you have the best options to choose from.
Once your date is confirmed, choose the ideal Rome elopement package that suits your preferences, and finalize your booking with a deposit. Our thoughtfully crafted packages cover all the essentials, laying the groundwork for your dream ceremony with the freedom to personalize as you wish.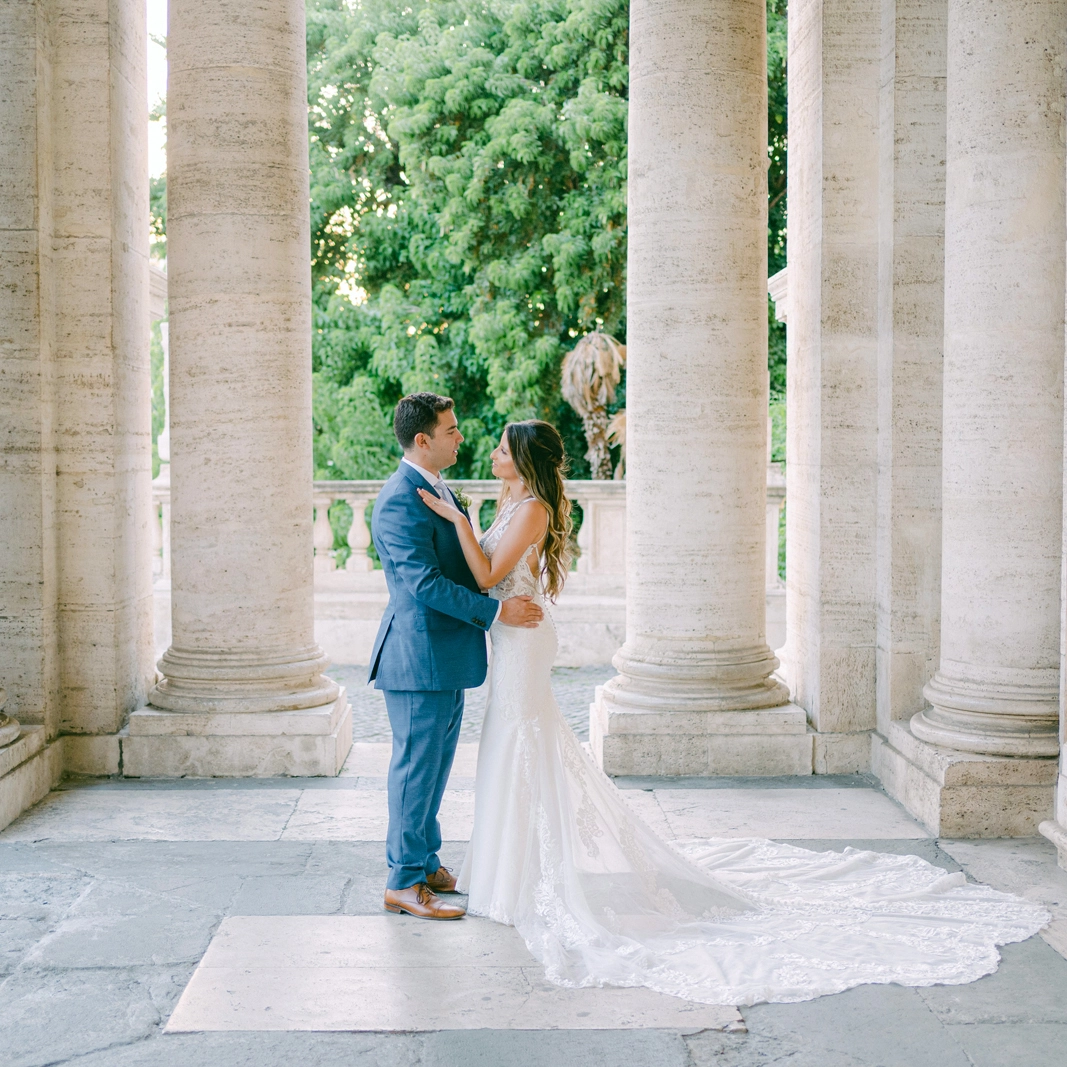 STEP

2


Tailor your wedding package
Get ready to unleash your creativity as we embark on the exciting journey of personalization! Selecting the ideal elopement location in Rome is the first step, carefully matched to your preferred season and timing. Our experienced team will guide you to a spot that perfectly complements your unique love story.
With a myriad of choices at your fingertips, you can customize other elements in your package or add new ones for an extra touch of luxury. From exquisite floral arrangements to elegant transportation and hairstyling, we're here to make your dreams come true on this momentous day.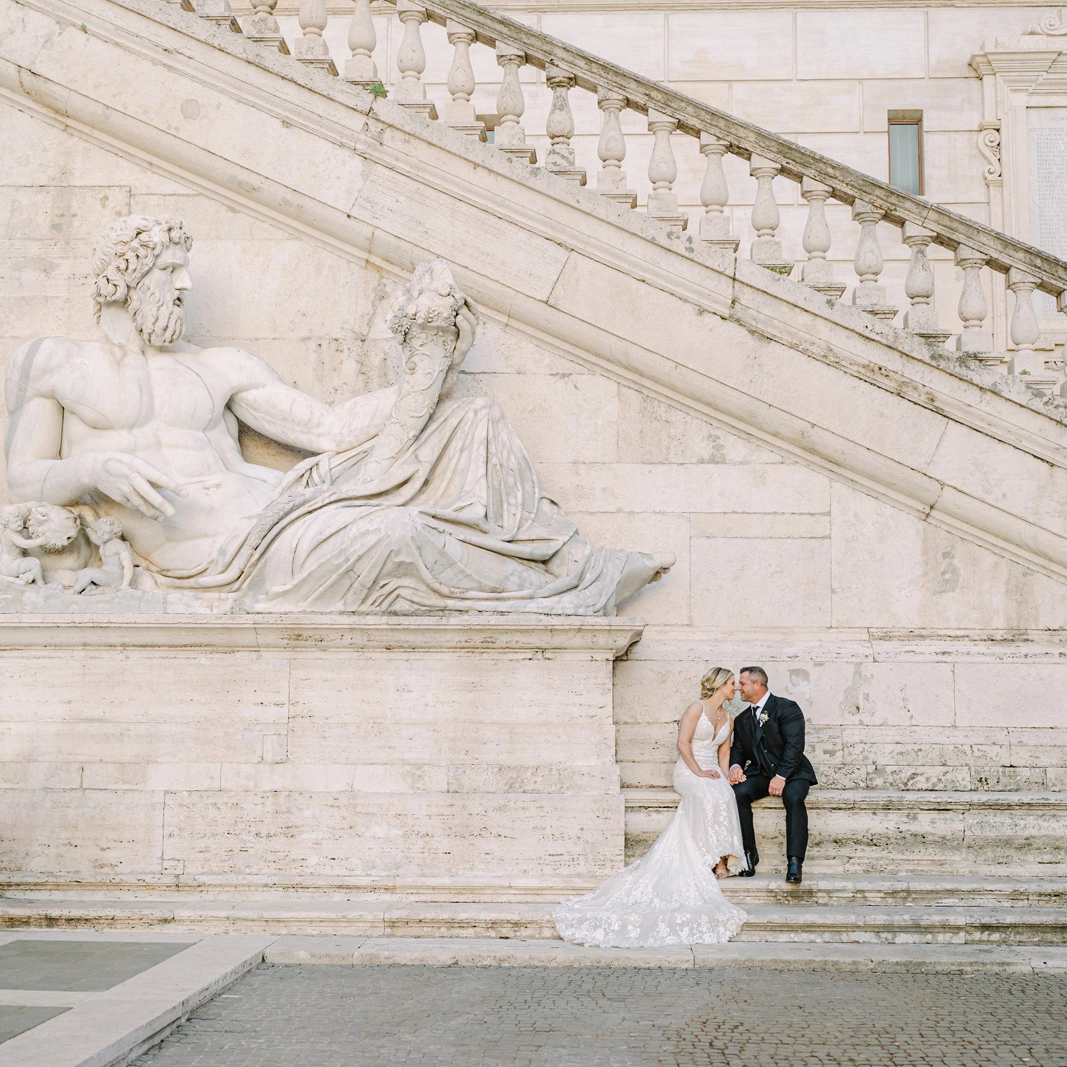 STEP

3


Craft your eternal love ceremony
Your Rome elopement ceremony should be an authentic reflection of your love and identity. Our devoted celebrant will reach out to you in advance, delving into your story to create a heartfelt script that genuinely resonates with your essence. Our coordinator will complement this experience by providing delightful ideas, ensuring a day filled with unforgettable memories etched in your hearts.
Are you ready for an extraordinary journey to your perfect elopement in Rome? With Love Gracefully as your guide, let's create an unforgettable chapter in your love story.
FAQ about eloping in Rome
As we state before, our Rome elopement ceremonies are purely symbolic, meaning that they have 
no legal value
. The idea here is that due to heavy paperwork, rules and translations issues in a foreign country, we suggest to couples to have the paperwork done at home and come to Europe to celebrate fully their love. Our specialty is the celebration of love, but not the paperwork. You can see Pierre explaining this in 
this video
.
Our Rome elopement ceremonies are totally personalised. They can either be spiritual or not at all. They are designed to meet your beliefs. Any God is welcome as well as an atheist or… In that sense, Love Gracefully is a secular company that embraces all beliefs and all non-beliefs. But our officiants are not priests, nor pastors, nor rabbis.
Would you want a religious ceremony, depending on the city, we could direct you to a local church. It's very rare as many European priests do not speak English. So, what we recommend is that, if you want a religious ceremony in Europe, to let us, at Love Gracefully, create a spiritual ceremony that will be celebrated in an exquisite outdoor location.
We do understand your concern in the event of rain if you want to elope in Rome. Since we always work outdoors, we have the expertise on what to do in case of rain; we spend a lot of time looking at weather forecasts. And after more than 400 ceremonies, here is what we've learned:
It's an issue to take seriously;
Weather forecasts are not very accurate;
Best to wait 48 hours to 24 hours before D-day to make a final call on what to do;
We have a plan B, protected from the rain, ready to go.
If it rains a little bit we can wait for it to stop
If the weather gets extremely bad and our vendors are available, we are flexible and we can try to move the ceremony to another time or day. Only if vendors and officiant are available.

MEET OUR TEAM
Francesca,
Love Gracefully Rome coordinator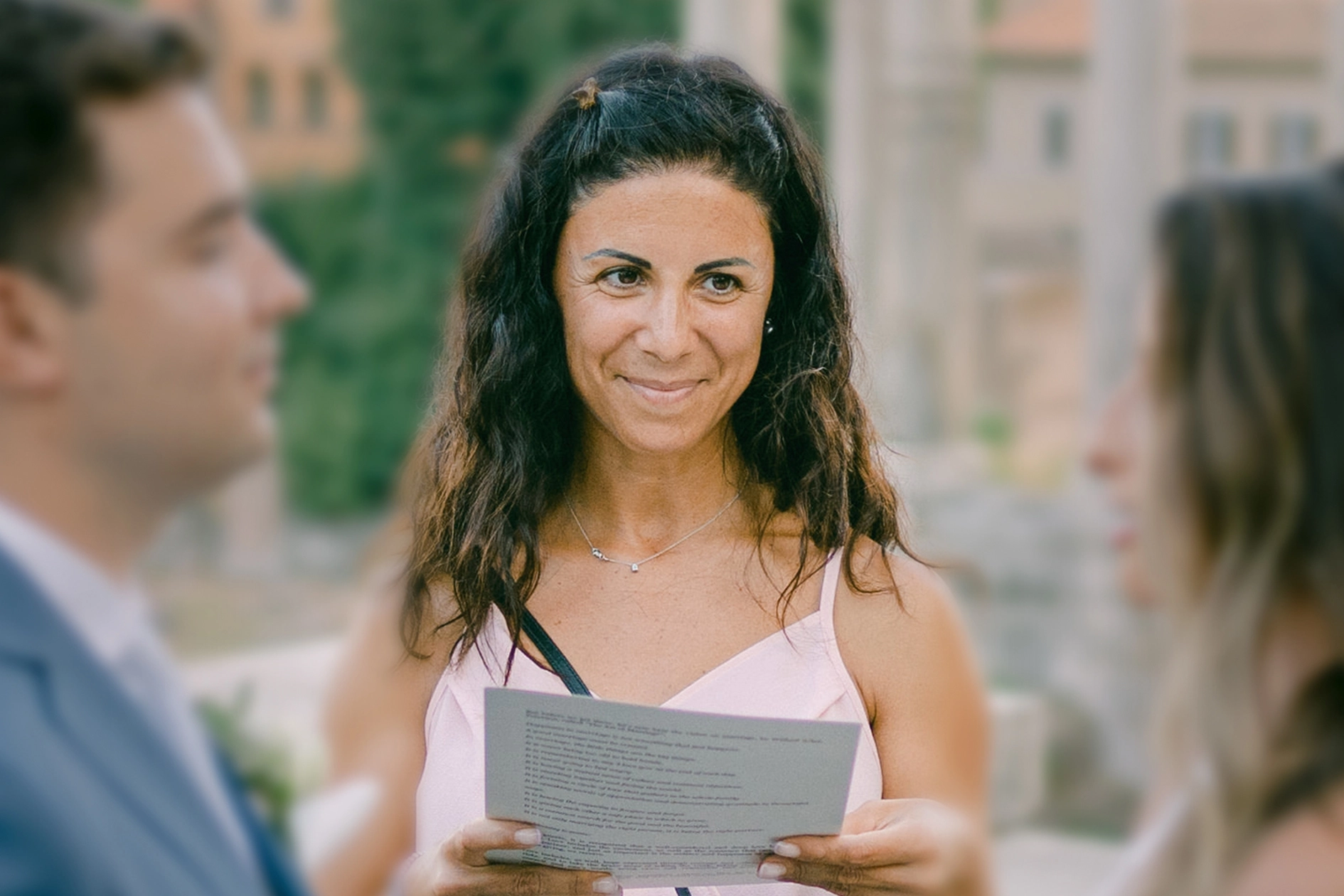 Ciao! My name is Francesca, I have been blessed to be the Love Gracefully coordinator for Rome for the last 8 years. I started my activity as a freelance officiant – Italian Minister belonging to the Universal life church – back in 2010. Since then, I celebrated hundreds of weddings. I love personalising the ceremonies by adding special touches such as romantic rituals and intimate readings. I am Italian but speak also English, French and Spanish. I officiate both religious, spiritual, humanist and same-sex ceremonies. My goal is to offer you a unique experience but also to your guests. That's why I'll be more than happy to reveal you where the secret gems of Rome are hiding but also to provide you with tips and tailor-made solutions on how to organise your unforgettable ceremony!
Do you need more information about our elopement wedding packages? Feel free to fill this form and we will contact you.
Please fill in the form below.
WATCH MORE TESTIMONIALS
IN OUR YOUTUBE CHANNEL
Would you like to hear about how the wedding, the planning, the ceremony went for other couples we have worked with? Feel free to listen to our wedding testimonials video recorded all over Europe. It's direct and personal testimonials. Couples will talk about their renewal of vows, their elopement or their destination wedding. For more, you can also check out our Love Gracefully testimonials Youtube channel.