Looking for French sun and glamour?
Head to the south, the Riviera is what you are looking for!
The French Riviera, known in France as "Côte d'Azur", has plenty to offer if you're looking for sea, sunshine, and glamour. Full of evocative sites, you will love its classy and laid-back vibe, just like many celebrities did.
Locations to elope in French Riviera
Eloping in French Riviera will make you feel like a movie star. These are our curated locations where you could celebrate your French Riviera elopement!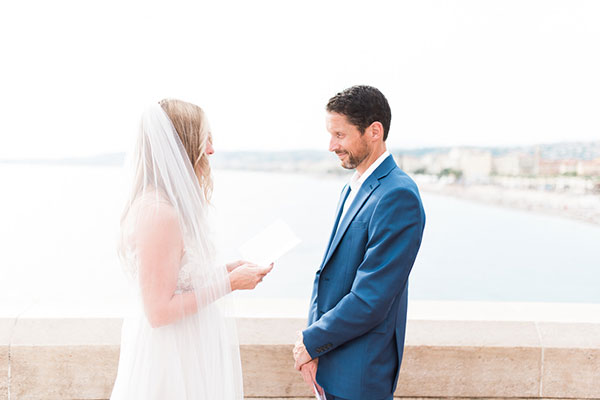 Elopement ceremony in Nice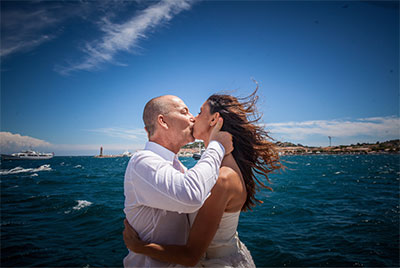 Elopement ceremony in Cannes
Elopement Ceremony in Monaco
Elopement Ceremony in Eze
Types of ceremonies for our French Riviera wedding packages
Love Gracefully Ceremonies
Celebrating your vows on the French Riviera
We have been celebrating ceremonies in 4 main locations on the French Riviera over the past 10 years. Nice, Monaco Monte-Carlo, Cannes and Eze are 4 stunning sites with an impressive coastal setting. All 4 of them are jewels of the French Riviera, each one in its own way. They are all typical of what comes to mind when one evokes the French Mediterranean coast: sun, picturesque old villages, stunning coastline. You can find more details about these destinations on their dedicated pages.
Looking for eloping ideas overseas ? You are bound to find the one your are looking for in the French Riviera !
More locations on the French Riviera
The sun-drenched southern part of France Mediterranean coast has even more jewels to rest your eyes upon and celebrate your love in! Famous spots have made France southern coast's appeal, they will be perfect to host your elopement, renew your vows, make your proposal or have a destination wedding.
Provence
If you love lavender fields, Provence is for you. Couples come from all over the world to celebrate their love in the middle of Provence' lavender fields. A unique purple setting for a warm love… Beware that Provence being not one of our package destination, the prices are different. Please write to us to get a quote.
Saint-Tropez
What used to be a quiet little fishing village boomed in the 60s after the shooting of a French successful movie called And God Created Woman, staring the once extremely famous French actress Brigitte Bardot. St Tropez has been a favorite since then for celebrities and beach lovers. This charming little harbor, bathed by a crystal clear rocky Mediterranean, is a sexy and iconic place to host your symbolic love ceremony. You will love it just like this couple did. Beware that Provence being not one of our package destination, the prices are different. Please write to us to get a quote.
Seductive and glamorous Cannes
Home to one of the most famous film festival in the world, the Festival de Cannes, Cannes is undoubtedly a celebrity spot. Walk alongside la Croisette, the dazzling city promenade, and you're sure to feel its social vibe. But if you just turn around, you will spot Cannes' lovely little old quarter, le Suquet, with its charming winding streets. So, if you're looking for a glamorous place to have your symbolic ceremony, then Cannes might just be the place you are looking for!
Love Gracefully brands
One of the oldest wedding celebration company in France, our passion sprang to mind as we realized one thing : in the country of love, there should be an easier way to celebrate wedding vows. This is how we got the idea of creating the symbolic wedding ceremonies.
A small company managed by our terrific celebrant Pierre and his team, we love human relationships. That's why we are passionate about getting to know to bride and groom to be we work with. We will take the time to talk to you over the phone, skype with you if necessary, reply to your questions. We want to be able to craft the ceremony you dream of, and this is what we have managed to do. With over 350 ceremonies officiated, we know how to make this celebration day a the most memorable day of your life. People have praised how easy it was to prepare, how personal, romantic and unique it turned out to be, how loving and warm the people they interacted with were.
This is what makes Love Gracefully's pride, and this is what we want to offer you. We will be thrilled to welcome you on the French Riviera for this very special and unique wedding day!