Red Carpet wedding vows in Glamorous Cannes
While walking on the promenade de la croisette, the famous waterfront avenue with palm trees, it's hard not to think that all the stars of the world walked the same avenue! So, it's obvious that your wedding vows ceremony will have a « star » feeling in sunny Cannes. Cannes has attracted many stars, why not you ?
Your Star ceremony in Cannes
An exquisite waterfront with so many yachts that it's hard to count them all, Cannes has attracted famous people since decades !
Located close to Nice with an international airport connecting direct flights to the USA, it's hard to resist Cannes' temptation with it's 300 sunny days per year for vows ceremonies !
Cannes has always been a hit spot for vow renewals, elopement or destination weddings. Many stars have done it before you : Cannes offers all the advantages that couples seek for their unique wedding vows day: stunning background with yachts, a sky of the same colour as the sea, and a star feeling… If you're looking for a great place to wed or elope, and have a bit of time to sunbathe or shop, then Cannes is for you. Cannes is located on an awesome beach on the Mediterranean shore and you will love it. Love, glamour, sun and sea all at once !
Superb architecture on the waterfront, excellent restaurants, stunning shops, great diving, Cannes has many ways to attract you. Whether you want to spend this special day just the 2 of you, or bring friends or family, Cannes will work out perfectly.
Vow renewals ceremony or destination wedding in Cannes ?
Maybe you want to surprise your honey with a surprise vow renewals ceremony, or maybe you are looking for wedding tips in Cannes, our team will be happy to help you decide which is the best-suited place for your ceremony. Cannes proposes a lot of great hotels to have your ceremony ( not included in our package price ) and we can help you to choose the one you prefer : it could be on a wood-dock surrounded by the sea or you could choose to rent a beach if you have numerous guests or you could decide for an hotel' terrace overlooking the entire bay. We know what works best and we'll be happy to share it with you because a memorable vows ceremony on the French Riviera is not complete if the venue you end up with is not the one of your dreams.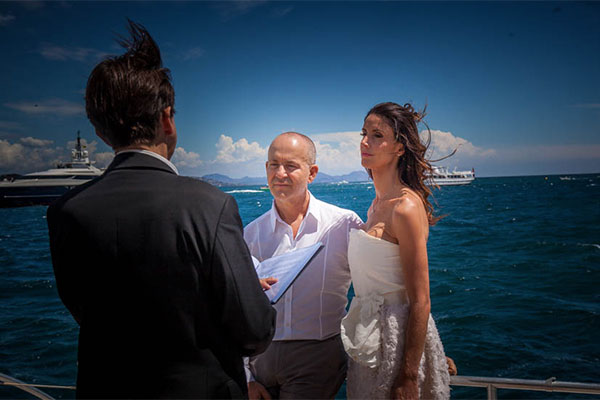 Types of ceremonies for our Cannes wedding packages
Love Gracefully Ceremonies
Our local vendor for your vows ceremony in Cannes
Cannes is a must-see if you're having a getaway in the French Riviera, and Cannes certainly is the most glamorous seaside town you can find on the French Riviera. Cannes is famous for ceremonies of all types. Blessed with year-roundsun and an awesome bay, it's a romantic town to hold your special day. What better place to have a star blessing?
Since 10 years, we have developed a network of caring professionals that have been working for many couples. Wether you're looking for a celebrant, a photographer, a videographer, hair and make-up stylist, flowers to capture your special day, we know where to look to offer you the best artists!
And If you want to bring back home photos captured on yourspecial day to share with the people who were not there, choosing a trustworthy, talented photographer is a true must.
Our wedding celebrant in Cannes
With over 600 ceremonies celebrated at Love Gracefully, we know what works and what does not work. To prepare a ceremony from afar can seem to be a daunting task. Not only are there a lot of traps you want to avoid, but you also might have a specific vision of what you want. We can help you make it come true !
In Cannes, our officiant is not only an experienced celebrant but a very caring person. The best proof of that is the many testimonies we have on our youtube channel
Turning the day you dream of into reality is what we are specialized in. Let's meet in Cannes and celebrate your love like a star !
Our wedding packages in Cannes
BASIC
€880

Tailor-made Ceremony including your own vows & texts
English-speaking officiant
Free assistance per phone or email
Free locations available
(up to 15 guests)
Symbolic Certificate
(without legal value)
VAT TAX included
No hidden fees
SILVER
€1480

Tailor-made Ceremony including your own vows & texts
English-speaking officiant
Free assistance per phone or email
Free locations available
(up to 15 guests)
Bouquet Of Flowers
Photographer 1 hour
Symbolic Certificate
(without legal value)
VAT TAX included
No hidden fees
GOLD
€2470

Tailor-made Ceremony including your own vows & texts
English-speaking officiant
Free assistance per phone or email
Free locations available
(up to 15 guests)
Bouquet Of Flowers
Photographer 3 hours
Mercedes Car Tour With Chauffeur
Complimentary bottle of champagne
Symbolic Certificate
(without legal value)
VAT TAX included
No hidden fees
DIAMOND
€4120

Tailor-made Ceremony including your own vows & texts
English-speaking officiant
Free assistance per phone or email
Free locations available
(up to 15 guests)
Bouquet Of Flowers
Photographer 3 hours
Mercedes Car Tour With Chauffeur
Complimentary bottle of champagne
Videographer 3 hours
Symbolic Certificate
(without legal value)
VAT TAX included
No hidden fees
INFINITY
€8246

Tailor-made Ceremony including your own vows & texts
English-speaking officiant
Free assistance per phone or email
Free locations available
(up to 15 guests)
Bouquet Of Flowers
Boutonniere
Photographer 8 hours
Vintage Car With Chauffeur
Complimentary bottle of champagne
Videographer 8 hours
Hair & Make up artist
Symbolic Certificate
(without legal value)
VAT TAX included
No hidden fees