Venice Wedding Packages
ELOPEMENTS • DESTINATION WEDDINGS • VOW RENEWALS
CELEBRATE YOUR LOVE IN VENICE
Celebrating your wedding in Venice, the city of water, is pure magic. The superb, millennia-antique Italian island set on the Mediterranean Sea is a wonder to the eyes and hearts and will be the perfect setting to celebrate your vows; no matter if you want to elope, celebrate a destination wedding, or renew your vows, Venice and its canals, will bring a bit of fantasy to your special day. Still, it might seem complicated at first sight from afar. That's why we created several Venice wedding packages and curated different locations for you. Watch the video to know more!
CONTACT US AND TELL US ABOUT YOUR DREAM CEREMONY; WE WILL MAKE IT HAPPEN.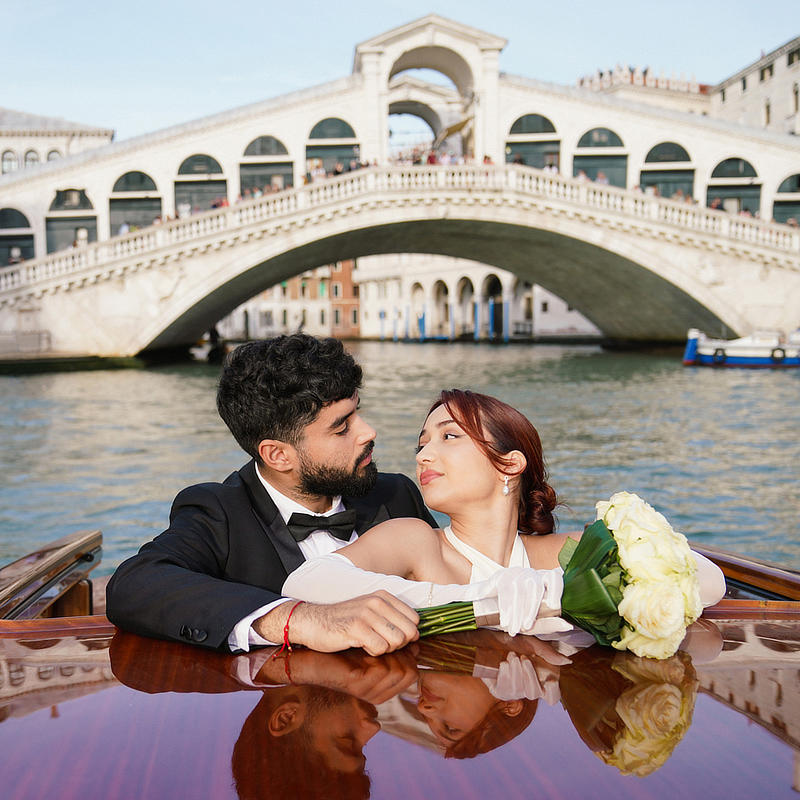 WEDDING IN VENICE, THE CITY OF WATER
Venice is undoubtedly the ultimate destination for lovers: small and secret cobbled-stone streets, whimsical bridges over the canals, beautiful old doors, and the colorful Murano crystal…There are infinite romantic spots in Venice. The Floating City, the birthplace of Antonio Vivaldi, will seduce you with its fantastic architecture and artwork, listed as a World Heritage Site. Amongst them: the best-known St Mark's Basilica and Square, the Doge's Palace and the Bridge of Sigh, the Grand Canal, and the Rialto Bridge are testimonials of what has made Venice's reputation as a lovers' city.
Emily and RJ had a dream: to celebrate their wedding in Venice! The uniqueness of Venice's romanticism was well captured by our director: where else in the world can you imagine so much water, adding a natural romantic spice to the city… Emily and RJ wanted to celebrate their love their way, and they did! In the video, you will appreciate how they express precisely what happened and how magical their experience was. A great film that they were able to bring back home to show their family and friends what Love can do (with the magic touch of Love Gracefully, of course).
ONLY IN VENICE: WEDDING IN A GONDOLA
What could be more romantic than saying 'Yes, I do' in the canals, in a traditional gondola? Like in a novel, celebrating your love in a gondola is the perfect choice for an elopement or vow renewal: stirring its way up and down the many winding charming canals, surrounded by the city's majesty. You are sure to get the most romantic and intimate ceremony there, for just the two of you or with your close relatives.
Suppose you prefer a destination wedding with your friends and family or eloping on solid ground. In that case, Venice has many hidden and intimate places that will work wonders for you. Contact us, and we will make your dream come true.

CREATE YOUR PERFECT CEREMONY
The best Venice wedding ceremony is the one that you are dreaming about!
It doesn't matter if you want a big destination wedding, an intimate elopement, or a surprise vow renewal – our passion for celebrating love will make it happen.
We created some Venice wedding packages to make everything easier. Still, they are fully customizable. Get ready to create your dream wedding now:

CHECK AVAILABILITY
Please go to our contact page here. You tell us when & where you want to celebrate your Venice wedding ceremony, and we'll let you know the different possibilities. We'll explain our work in detail and guide you through the process.

CHOOSE YOUR PACKAGE
We have different Venice wedding packages that match different wedding styles but keep in mind that all of them can be customized to make your vision a reality. So no matter the type, ask us as many questions as you need to before you book us.

BOOK YOUR DATE
Once we have answered all your questions, you can book our wedding packages by only paying a deposit via our friendly-user credit card. Once that's done, we start working side to side. We finish our work once your ceremony is over.

PICK YOUR WEDDING CEREMONY STYLE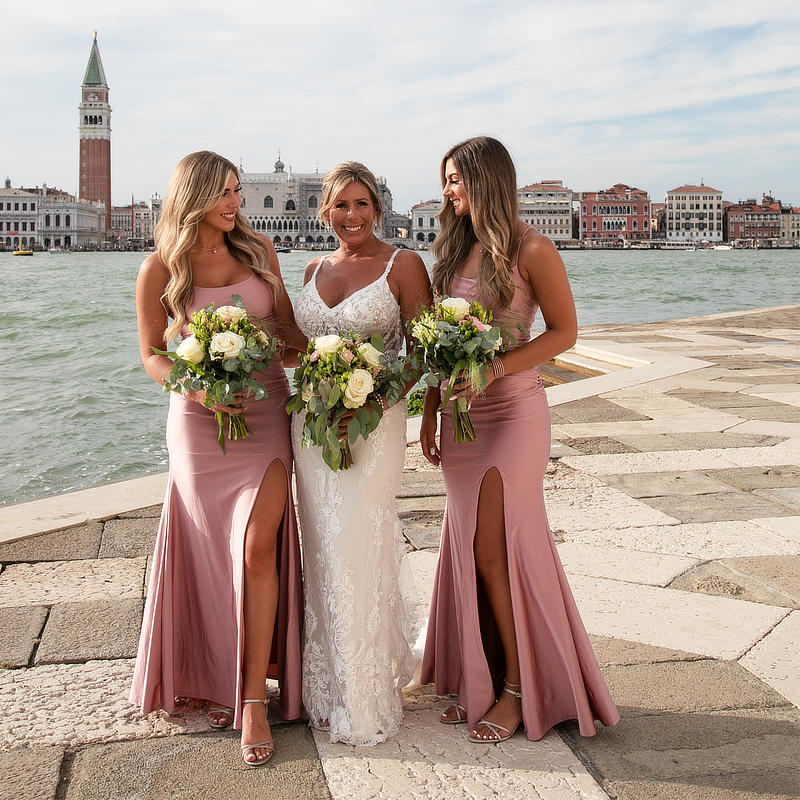 VENICE DESTINATION WEDDING
Imagine a family & friends trip to Venice to celebrate your love: that's a destination wedding, organizing your ceremony in a different and unique location with the most important people in your life. Inviting your loved ones to a Venice destination wedding is a smart choice; they can also discover a beautiful world heritage city in Italy, where the food is delicious, and the locals are welcoming and friendly. Book now one of our destination wedding packages, and with a few personal touches, you will have the day you always dreamed of.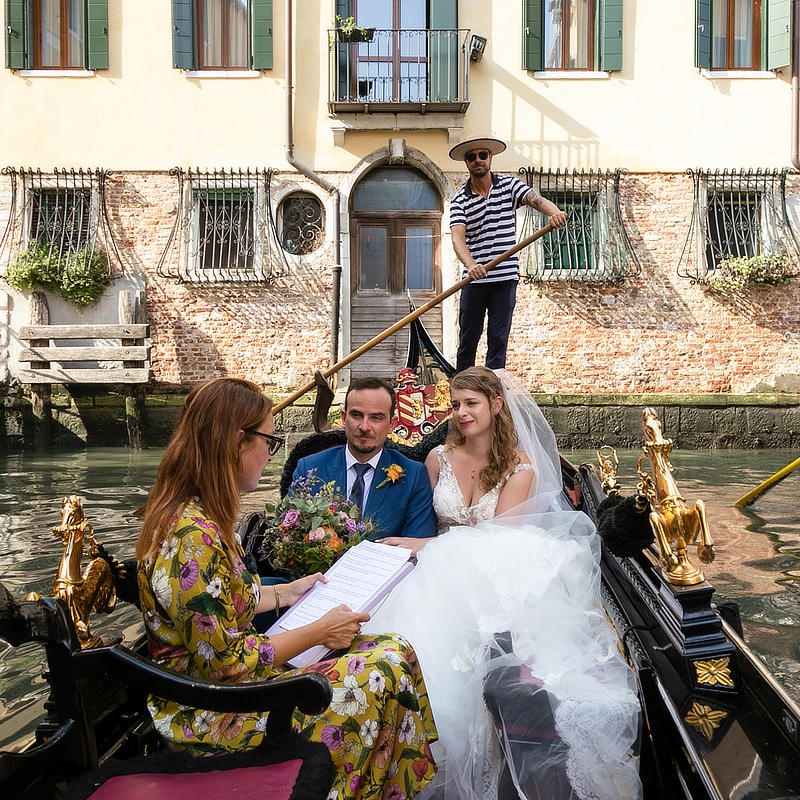 VENICE ELOPEMENT
Do you dream of an intimate elopement in Venice instead? Picture yourself in a traditional gondola, navigating the narrow canals. At the same time, you promise eternal love to each other in a place where lots of famous artists got inspired in the past. Maybe you prefer the imponent view of San Marco's square and get lost in Venice's antique and artsy streets, stealing a secret kiss from your loved one under a cozy tiny bridge. Book one of our Venice elopement packages; we will make you feel like the main characters of a romantic novel.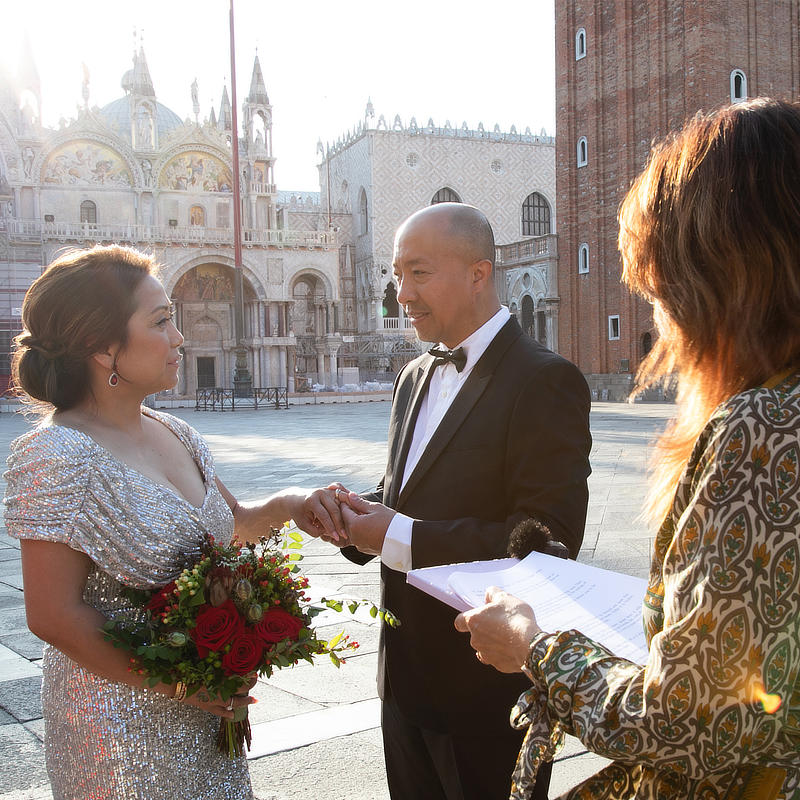 VENICE VOW RENEWAL
The proof of love comes after the wedding day. You must remember to your partner that your promises will last forever. Why not surprise them with a Venice vow renewal, a city that must be visited once in a lifetime? Plan a romantic vacation to get away from everyday responsibilities and remember why you are together in this eternal city. Book one of our vow renewal packages, and don't worry: Love Gracefully will do the magic.

PICK YOUR VENICE WEDDING LOCATION
You have decided to celebrate your love story in Venice, the city of water and Carnival. Still, you feel overwhelmed with all possible locations for your wedding? We are sure you have many questions, and it's okay! But when you start working with us, all the worries will disappear.
At Love Gracefully, after over a decade of organizing weddings and elopements in Venice, we curated the best city spots to honor your special day. First, remember that the background should be stunning and speak about your story and personality. But we keep in mind other factors that only experienced coordinators could think of accessibility, B plan in case of rain, and not crowded, are some of them.
When you book one of our wedding packages in Venice, we have several free locations. But we can also help you book a gondola or more exclusive venues with an extra fee. Your wedding; your rules.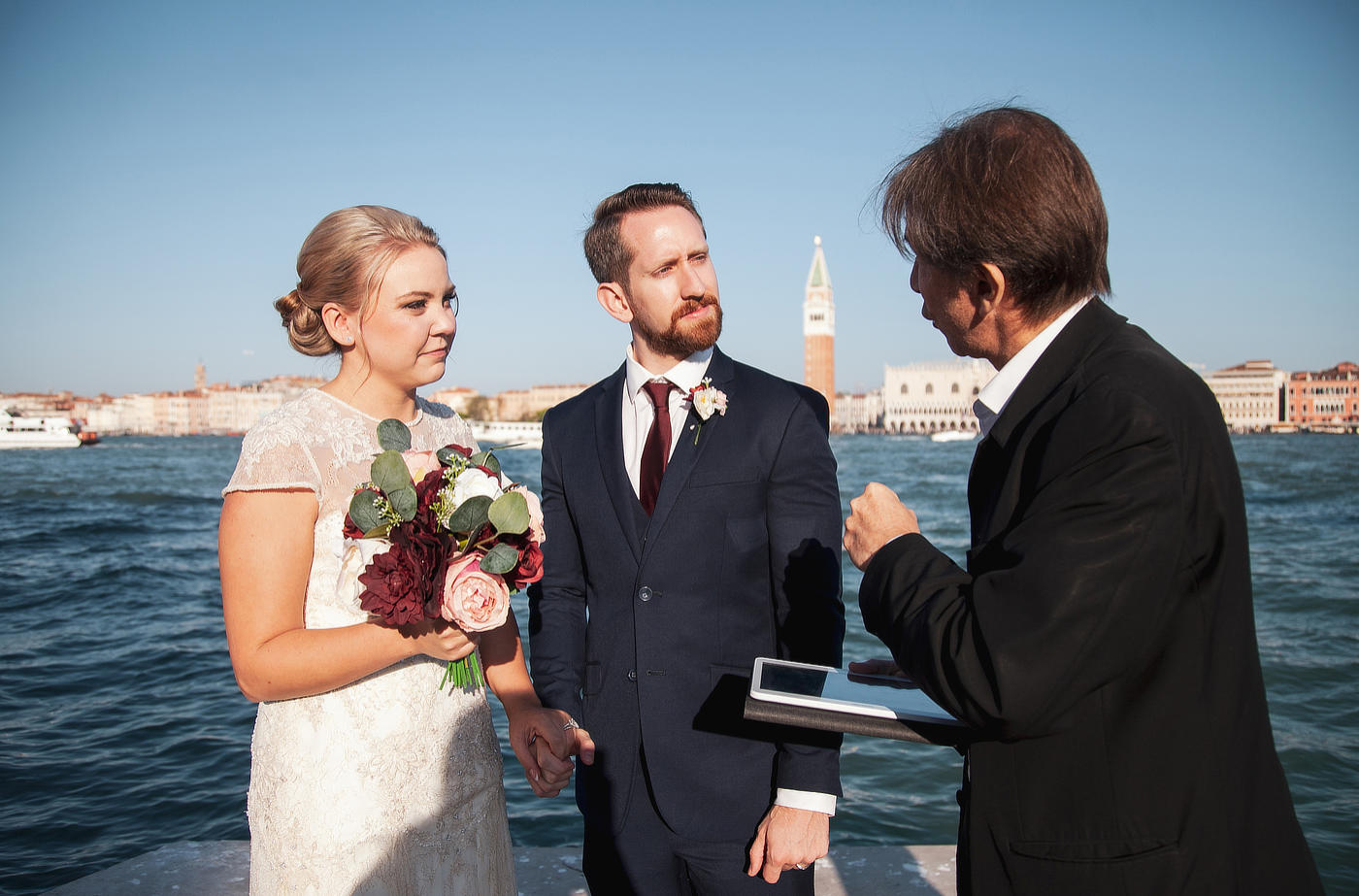 San Giorgio Maggiore is one of the Venetian islands, south of the main island groups, surrounded by water from the more extensive canals. San Giorgio island has stunning panoramic city views in the heart of the Venetian lagoon. The island boasts a one-of-a-kind backdrop that will leave your guests speechless if you have any.
From the moment you step off the boat and onto the island, you'll be transported to a world of timeless beauty and elegance. With the backdrop of the Venetian skyline surrounded by water, your ceremony will be a picturesque and unforgettable event.
In addition to the stunning scenery, San Giorgio island offers a variety of options to make your wedding day truly spectacular. From traditional Venetian cuisine to contemporary cocktails and music, our experienced team will work with you to create a personalized and unforgettable celebration that reflects your unique style and preferences.
WEDDING AT
SAN MARCO SQUARE
Do you want to look regal during your elopement or destination wedding? Then, what better location than the iconic San Marco Square! one of the world's most stunning and iconic backgrounds, offering an unparalleled combination of beauty, romance, and sophistication.
San Marco Square's elegant architecture and magnificent historical landmarks provide picturesque scenery for your wedding photos. Suppose you wish to celebrate a destination wedding with friends and family. In that case, you can celebrate in San Marco and then enjoy a fancy reception or dinner in one of the elegant hotels or restaurants surrounding the square. Experience Venetian culture's exquisite cuisine and legendary hospitality, and make your guests feel like royalty.
San Marco Square's romantic and intimate setting offers a unique experience to celebrate your special day. With the help of experienced wedding planners, you can customize your wedding to suit your needs and desires. From small intimate ceremonies to grand lavish celebrations, San Marco Square offers everything you need to make your wedding day unforgettable.
Because San Marco square is extremely busy with tourists all day long, the only way to avoid them is to have a ceremony early morning before they arrive. To do an early ceremony means an extra cost to our package. Please check with Paola our coordinator for extra fees.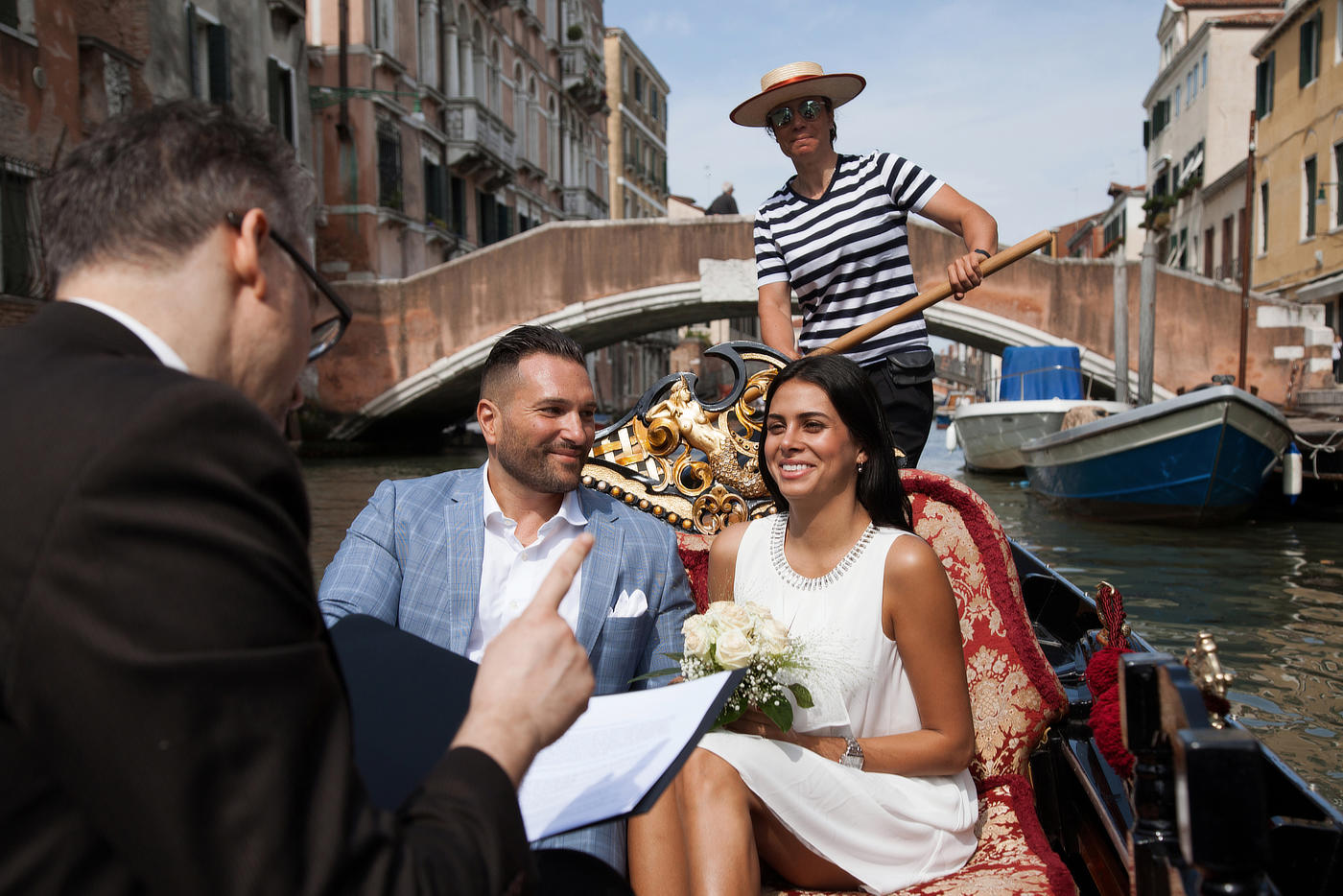 If you want a more unique and intimate experience, consider saying 'I do' in a gondola. This is something you can only do in Venice. Imagine exchanging vows while floating along Venice's charming canals, surrounded by the city's magical atmosphere. This is a romantic and authentic Venetian experience that you will cherish forever. With the gondolier singing in the background, you and your loved one can create a memory you will never forget.
Venice is renowned for its stunning architecture and captivating canals, making it the perfect place for a romantic elopement. A gondola ride through the canals of Venice is a classic experience that never fails to impress. Relax as you're gently propelled through the water by your gondolier, taking in the awe-inspiring views of the city from a completely different perspective. With the gentle lapping of the water and the warm glow of the lamps, this magical experience is perfect for a romantic elopement.
The Gondola has a extra cost to our Silver and Basic packages. Please check with us for the exact cost.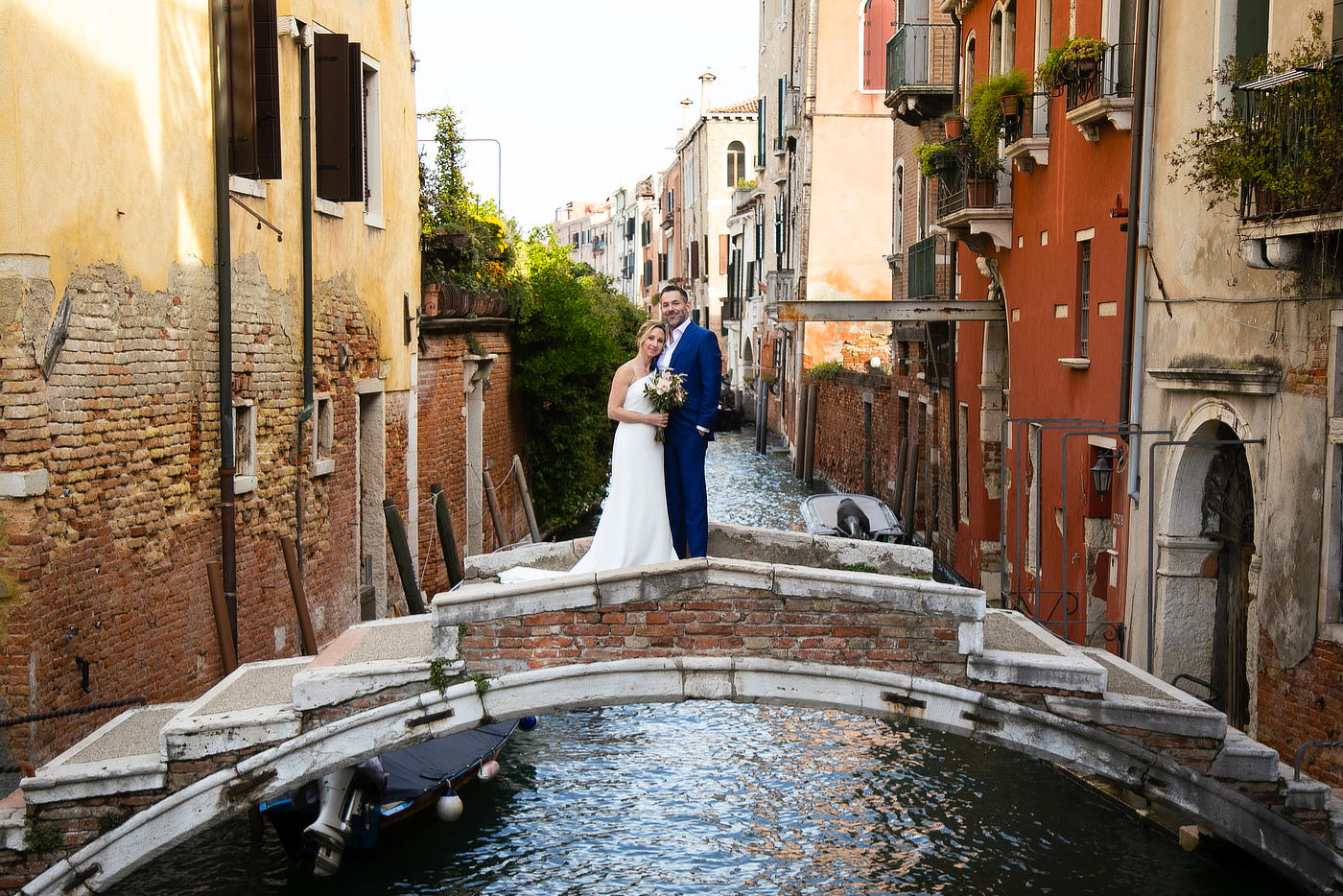 Ponte Chiodo offers a unique and private location for your elopement. Located in the heart of Venice, this charming bridge provides a beautiful and intimate setting for your celebrations, recommended for vow renewals or elopements. Exchange your vows with the sound of the canal waters flowing beneath you and the tranquil surroundings adding to the ambiance.
This bridge is one of the few remaining bridges in Venice without parapets, making it a hidden gem and a true escape from the crowds. With its whimsical and historical setting, the Ponte Chiodo is the ideal location for a private and intimate wedding ceremony.
Its name, Chiodo, comes from the noble Venetian family that once owned the bridge, something quite common that forced passers-by to pay a fee if they wanted to cross the bridge in question. These bridges are public; we can use them in our wedding packages to celebrate your special day.
So, whether you choose San Giorgio Island, San Marco Square, a gondola, or Ponte Chiodo, Venice offers endless possibilities for a truly magical and unforgettable wedding experience. So, make your dream come true, and book your perfect Venetian wedding today! We will make it happen.

OUR VENICE WEDDING PACKAGES
BASIC
€ 869

Tailor-made Ceremony including your own vows & texts
English-speaking officiant
Free assistance per phone or email
Free locations available(up to 15 guests)
Symbolic Certificate(without legal value)
VAT TAX included
No hidden fees
SILVER
€ 1463

Tailor-made Ceremony including your own vows & texts
English-speaking officiant
Free assistance per phone or email
Free locations available(up to 15 guests)
Bouquet Of Flowers
Photographer 1 hour
Symbolic Certificate(without legal value)
VAT TAX included
No hidden fees
GOLD
€ 2442

Tailor-made Ceremony including your own vows & texts
English-speaking officiant
Free assistance per phone or email
Free locations available(up to 15 guests)
Bouquet Of Flowers
Photographer 3 hours
Romantic Gondola tour
Complimentary bottle of champagne
Symbolic Certificate(without legal value)
VAT TAX included
No hidden fees
DIAMOND
€ 3866

Tailor-made Ceremony including your own vows & texts
English-speaking officiant
Free assistance per phone or email
Free locations available(up to 15 guests)
Bouquet Of Flowers
Photographer 3 hours
Romantic Gondola tour
Complimentary bottle of champagne
Videographer 3 hours
Symbolic Certificate(without legal value)
VAT TAX included
No hidden fees
INFINITY
€ 8020

Tailor-made Ceremony including your own vows & texts
English-speaking officiant
Free assistance per phone or email
Free locations available(up to 15 guests)
Bouquet Of Flowers
Boutonniere
Photographer 8 hours
Gondola and water taxi
Complimentary bottle of champagne
Videographer 8 hours
Hair & Make up artist
Symbolic Certificate(without legal value)
VAT TAX included
No hidden fees

MEET OUR TEAM
Paola,
Love Gracefully Venice coordinator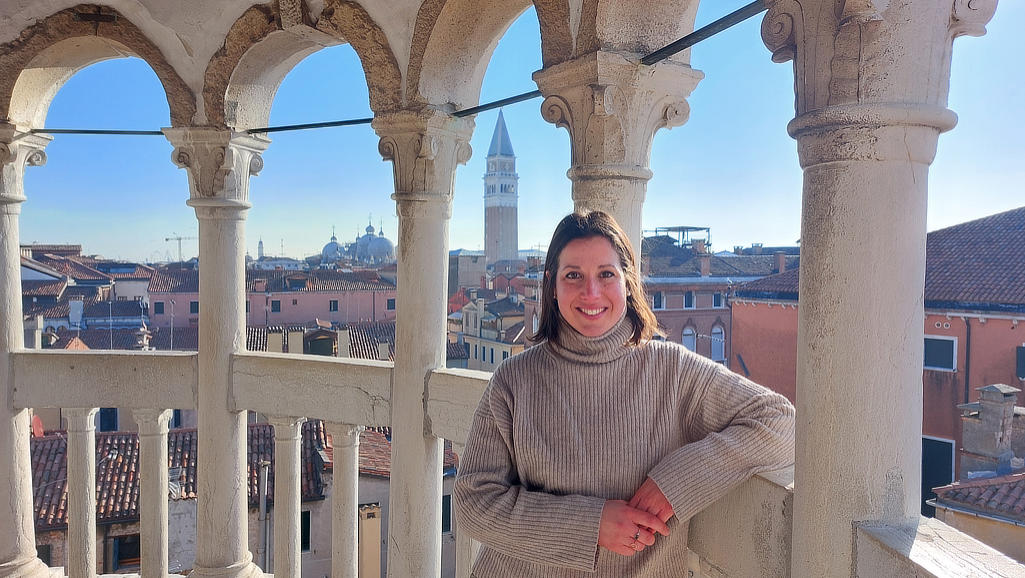 Ciao! My name is Paola Filippini and I am the Love Gracefully coordinator from the beautiful city of Venice.
I am also a wedding photographer and I've been working in the wedding sector for more than 10 years now.
I love my job and as a proud local venetian I'll be honored to show you the beauties of my city, sharing tips and recommendations but also giving you the possibility to experience Venice at its best.
I will be delighted to plan your ceremony in Venice, assisting you during the entire process, providing information and organizing your special day.
My goal is to make you feel comfortable and at ease, taking really good care of every detail.
Also, since I have a photographic attitude, not only will I plan every detail of your ceremony but I will create the best scenography too.
I always look for unaffected and spontaneous shots, I don't really like forced poses or too contrived situations.
Thanks to my experience in journalism, classic reportage is the style I choose for my work.
My team and I will help you plan the perfect ceremony in Venice, a city that needs no presentation, as it's the city of love and it's full of romantic spots and corners.
We wait for you to get married in Venice, and we are ready to make it perfect with no stress!
Paola will help you piece together the ceremony you wish, and in the location of your choice. Check out the packages and destinations that are available on our website, but let them simply be the inspiration for your own thoughts and wishes. You can contact Paola to discuss all of your requirements, and in depth. Be assured that Paola and her team will cater for your needs, no matter what it is you are seeking to arrange, and where you wish it to happen.
Do you need more information about our Venice wedding packages? Feel free to fill this form and we will contact you.
Please fill in the form below.
WATCH MORE TESTIMONIALS
IN OUR YOUTUBE CHANNEL
Would you like to hear about how the wedding, the planning, the ceremony went for other couples we have worked with? Feel free to listen to our wedding testimonials video recorded all over Europe. It's direct and personal testimonials. Couples will talk about their renewal of vows, their elopement or their destination wedding. For more, you can also check out our Love Gracefully testimonials Youtube channel.