Same sex & LGBT renewal of vows or elopement in Sitges
If you are a gay couple and want a sunny European destination to celebrate your love, Sitges is the place for you. Known as the gay version of «St Tropez» and enjoying more than 300 days of sunshine per year, Sitges offers multiple options for your elopement, wedding or vow renewals.
Your Gay vow renewals ceremony in Sitges
Located only 30 minutes from Barcelona international airport, you can easily escape to Sitges just for the duration of a weekend either to elope or renew your vows. Or you could come to Sitges for a big destination wedding and stay a week with your friends and families ; Sitges is so gay-friendly that it offers a vast range of facilities for you and your guests. Gay-friendly hotels, restaurants, clubs but also gay beaches !
A same sex destination wedding tailored to fit your values
Imagine your vow renewal or elopement ceremony on the shore, facing the sea, looking at a blue sky and waters, either alone with your honey or with a group of friends, where you could say « yes » to the famous question !
Your vows ceremony could look exactly the way you want it be. At Love Gracefully, we are specialized into tailoring ceremonies.We have celebrated gay elopements and vow renewals all over Europe for 10 years.
Sitges has a spirit of it's own. It's a city that was the center for the 1960's counterculture in Spain during the worst times of Franco dictatorship. So, freedom is the center spirit of Sitges, and it's with that spirit that we'll create a ceremony that fits you.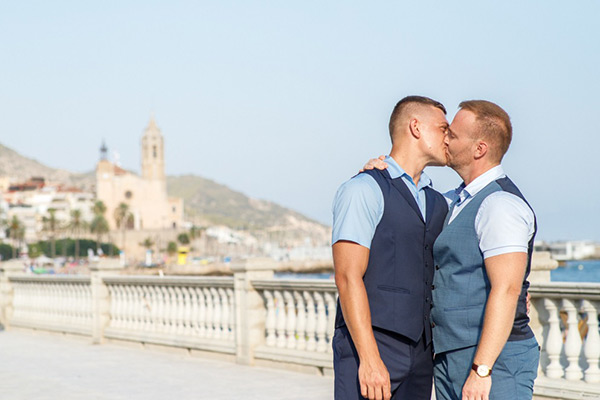 Types of ceremonies for our Sitges wedding packages
Love Gracefully Ceremonies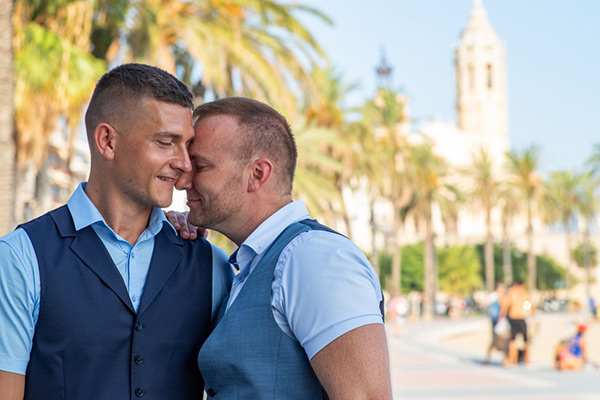 The European office of Love Gracefully is located 30 minutes from Sitges !
Our office being located near Sitges, so we know the best vendors to provide you with the best quality work for a same sex wedding.
Although we are specialized in small intimate ceremonies, we also love celebrating big destination weddings. In 10 years of celebrating love in Europe, we have been able to get in touch with reliable vendors. They are great artists and professionals. Depending on what wedding package you want to go for, they may include flowers or a photographer. After over 300 ceremonies, we know what makes a ceremony successful and what are the traps you want to avoid. We will be here with you all along the way, to answer your questions and meet your every needs !
We will create and celebrate a symbolic ceremony that fits both you and your loved one. You could want an intimate elopement or a big destination wedding or, maybe, a smaller vow renewal ceremony. In all cases, we will respect your choices and desires. Would you need to hear other couples testimonies about their tailor-made same sex experience with us, you can do so by listening to this gay couple.
Our Sitges male wedding officiant has worked at Love Gracefully for over 10 years. He speaks English, French and Spanish and will lead you thru the entire process.
We know that it can be a disheartening mission for you to have to prepare your symbolic vow ceremony from a foreign country, but thanks to our inputs, you will experience an easy planing ceremony. We will take the time to get to know you and discover your personalities to be able to craft a unique wedding ceremony. Our only wish is that your wedding day in Sitges becomes the most memorable one of your life.
It will be a pleasure to welcome you in Sitges real soon, don't hesitate to contact us if you have any questions !
Our wedding packages in Sitges
BASIC
€766

Tailor-made Ceremony including your own vows & texts
English-speaking officiant
Free assistance per phone or email
Free locations available
(up to 15 guests)
Symbolic Certificate
(without legal value)
VAT TAX included
No hidden fees
SILVER
€1311

Tailor-made Ceremony including your own vows & texts
English-speaking officiant
Free assistance per phone or email
Free locations available
(up to 15 guests)
Bouquet Of Flowers
Photographer 1 hour
Symbolic Certificate
(without legal value)
VAT TAX included
No hidden fees
GOLD
€2211

Tailor-made Ceremony including your own vows & texts
English-speaking officiant
Free assistance per phone or email
Free locations available
(up to 15 guests)
Bouquet Of Flowers
Photographer 3 hours
Mercedes Car Tour With Chauffeur
Complimentary bottle of champagne
Symbolic Certificate
(without legal value)
VAT TAX included
No hidden fees
DIAMOND
€3866

Tailor-made Ceremony including your own vows & texts
English-speaking officiant
Free assistance per phone or email
Free locations available
(up to 15 guests)
Bouquet Of Flowers
Photographer 3 hours
Mercedes Car Tour With Chauffeur
Complimentary bottle of champagne
Videographer 3 hours
Symbolic Certificate
(without legal value)
VAT TAX included
No hidden fees
INFINITY
€7644

Tailor-made Ceremony including your own vows & texts
English-speaking officiant
Free assistance per phone or email
Free locations available
(up to 15 guests)
Bouquet Of Flowers
Boutonniere
Photographer 8 hours
Vintage Car With Chauffeur
Complimentary bottle of champagne
Videographer 8 hours
Hair & Make up artist
Symbolic Certificate
(without legal value)
VAT TAX included
No hidden fees