Rome, the Eternal city for an everlasting love
You are in love? Then Rome is the place where you celebrate it! Ancient Capital of the World, the "Eternal City" still feels like the centre of the Universe and an amazing place to set your love in stone. Maybe you are looking to renew your vows, to elope, to propose or to have a destination wedding, then Rome's magic will fulfill your dreams !
Feel like a Roman during your ceremony in Rome
Rome is a place for lovers : ancient buildings, ruins, winding streets and piazzas, dazzling light will make you feel like you're in the most romantic site. The impressive Piazza del Popolo, the amazing Colosseum, the enchanting Palatine Hill where you still feel like you're sitting on top of the world, or the Roman forum will take your breath away. The Italian capital will strike you as an extremely Romantic city.
Rome offers varied venue options for your ceremony, but, with the help of our celebrant's experience, you will be able to identify just the one to suit you.
Organising a unique Roman wedding vow ceremony
Rome is without a doubt a lovers' lover, where you and your dear one will experience an unforgettable ceremony ! Once he gets to know you, our officiant will design for you a ceremony that fits you in a unique way !
For their elopement or proposal ceremony, some couples have chosen the famous Villa Borghese, a large and luxurious park featuring fountains, statues and a lake, in the city centre. If you're looking for stunning views, then the terrace overlooking the Forum will be your location: a stunning setting for hosting your symbolic ceremony !
Whatever you choose, we, at Love Gracefully, will do all we can to make sure your expectations for that unique day are met !
Locations to elope in Rome
Can you imagine a beautiful elopement ceremony surrounded by the ancient ruins of Rome? These are our curated locations where you could celebrate your Rome elopement!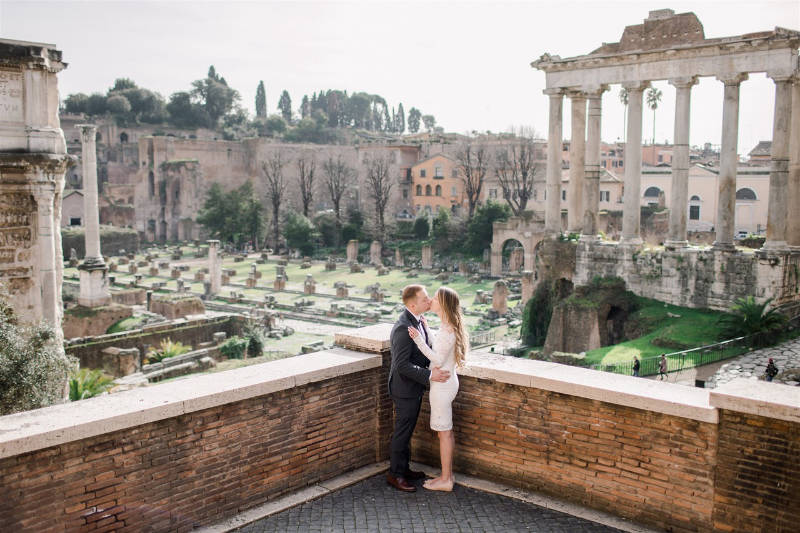 Elopement ceremony overlooking the Forum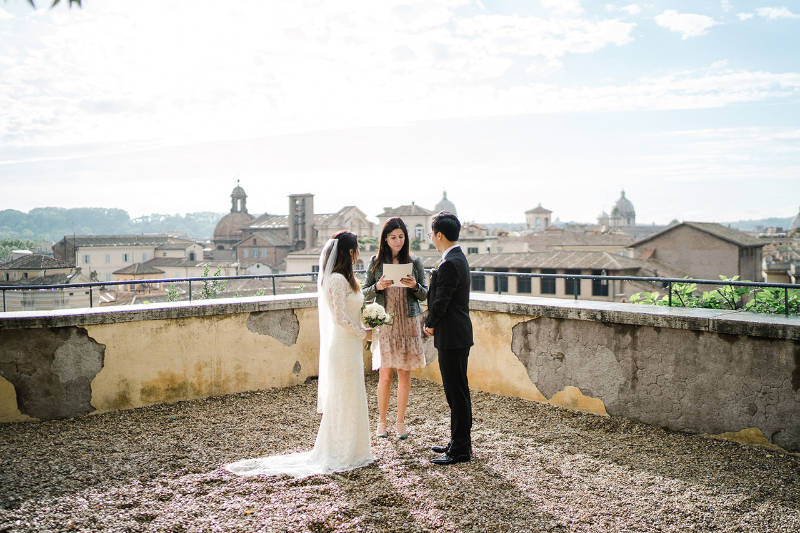 Elopement Ceremony overlooking the Capitol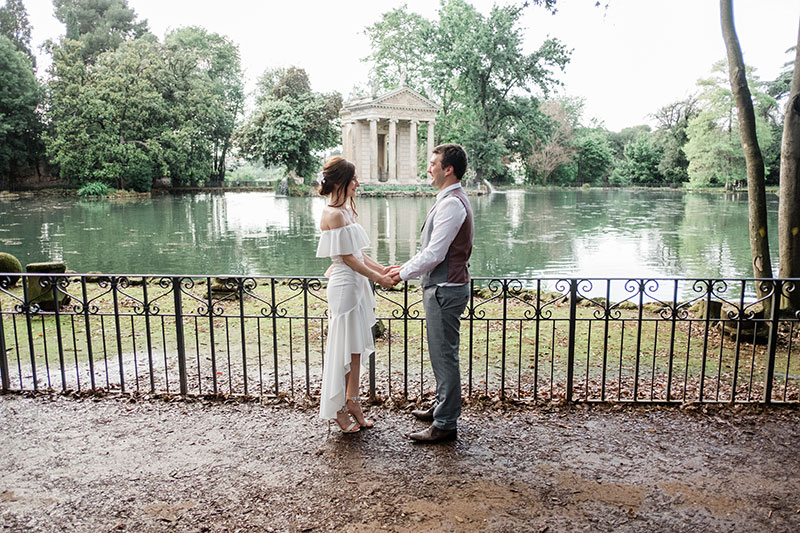 Elopement Ceremony in Villa Borghese
Types of ceremonies for our Rome wedding packages
Love Gracefully Ceremonies
Local partners and vendors in Rome
At Love Gracefully, it is our pleasure to craft small and intimate ceremonies, tailored just for you. In order to do that, we are in touch with the best local vendors. Whether it's a car driver, florist, hair stylist, photographer or videomaker, we provide you with what's locally the best.
With over 300 ceremonies celebrated in all Europe, we have a strong experience in what works and what doesn't work in Rome. This unique expertise will be yours for the preparation of your ceremony as well as a close guidance.
Wether you are in for a small vow renewal ceremony, a big destination wedding ceremony or an intimate elopement, we will design and celebrate a ceremony that fits you and only you ! If you want to hear what other couples say about their tailor-made ceremony experience with us, here is a link to listen to their experience !
Our unique ceremony officiant
With 10 years experience with Love Gracefully, our wedding officiant in Rome is an expert.
He will create and celebrate an intimate and personal ceremony fitting your values and your beliefs. Preparing your vow ceremony from afar without speaking the local language, could be difficult ; At Love Gracefully, by taking the time to get to know you and listen to your expectations, we make sure your experience in Rome will be not only an easy one, but a delightful one as well!
How do we do that? We create ceremonies from scratch, we don't use templates and we work with professionals.
Our mission is to make this day the most romantic and unforgettable day of your life. So, see you soon in Rome !
Our wedding packages in Rome
BASIC
€877

Tailor-made Ceremony including your own vows & texts
English-speaking officiant
Free assistance per phone or email
Free locations available
(up to 15 guests)
Symbolic Certificate
(without legal value)
VAT TAX included
No hidden fees
SILVER
€1480

Tailor-made Ceremony including your own vows & texts
English-speaking officiant
Free assistance per phone or email
Free locations available
(up to 15 guests)
Bouquet Of Flowers
Photographer 1 hour
Symbolic Certificate
(without legal value)
VAT TAX included
No hidden fees
GOLD
€2470

Tailor-made Ceremony including your own vows & texts
English-speaking officiant
Free assistance per phone or email
Free locations available
(up to 15 guests)
Bouquet Of Flowers
Photographer 3 hours
Mercedes Car Tour With Chauffeur
Complimentary bottle of champagne
Symbolic Certificate
(without legal value)
VAT TAX included
No hidden fees
DIAMOND
€4120

Tailor-made Ceremony including your own vows & texts
English-speaking officiant
Free assistance per phone or email
Free locations available
(up to 15 guests)
Bouquet Of Flowers
Photographer 3 hours
Mercedes Car Tour With Chauffeur
Complimentary bottle of champagne
Videographer 3 hours
Symbolic Certificate
(without legal value)
VAT TAX included
No hidden fees
INFINITY
€8246

Tailor-made Ceremony including your own vows & texts
English-speaking officiant
Free assistance per phone or email
Free locations available
(up to 15 guests)
Bouquet Of Flowers
Boutonniere
Photographer 8 hours
Vintage Car With Chauffeur
Complimentary bottle of champagne
Videographer 8 hours
Hair & Make up artist
Symbolic Certificate
(without legal value)
VAT TAX included
No hidden fees