Elegant Madrid for an elegant wedding
Capital city of Spain, Madrid is the beating heart of the country… A beautiful city, its architecture is a great reflexion of Madrid's spirit : elegant, diverse and open-minded. Whether you want to elope, to renew your vows, to propose or to have a big destination wedding, Madrid will do the trick!
An awesome ceremony in Madrid
Madrid is a place for lovers: The Plaza Mayor, the Retiro Park, the Palacio Real or the Templo de Debod are all top romantic venues! Making Madrid an undoubtedly top wedding destination location. Whether you want to elope or renew you vows, or bring your friends and families for a bigger destination wedding, Madrid is a great place for that. Since you are in for a destination wedding or elopement, you could also make the most of this European trip you are planning by extending it to a nice holiday, just the two of you or with intimate family. Madrid has plenty to offer there, especially if you are a food and life lover. The Spanish capital has in fact an old tradition for cooking, being one of Europe's top cooking capital.
How to enjoy an amazing ceremony in Madrid
Madrid is a lover's hang-out, so you and your honey can experience a fantastic vow ceremony, mixed with the Spanish beauty. Once he knows more about who you are, our officiant will build a ceremony that will fit you like a glove!
For their elopement or vow renewal ceremony, some couples have chosen the Retiro Park as a venue but Madrid has many other opportunities for hosting your symbolic ceremony!
The Retiro Park is just for you if you are looking for beautiful nature in the city : forest, lakes and amazing royal sculptures in the same spot ! The perfect romantic place that will ensure you intimacy and quiet. But Madrid offers many different locations for your ceremony. Our long-time Madrid lover celebrant will be happy to guide you through these options to help you find the one that best suits your needs.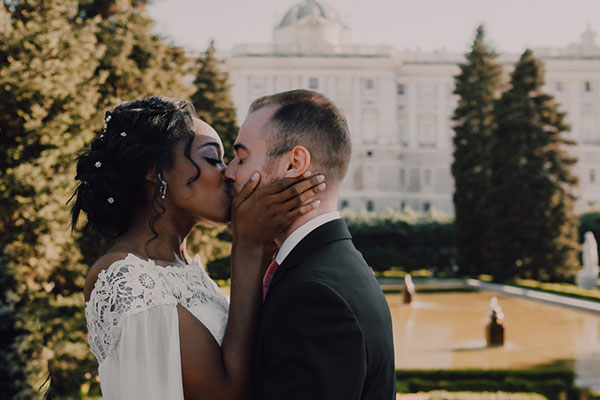 Locations to elope in Madrid
Cosmopolitan, arstry & elegant are the words to define Madrid. These are our curated locations where you could celebrate your Madrid elopement!
Elopement ceremony in the Rose Garden of Retiro Park
Elopement Ceremony in Sabatini Gardens (spot 1)
Elopement Ceremony in Sabatini Gardens (spot 2)
Types of ceremonies for our Madrid wedding packages
Love Gracefully Ceremonies
Our ceremony vendors in Madrid
Love Gracefuly is synonymous with small intimate professional ceremonies. That implies that all of our partners and vendors are the best artists you can find in Madrid. So, if you want a car, flowers, hair and make up, film or photographies, we know where to go to find the most qualified artists in Madrid.
After now over 300 ceremonies throughout Europe, we know what works in Madrid and what does not. Of course, not only will we share with you that expertise but we will also be at your side throughout the entire planing process. For we know that planning a wedding abroad, as small as it may be, can be though. We guarantee you that choosing Love Gracefully is a smooth, worryless way to celebrate your love in Europe.
So wether you are in for a small vow renewal ceremony, a big destination wedding or an intimate elopement, we will design and celebrate a ceremony that fits you and only you ! If you want to hear what other couples have said about their tailor-made ceremony experience with us, don't hesitate to watch this video to hear what they have to say !
Our Love Gracefully celebrant will create and celebrate a personal and intimate ceremony fitting your values and your beliefs. How does he do that ? Well, at Love Gracefully, we take the time to listen to who you are, what your needs are, so we can make your wedding ceremony in Madrid not only an easy one but an enjoyable one ! We are here to make your day the most romantic day of your life as well as the most memorable one. That's why we can't wait to meet you in Madrid soon !
Our wedding packages in Madrid
BASIC
€880

Tailor-made Ceremony including your own vows & texts
English-speaking officiant
Free assistance per phone or email
Free locations available
(up to 15 guests)
Symbolic Certificate
(without legal value)
VAT TAX included
No hidden fees
SILVER
€1480

Tailor-made Ceremony including your own vows & texts
English-speaking officiant
Free assistance per phone or email
Free locations available
(up to 15 guests)
Bouquet Of Flowers
Photographer 1 hour
Symbolic Certificate
(without legal value)
VAT TAX included
No hidden fees
GOLD
€2470

Tailor-made Ceremony including your own vows & texts
English-speaking officiant
Free assistance per phone or email
Free locations available
(up to 15 guests)
Bouquet Of Flowers
Photographer 3 hours
Mercedes Car Tour With Chauffeur
Complimentary bottle of champagne
Symbolic Certificate
(without legal value)
VAT TAX included
No hidden fees
DIAMOND
€4120

Tailor-made Ceremony including your own vows & texts
English-speaking officiant
Free assistance per phone or email
Free locations available
(up to 15 guests)
Bouquet Of Flowers
Photographer 3 hours
Mercedes Car Tour With Chauffeur
Complimentary bottle of champagne
Videographer 3 hours
Symbolic Certificate
(without legal value)
VAT TAX included
No hidden fees
INFINITY
€8246

Tailor-made Ceremony including your own vows & texts
English-speaking officiant
Free assistance per phone or email
Free locations available
(up to 15 guests)
Bouquet Of Flowers
Boutonniere
Photographer 8 hours
Vintage Car With Chauffeur
Complimentary bottle of champagne
Videographer 8 hours
Hair & Make up artist
Symbolic Certificate
(without legal value)
VAT TAX included
No hidden fees