A beautiful beach city to let your love shine : Barcelona !
Imagine exchanging your wedding vows amid rambling streets, beautiful plazas and architecture that take your breath away…Wether you want to elope or renew your vows, Barcelona is the perfect setting if you want your love to shine under the sun!
Your Ceremony In Barcelona
Barcelona is a city made for passion. Stroll down Las Ramblas and the food markets for an experience of all the senses, soak up Gaudi's works of art in the fantasy-like Parc Guell, or stroll along the beach for a lazy walk. Barcelona is a lively city, full of life, food and sun, one of the few cities in the world that can boast both a stunning city architecture and great beaches. It is THE place life lovers enjoy, and you can feel it in the air. Amongst all the exquisite spots that Barcelona offers, our officiant will help you find the perfect location for your marriage vows.
What to expect with your wedding vows in Barcelona
As one of our top ten wedding destinations, you can be certain that your wedding vows ceremony in Barcelona will be a time to remember. Several world heritage sites are scattered around the city and create a most romantic environment to enhance your wedding ceremony. Saying "I love you" in Spain is an opportunity for you to show just how much you do.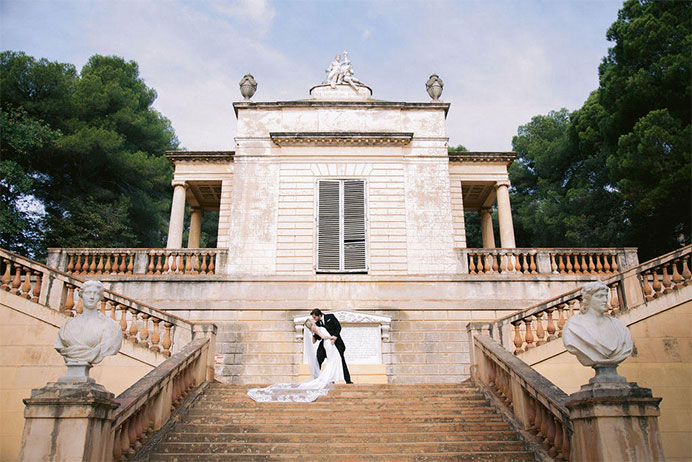 Where else than Barcelona can you find such a romantic setting for your ceremony?  The uniqueness of Barcelona can not be match: as you can see on this video the amazing architecture of the city mix with the sea and the sun is unique in the world! Barcelona  romanticism, well captured by our videographer, is the perfect setting to record a video that expresses your dream come true! That film will not only be a way to re-live this romantic moment once you are back home but, also to share your amazing experience with your family and friends that could not be with you during that magical day…
Locations to elope in Barcelona
Do you dream of a boho-chic elopement with views to the sea? or do you prefer a romantic & colourful symbolic ceremony with Gaudi's background? These are our curated locations where you could celebrate your Barcelona elopement!
Elopement ceremony in Güell Park
Elopement Ceremony in Mossen Costa Llobera Park
Elopement Ceremony in Laberint d'Horta Park
Types of ceremonies for our Barcelona wedding packages
Love Gracefully Ceremonies
Our ceremony vendors in Barcelona
Although most couples would choose Park Güell or Parc del Laberint for their elopement or vow renewal ceremony, Barcelona  is a big city with hundreds of possibilities, from breathtaking views to secret streets or magical fountains.
Park Güell is of course perfect for couples wishing to elope or renew their vows in the maximum intimacy while surrounded by the beautiful Gaudí architecture and gardens. On the contrary, if you prefer city views, an impressive palace or dramatic fountains, without any doubt, Montjuic hill will be your place. One of our favorite place though is a lesser touristic park called "the Maze". What else for an "amazing" celebration ? The park is Barcelona's oldest. Built in the 18the century, it is divided up into the maze itself, and a little park called the romantic park. We have had amazing elopement and vow renewals celebrated here. And we know you will love it too.
Wherever you decide though, at Love Gracefully we'll make sure everything is ready to make your day the most special and romantic ever.
Since we are based in Barcelona, and our partners were born and live there, we know exactly where to go to find what you are looking for… From the most intimate locations to the most talented vendors in the city. We have worked with seasoned wedding photographers, florists, musicians, hair and make-up artists. And we'll be happy to introduce them to you.
Having celebrated over 350 elopements, vow renewals and destination weddings in France and Barcelona, we have gathered and unparalleled expertise. But what people like the most about us is the way we took care, in a very personal way, of their ceremony.
What makes us unique is that, unlike our competitors, we don't work from template ceremony texts; we create each time a new elopement or vow renewal ceremony that fits exactly who you are. Our celebrants are all multilingual and professionals; no students or part-time comedians work for us.
So, wherever and whenever you'd like to celebrate your intimate ceremony, at Love Gracefully we'll make everything possible to please you and your fiancé and turn your wedding into the happiest day of your lives. Feel free to contact us at any time!
Our wedding packages in Barcelona
BASIC
€766

Tailor-made Ceremony including your own vows & texts
English-speaking officiant
Free assistance per phone or email
Free locations available
(up to 15 guests)
Symbolic Certificate
(without legal value)
VAT TAX included
No hidden fees
SILVER
€1311

Tailor-made Ceremony including your own vows & texts
English-speaking officiant
Free assistance per phone or email
Free locations available
(up to 15 guests)
Bouquet Of Flowers
Photographer 1 hour
Symbolic Certificate
(without legal value)
VAT TAX included
No hidden fees
GOLD
€2211

Tailor-made Ceremony including your own vows & texts
English-speaking officiant
Free assistance per phone or email
Free locations available
(up to 15 guests)
Bouquet Of Flowers
Photographer 3 hours
Mercedes Car Tour With Chauffeur
Complimentary bottle of champagne
Symbolic Certificate
(without legal value)
VAT TAX included
No hidden fees
DIAMOND
€3866

Tailor-made Ceremony including your own vows & texts
English-speaking officiant
Free assistance per phone or email
Free locations available
(up to 15 guests)
Bouquet Of Flowers
Photographer 3 hours
Mercedes Car Tour With Chauffeur
Complimentary bottle of champagne
Videographer 3 hours
Symbolic Certificate
(without legal value)
VAT TAX included
No hidden fees
INFINITY
€7644

Tailor-made Ceremony including your own vows & texts
English-speaking officiant
Free assistance per phone or email
Free locations available
(up to 15 guests)
Bouquet Of Flowers
Boutonniere
Photographer 8 hours
Vintage Car With Chauffeur
Complimentary bottle of champagne
Videographer 8 hours
Hair & Make up artist
Symbolic Certificate
(without legal value)
VAT TAX included
No hidden fees