A majestic destination wedding in Florence, Italy
If you are in the mood for love, Florence is without a doubt the place to be! Michelangelo himself was attracted by this very romantic and majestic city, so whether you are in for an elopement, a vow renewal, a big destination wedding or a proposal, Florence is a top destination wedding spot!
Your tailor-made ceremony in Florence
Florence is replete with charming romantic spots to hold your wedding vows. Little "piazzas", majestic gardens enjoying a stunning view, the location options are many. You might love the Uffizi Gallery, the Piazza della Signoria, the Ponte Vecchio bridge or the Piazzale Michelangelo, all charming spots.
Since Florence has many locations to offer for your wedding vows ceremony, our local celebrant will help you find the one that best suits your needs.
How to enjoy a great wedding vow ceremony in Florence
Your honey and yourself will experience the most wonderful intimate symbolic ceremony in Florence nurtured by the Italian romanticism atmosphere.
Most couples have chosen to have their elopement or vow renewal ceremony at the Boboli gardens. This majestic, lush park overlooking the city is a jewel. We have had lovely wedding ceremonies there, and we know you will love it. The Piazzale Michelangelo is another great wedding venue option in Florence. but Florence has many other hidden secrets such as smaller parks or gardens.

Bardini garden is perfect for couples wishing to renew their vows, elope or propose with much intimacy while surrounded by the beautiful Italian architecture and gardens. If you prefer city views, with an impressive view over the city of Florence, the Piazzale Michelangelo could work better for you. Not sure what could work best for you ? Our Love Gracefully team will be happy to help you select the perfect spot for this once-in-a-lifetime day. We will make sure this day is as perfect and romantic as your dream.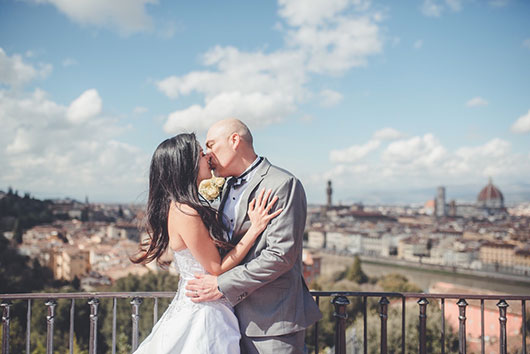 Love Gracefully Ceremonies
Since we're specialized in Italian small intimate ceremonies, our partners and vendors are all locals. Whether it's a photographer, a film director, a hair and makeup stylist, a florist, we will provide you with the best Italian artists.
Love Gracefully has celebrated now over 300 ceremonies throughout Europe in the most exquisite locations in Italy, France, Spain and Switzerland. And amongst all of them, Florence is a city dear to our heart.
Whether you're in for a top destination wedding, a small elopement or an intimate vow renewal ceremony overseas we create each time a symbolic ceremony designed to fit your personalities. Feel free to have a look at what others felt about their amazing ceremonies.
Our one-of-a-kind officiant
A friendly and warm celebrant, he will put all his heart in tailoring the ceremony you dream of.
At Love Gracefully, we will customize your wedding vows so as to fit both your personality and your needs. Coming to a foreign country, without speaking the language and preparing a ceremony from afar could be a difficult task ; but we're here, to make your life easy. Our dearest wish is to please you and make this day the happiest day of your life. We look forward to seeing you in Florence soon !