Classy destination wedding in Monaco & Monte-Carlo
This may be the second smallest country in the world, this tiny city-state makes it up in terms of luxury and class. If you want your elopement, your vow renewal celebration, your destination wedding or your surprise proposal to be remembered as a classy and glamorous one, then Monaco is waiting for you!
Your majestic Ceremony In Monaco & Monte Carlo
Say Monaco Monte-Carlo and you will conjure a list of luxurious places and events. Best known as a cruise spot, the sovereign city state is also worldly-known for its Formula 1 Grand Prix, its casinos, the royal Palace located on the rocky old town known as le Rocher and its renowned exotic garden with its collection of cacti and other succulents. All synonymous with a promise of fun and amorous adventures! But Monaco Monte-Carlo is above all located on an amazing setting on the Mediterranean shore and that's what you will love about it. Sea, sun and love, all at once !
Destination wedding ideas in Monaco Monte-Carlo
What first strikes you in Monaco Monte-Carlo is of course its location. That's why many couples have praised the little beach location of Cap d'Ail, which offers an amazing setting right above the see, on top of a rock. The perfect intimate location to celebrate your love! We have had amazing vow renewals and elopements there. All sweet, classy with a taste of luxury. But if you wish something more busy, then Monaco Monte-Carlo can offer many in-town venues for your destination wedding or vow renewal.
Whatever idea you have in mind, or on the contrary, if you are looking for wedding tips, our celebrant will be happy to help you decide which is the best- suited place for you and your loved one. Because a successful wedding overseas isn't complete if the place you choose isn't the one you dream of.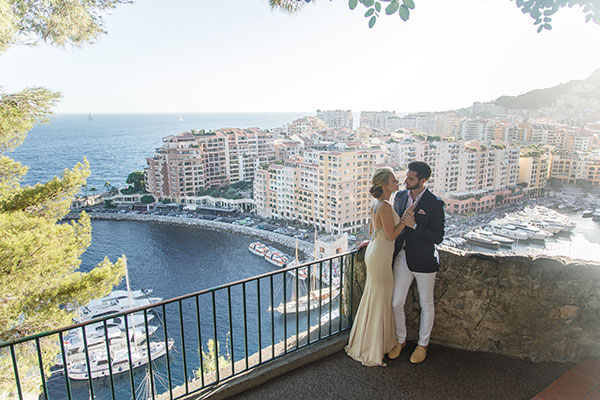 Types of ceremonies for our Monaco wedding packages
Love Gracefully Ceremonies
Love Gracefully wedding experience and partner teams locally
Because we have been celebrating vows ceremonies for a decade now, we are keen to work with the best local artists and specialists in Monaco Monte-Carlo. So wether you would like flowers, a hair and makeup stylist, a car, a photographer or a video film maker, we will be able to provide you with the best monegasque artists and professionals.
Our long experienced celebrant will be here to help you carve a ceremony best suited to you needs. He will create an intimate, unique and memorable wedding ceremony.
With more than 350 ceremony celebrated throughout Europe, we know for sure that Monaco Monte-Carlo will enchant you!
A celebrant devoted to vow celebrations
The celebrant in Monaco Monte-Carlo that will take care of you, is a real and 100%-devoted professional with a long-lasting and proven experience.
Friendly and warm, he will help you have a loving and sweet experience thanks to a thorough and personalized preparation that meets your personality, your values and your beliefs.
At Love Gracefully, we are dedicated to making this day the most romantic and happy of your loving life. And because preparing such an event from afar and in a foreign language can sometimes be overwhelming, our officiant, fluent in French and English, will pave the way for you!
If you would like to know more about what others say about their ceremony with us, watch our client testimonials. We look forward to meeting you and celebrating this special day with you in Monaco Monte-Carlo!
Our wedding packages in Monaco
BASIC
€880

Tailor-made Ceremony including your own vows & texts
English-speaking officiant
Free assistance per phone or email
Free locations available
(up to 15 guests)
Symbolic Certificate
(without legal value)
VAT TAX included
No hidden fees
SILVER
€1480

Tailor-made Ceremony including your own vows & texts
English-speaking officiant
Free assistance per phone or email
Free locations available
(up to 15 guests)
Bouquet Of Flowers
Photographer 1 hour
Symbolic Certificate
(without legal value)
VAT TAX included
No hidden fees
GOLD
€2470

Tailor-made Ceremony including your own vows & texts
English-speaking officiant
Free assistance per phone or email
Free locations available
(up to 15 guests)
Bouquet Of Flowers
Photographer 3 hours
Mercedes Car Tour With Chauffeur
Complimentary bottle of champagne
Symbolic Certificate
(without legal value)
VAT TAX included
No hidden fees
DIAMOND
€4120

Tailor-made Ceremony including your own vows & texts
English-speaking officiant
Free assistance per phone or email
Free locations available
(up to 15 guests)
Bouquet Of Flowers
Photographer 3 hours
Mercedes Car Tour With Chauffeur
Complimentary bottle of champagne
Videographer 3 hours
Symbolic Certificate
(without legal value)
VAT TAX included
No hidden fees
INFINITY
€8246

Tailor-made Ceremony including your own vows & texts
English-speaking officiant
Free assistance per phone or email
Free locations available
(up to 15 guests)
Bouquet Of Flowers
Boutonniere
Photographer 8 hours
Vintage Car With Chauffeur
Complimentary bottle of champagne
Videographer 8 hours
Hair & Make up artist
Symbolic Certificate
(without legal value)
VAT TAX included
No hidden fees