Romantic vow renewals in Spain
Looking for Spanish vibes? Head to either Barcelona, Mallorca, Seville, Madrid or Sitges and enjoy « El Amor »
Are you looking for the perfect location for your renewal of vows? If yes, Barcelona, Mallorca, Seville, Madrid or Sitges are the perfect locations for your vow renewals in Spain. These different locations can make your love celebration truly different and unique. At Love Gracefully we are specialized in creating your dream renewal of vows in Spain. So, please, let us know what your dream is about and we'll help you choose which location fits best your needs.
Having your renewal of vows in Spain will feel like a typical Spanish film: colorful and sunny ; it's the perfect scenario for couples who want to combine their vow renewals with some relax holidays. Furthermore, celebrating your love in Spain will allow you to enjoy the excitement of a real ceremony without the pressure of organizing a that event at home.
Love Gracefully has been organizing over 500 renewal of vows in Spain since 2009. To be sure your dreamed vow renewals comes true we have gathered the best celebrants, photographers, videographers make-up artists and florists in town! What you want is that your renewal of vows is all about you and your dream. Our job is to make it happen.
Cities to celebrate your vow renewals in Spain
Renewing your vows in Spain will make you feel like achieving a dream. These are our curated locations where you could celebrate your love. Do you have another location in mind? Please contact us.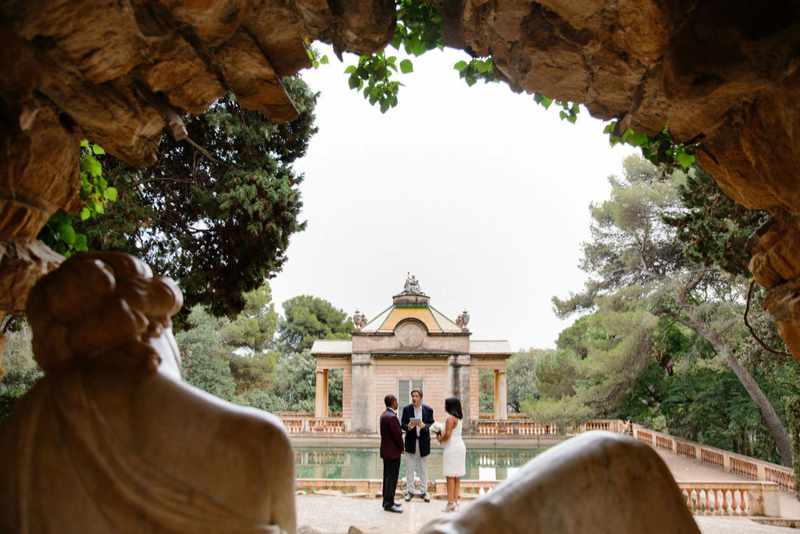 Barcelona is both a city with a beautiful beach but also a city with maginificiant architecture that will give you many opportunities to celebrate your love ! Barcelona' nickname is the city of lovers; it could be the reason why many couples decide to celebrate their vow renewals ceremony in Barcelona…
Barcelona is a city made for passion. Stroll down Las Ramblas and the food markets for an experience of all the senses, soak up Gaudi's works of art in the fantasy-like Parc Guell, or stroll along the beach for a lazy walk. Barcelona is a lively city, full of life, food and sun, one of the few cities in the world that can boast both a stunning city architecture and great beaches. There are tons of secret magic spots where we can hold your vow renewal ceremony. 
Thanks to it's Gaudi architecture, terraces and historic sites, Barcelona has many backdrop for a romantic and unique vow renewals ceremony. Barcelona offers also a beautiful park for your vow renewal ceremony! Don't hesitate to scroll thru our pictures to see that park called the labyrinth. Would you prefer a more formal ceremony, you could choose an hotel rooftop which offer a stunning view on the major landmarks.
Please click on our Barcelona link on top of this paragraph to find more about our Barcelona vow renewal packages.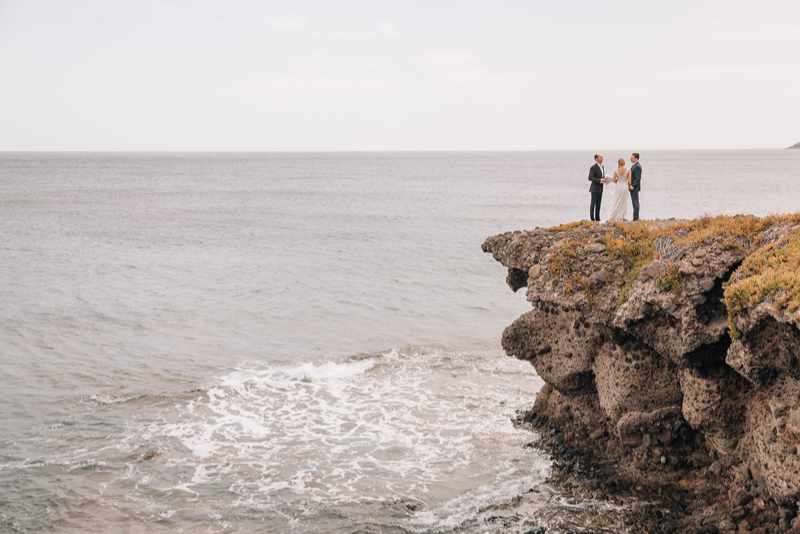 Mallorca is clearly the Jewel of the Spanish mediteranean sea. As such, Mallorca offers the opportunity to experience moments of timeless chill-out bringing an added value to your vow renewals ceremony. Being at the heart of the mediteranean sea, Mallorca mix the colorful Spanish style with beautiful sea landscapes. During your vow renewals, Mallorca will give you both moments of unforgettable magic!
Mallorca is one of those rare places in the world that has a huge intrinsic charm. The island is at a cross road of many civilisations; Spanish and Italian but also North african. If you want to renew your vows in Mallorca, you will encounter an original and boho backdrop. After having spend time on the Island of Mallorca, If you close your eyes and think back of that period, you will smell an intense perfume and remember the taste of a delicious dish. Whilein Mallorca, you'll mix with Spanish who elegantly whisper phrases with that captivating and intriguing Spanish accent. While that happens, it will be inevitable for both of you to feel being part of the Spanish culture. Every terrace bring you an unforgettable view on the Mediteranean sea. Celebrate your vow renewals in this magestic island.
Please click on our Mallorca link on top of this paragraph to find more about our Mallorca packages.
Seville, capital city of Andalusia, is the only place in the world where you can find such jewels issued from both Christian and Arabic civilisations, which will make the perfect fairytale background for your vow renewals in Spain:
The Alcazar, a royal palace built by Moorish kings, the Giralda, the bell tower of Seville cathedral from the same period of time, the Torre del Oro or the Plaza de Espana are all very romantic locations! You could even have your vow renewals ceremony in the middle of Plaza de Espana!
Being the birth-place of flamenco dance, tapas street food, and stunning architecture altogether, Seville is often referred to as the most typical city of Spain. With a great international airport, Seville is the perfect gateway for just the 2 of you: beauty, culture, food and entertainment, all in one place, and on a budget! – And of course, perfect to surprise your loved one with a vow renewal ceremony in Spain.
As one of our top ten ceremony destinations, you can be certain that your renewal of vow ceremony in Seville will be a time to remember. Several world heritage sites are scattered around the city and create a most romantic environment to enhance your wedding ceremony. Saying "I love you" in Seville is an opportunity for you to show just how much you do.
Please click on our Seville link on top of this paragraph to find more about our Seville packages.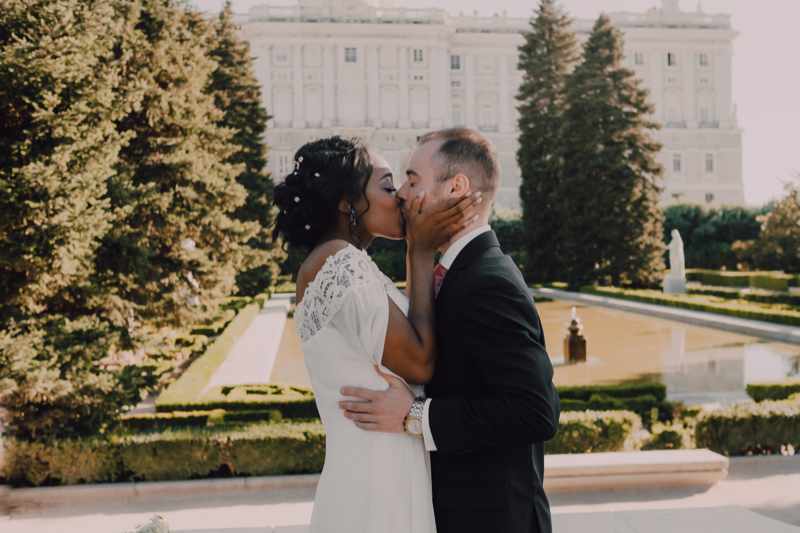 Madrid is a place for lovers: the Retiro Park, the Palacio Real or the Templo de Debod are all top romantic venues for a vow renewal ceremony! Making Madrid an undoubtedly a top destination for renewing your vows. If you are looking for beautiful nature in the city, the Retiro Park is just for you: forest, lakes and amazing royal sculptures in the same spot! The perfect romantic place that will ensure you intimacy and quiet.
Whether you want to bring your friends and families or have a ceremony just the 2 of you, Madrid is a great place to celebrate your love. You could even plan a surprise for your partner and organize the vow renewal without her or him knowing about it !
Madrid is a lover's hang-out, so you and your honey can experience a fantastic vow renewals, mixed with the Spanish beauty. The capital city of Spain has plenty to offer there, especially if you are a food and life lover. The Spanish capital has in fact an old tradition for cooking, being one of Europe's top cooking capital.
Please click on our Madrid link on top of this paragraph to find more about each of our Madrid packages.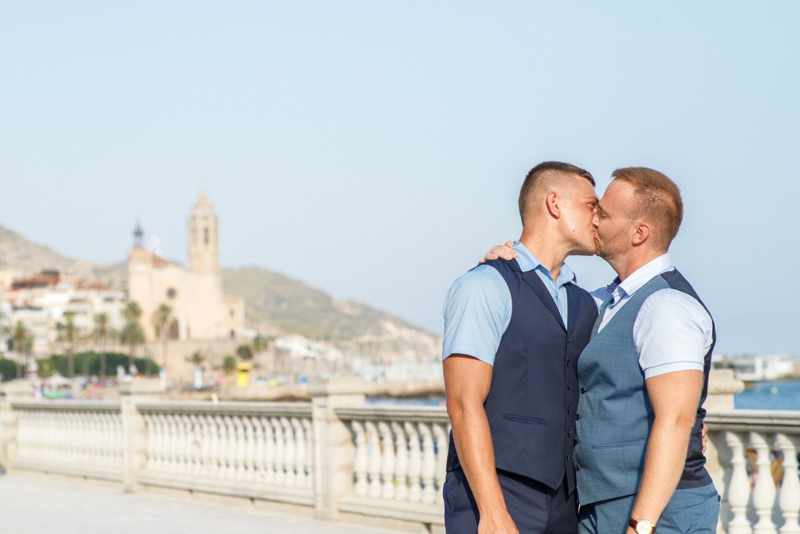 Sitges has a spirit of it's own. It's a city that was the center for the 1960's counterculture in Spain during the worst times of Franco dictatorship. So, freedom is the center spirit of Sitges, and it's with that spirit that we'll create a vow renewal ceremony that fits you and your loved one.
Your vows ceremony in Spain could look exactly the way you want it be in Sitges, a wonderful and cozy mediterranean town. At Love Gracefully, we are specialized into tailoring vow renewal ceremonies. We have celebrated gay vow renewals in Sitges and all over Europe for 10 years.
Would you want to surprise your husband with a surprise vow renewal ceremony, that's totally possible too ! Just call us, we'll prepare everything to your taste and have the surprise ready on the beach or on a roof top !
Please click on our Sitges link on top of this paragraph to find more about each of our Sitges packages.
Our Spanish vow renewals packages
We created five different Spanish vow renewals packages to offer the best deal to our beloved couples. Please feel free to contact us if you have questions or you need something that isn't included. And don't forget that all our packages may be personalized to match your wishes!
Our team
Your perfect vow renewals in Spain can only happen thanks to our wonderful team of celebrants, photographers, planners, videographers, hair and make-up artists, florists, etc… They all guarantee an unforgetable personalized vow renewals with the real Spanish feeling.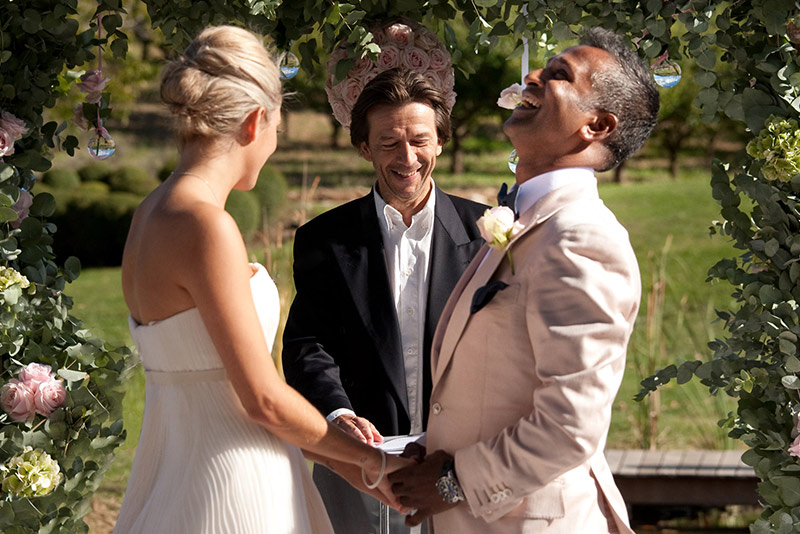 Pierre, Founder, director and celebrant in Spain
Pierre is Love Gracefully founder. He lives in Spain, so he is the leading celebrant in Spain. He and his team are in charge to create the perfect vow renewal ceremony that will meet your values and beliefs. Pierre celebrated hundreds of vow renewals ceremonies through his career, each one unique in its own way. He was pioneer in creating destination renewal of vows in Spain. Be assured that Pierre and his team will care for your desires, no matter where you want your ceremony to happen nor what it is you wish.
Love Gracefully vendors
Meet Lorena, our Spanish coordinator. She will be in charge to organize your vow renewal ceremony in Spain. Since 2009, Love Gracefully has celebrated over 500 vow renewals in Spain and on the Spanish Riviera. This has been possible thanks to a great team of Spanish local vendors. They all work with the same LOVE GRACEFULLY 3 rules: preparation, preparation and preparation! All our vendors are dedicated to provide the best service for you. All of them are true artists: whether it's a videographer that will produce your original Spanish film or whether it's a hair and make-up artist that will make you feel like an Spanish star or, they are all passionate about their work!
How our Spanish vendors work
All our vendors are local and fully bilingual. That way, not only are you dealing with a local that knows his city by heart, but a local you can communicate with! You'll be put in contact with Lorena, our main coordinator, responsible for your ceremony. Each of our coordinator are dedicated planners that will help you create what you want. For exemple, would you want to make it a surprise for your partner, it's totally possible. According to your taste and desires, our local coordinator will chose the vendors that best fit your vision.
Testimonials: vow renewals in Spain
We successfully created intimate & special vow renewals In Spain for hundreds of couples. You can discover some of their stories here.
From the very first question you might have, such as: where is the best place to have your vow renewal ceremony in Spain? to the last question that could be: how can it fit my budget? we will be at your sides every step of the way : we will guide you through the difficulties of planning a vow renewals from far away. Our local planner team will of course help you choose the best location for your special day. That coodinator will also introduce you to the people we love working with: a variety of talented artists and professionals such as celebrants, videographers, photographers, musicians, hair and make-up artists. We only work with artists who share the same passion and professionalism as we do ; Experts who have a love of beauty and the desire to participate in creating a tailor-made Spanish vow renewals that fits you !
Testimonials of our happy couples
Would you like to hear about how other couples have felt about their vow renewals with us? Feel free to listen to our testimonials video recorded in Spain. It's a direct and personal testimonial about our renewal of vows services. A couple talks about their vow renewals in Spain. You can also check out our Love Gracefully testimonials Youtube channel.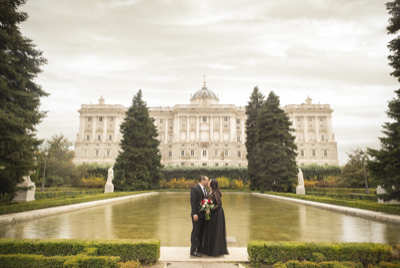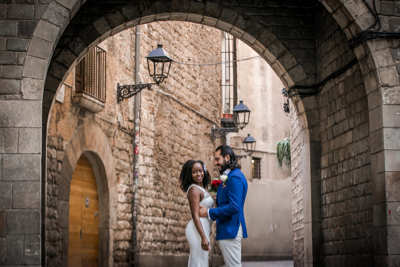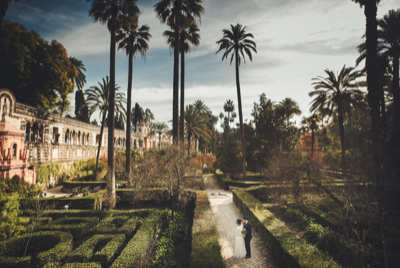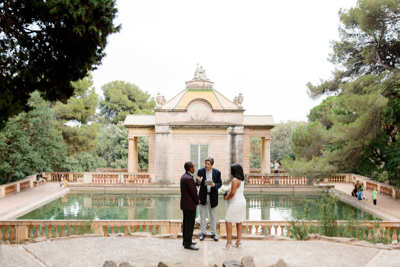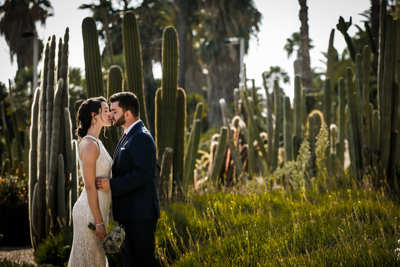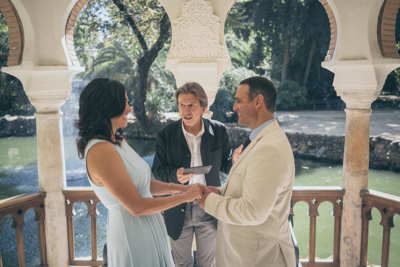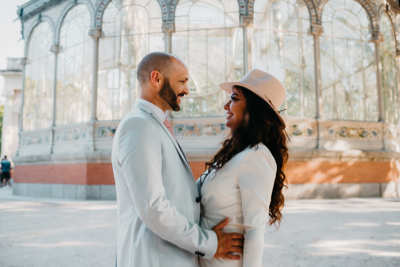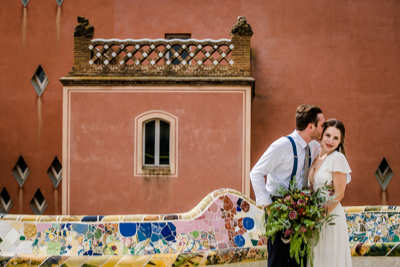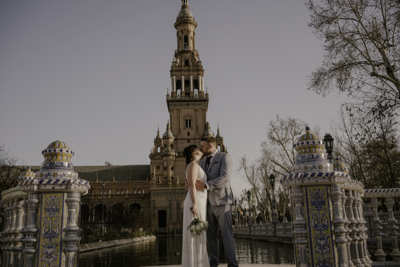 Contact now
Do you need more information about your vow renewals in Spain? Feel free to fill this form and we will contact you.
Please fill in the form below.