Awesome Same sex elopement
Celebrating your vows abroad is a unique way to let your love shine against a stunning backdrop. Europe is the continent of romance, home to the greatest love stories of all time and for a reason! Full of history and multi-faceted, amazing locations are plenty and waiting for you.
CHOOSE YOUR ELOPEMENT DESTINATION
Love Gracefully top gay and lesbian wedding brand
To make things easier for you, we have designed a very unique user-friendly system that enables you, in one simple look, to choose all 3 elements making your ceremony a successful one : the type of ceremony your want, its location and the price package (including the different services you would like included). The price of those all inclusive packages are the same, whatever location you decide to choose in Europe.
We have designed these very affordable wedding vows packages thanks to a decade long experience in celebrating symbolic ceremonies. On top of that, are included our expertise in choosing the right vendors (wether you would like a car, a wedding photographer or a video-maker) to fulfill your unique needs. We Love to think about our activity as a great way to design the day you dream of. In order to do that, we will take all the time we need to get to know you and your honey, so that we can design a one-of-a-kind ceremony.
So join us here, we will be happy to be at you side for the creation of this leisurely, flowing and magical day you are about to celebrate!
Where romance meets travel : destinations ideas for your elopement
At Love Gracefully, we are leaders in celebrating gay and lesbian vows ceremonies all over Europe. We have been adamant that the same-sex marriage law be passed in France, and it was a success!
We know that the Old Continent shelters many romantic locations to welcome your celebration, and the one that you are looking for has to be on the list! Wether you are going for a vow renewal, a proposal, or an elopement, Europe is the perfect amorous getaway.
In France, our top destinations include of course the superb Paris. Capital of lovers, Paris will always be a favored wedding destination for couples. You might have in mind the iconic Eiffel Tower, symbol of this effortlessly cool and romantic capital. Perfect setting for your elopement photographies and videos. A little less famous, Notre-Dame cathedral, will also make for a stunning backdrop. And the good thing is, we will even be able to provide you with intimate quiet spots just around these buildings! Are you looking for more original destination ideas in Paris? Well, the list is endless. Have you thought about the beautiful gardens of the Luxembourg for a start? Or the park called "Vert-Galant", a tiny island park bathed by the river Seine? These are a few examples, we will be happy to provide you with more. Paris has always been a popular gay and lesbian wedding destination, and you can guess why…
Are you wondering how to make your elopement special? Well, you might consider spending some time on the Mediterranean sea, and have a wedding at the beach. The French Riviera on the French southern coast is replete with stunning destinations. Somme classy and luxurious (Nice, Monaco Monte-Carlo), some charming (Eze), all of them romantic eloping destinations.
As you can see, the options are plenty in Europe! Whether you want to have a fun elopement, get wedding tips on how to make this wedding celebration a unique moment, we will be happy to guide you.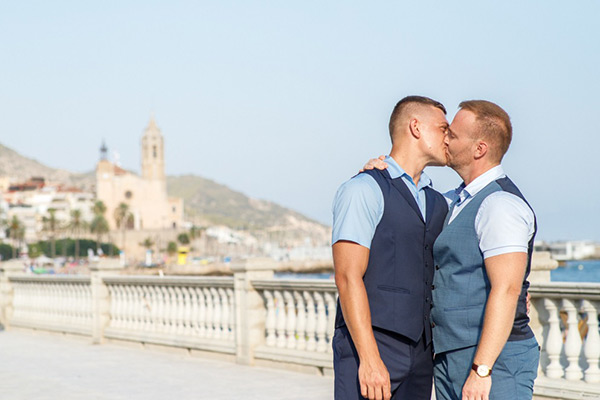 Sitges, the city for Gay wedding in Spain
A little further down south, in Spain, we can organise your wedding in Sitges. The biggest gay-friendly beach destination in Europe, Sitges is a great spot to soak up the Mediterranean vibes, sun on the beach and destination weddings. Sitges has been a gay-friendly city as early as the 1960s! Sitges being such an attractive destination that we have now our own Sitges same-sex ceremony page.
If you prefer a quieter vibe to your same sex marriage, we can organise an intimate gay elopement for you on a quiet beach, far from the crowd.
The clear advantage of Sitges is that it's only 30 minutes from the huge international airport of Barcelona with flights coming in and out from everywhere at very cheap price. Not only that but Sitges is 30 minutes only from down-town Barcelona where you'll find everything you can think off. So, Sitges offers both the advantage of a small town on the sea with all the advantages of a big city. Check it out and see if the Spanish vibes are for you !